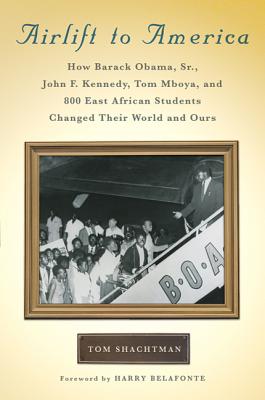 Airlift to America (Hardcover)
How Barack Obama, Sr., John F. Kennedy, Tom Mboya, and 800 East African Students Changed Their World and Ours
St. Martin's Press, 9780312570750, 288pp.
Publication Date: September 15, 2009
* Individual store prices may vary.
Description
This is the long-hidden saga of how a handful of Americans and East Africans fought the British colonial government, the U.S. State Department, and segregation to transport to, or support at, U.S. and Canadian universities, between 1959 and 1963, nearly 800 young East African men and women who would go on to change their world and ours. The students supported included Barack Obama Sr., future father of a U.S. president, Wangari Maathai, future Nobel Peace Prize laureate, as well as the nation-builders of post-colonial East Africa -- cabinet ministers, ambassadors, university chancellors, clinic and school founders.
The airlift was conceived by the unusual partnership of the charismatic, later-assassinated Kenyan Tom Mboya and William X. Scheinman, a young American entrepreneur, with supporting roles played by Jackie Robinson, Harry Belafonte, Sidney Poitier, and Martin Luther King, Jr. The airlift even had an impact on the 1960 presidential race, as Vice-President Richard Nixon tried to muscle the State Department into funding the project to prevent Senator Jack Kennedy from using his family foundation to do so and reaping the political benefit.
The book is based on the files of the airlift's sponsor, the African American Students Foundation, untouched for almost fifty years.
About the Author
Tom Shachtman is an author, filmmaker, and educator. He has written or co-authored more than thirty books, including Rumspringa, Airlift to America, and Terrors and Marvels, as well documentaries for ABC, CBS, NBC, and PBS, and has taught at major universities. Publishers Weekly lauded his book Rumspringa: To Be or Not to Be Amish as "not only one of the most absorbing books ever written about the Plain People, but a perceptive snapshot of the larger culture in which they live and move." He has written articles for The New York Times, Newsday, Smithsonian, and environmental monthlies, and writes a column for The Lakeville Journal (CT). A two-hour television documentary based on his book Absolute Zero and the Conquest of Cold was broadcast on PBS in February 2008.
Praise For Airlift to America: How Barack Obama, Sr., John F. Kennedy, Tom Mboya, and 800 East African Students Changed Their World and Ours…
"In 1960, Boniface Odero, an Airlift student from Kenya, came to live with my family in our house in Riverdale, New York. Due to her education by Cora Weiss, (executive director of the African American Students Foundation, the airlift organizers) my mother took to this idea like a dove to its mate. After all, she and Cora were fast friends and co-activists, and during the years when my sisters and brother and I were all underage, it was not atypical of my mother, Andrea Simon, to invite students and actors, poets and political protesters for a 'little stay' at our boisterous, busy and crowded house. Boniface stayed a year. I am so proud of this book, proud of the history of the unique initiative which brought Odero and his fellow students to this country, and proud of our lasting humanitarian program and the hearty spirit which drives it." —Carly Simon
"A little more than half a century ago when I was in college, the few Africans on campus felt isolated by Negro students, most of whom were running as fast as they could away from African students and from any hint of our own African ancestors. Due in large measure to the thawing spawned by the far-sighted and brilliantly executed African Airlift, African and American brothers, sisters, cousins and ancestors, have since produced enterprises in commerce, politics and education enriching to parties on both sides of the Atlantic. It was a noble and far-sighted endeavor." —Roger Wilkins, a former board chair of the Africa America Institute, is Clarence J. Robinson Professor Emeritus of the Clarence J. Robinson program at George Mason University
"[This] bold initiative charted a new course in the preparation of African leaders, created new relationships with United States institutions of higher education, and helped pave the way for increased access by African-Americans to colleges and universities whose closed doors were opened by those who came under the auspices of the program. These airlift students returned home to become builders of the newly independent East African nations and helped unravel the threads holding colonialism together. I am proud that Adelphi gave scholarships to three of the participants." —Dr. Robert A. Scott, President, Adelphi University
"Shachtman's text, gleaned from the organization's files and interviews with principals, offers a compelling portrait of nation-building abroad and nation-changing at home. A valuable case study of the effectiveness of NGOs when they are operated with care and confidence." —Kirkus