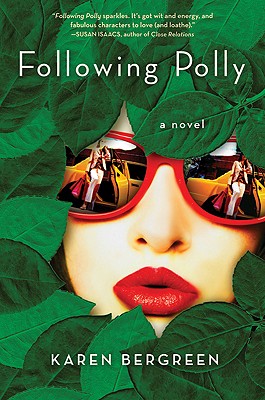 Following Polly (Hardcover)
St. Martin's Press, 9780312571092, 320pp.
Publication Date: June 22, 2010
Other Editions of This Title:
Paperback (8/16/2011)
* Individual store prices may vary.
Description
Would you call Alice Teakle a stalker?  Or just someone with an, um, healthy obsession with golden girl Polly Linley Dawson?  No one much notices Alice: not her boss, not the neighbors, not even her Mother.
Besides, everyone follows Polly: her business selling high-end lingerie you can imagine only her elegant self wearing, her all-over-the-social-pages marriage to movie director Humphrey Dawson, her chic looks, her wardrobe. Alice just follows her a little more….closely.
And when she loses her job and starts to follow Polly Dawson one Manhattan autumn afternoon, Alice stumbles on the object of her attention sprawled dead on the floor of a boutique.  Alice is forced to become truly beneath anyone's notice. Invisible, in fact. Because she's accused of murder.
But can another obsession help save Alice with the fallout?  Charlie is Alice's longtime unattainable crush.  He might be able to help her out of the mess she's in…in return for a favor or two, that is.    And how will Alice find out if Charlie is really the man Alice thinks he is?
About the Author
KAREN BERGREEN is a comedian who performs live at Caroline's, Stand-Up New York, Gotham, and The Comic Strip and has appeared on Comedy Central, the Oxygen Network and "Law & Order. "She was previously an attorney who clerked for a federal judge. She lives in New York City.
Praise For Following Polly…
"Karen Bergreen's Following Polly sparkles. It's got wit and energy, along with fabulous characters to love (and loathe).  A fine first novel: polished, acutely observed, and delightfully mean. What fun!"—Susan Isaacs, author of Close Relations 
"I LOVE this book. It's funny, original, satisfying and a real page turner. Karen Bergreen has created a lovable heroine who is a bundle of totally unique neuroses. I couldn't put it down and I can't wait for the sequel!" --Susie Essman, author of What Would Susie Say?
"Funny, intelligent, accessible.  Following Polly captures what makes Karen one of my favorite comediennes." –Jim Gaffigan, actor/comedian/writer  
 "Stalking, dysfunctional family, murder and unrequited love--what could be more delightful? It's a great read!"-- Joan Rivers, author of
Men Are Stupid...And They Like Big Boobs
 "
Following Polly
is a delicious debut novel.  Murder most foul is most fun, and Alice Teakle is so clever and quirky a protagonist--or is she a perp?--that you won't be able to stop reading.  Bergreen is a wonderful new voice in the mystery world."--Linda Fairstein, author of
Hell Gate
 "It's like Comedy Central picked up
Law & Order
for an episode...combines edgy thrills with a wicked sense of humor and an endearing heart of gold."
—Publishers Weekly
"A laugh-out-loud page turner."--Huffington Post
"Part cozy mystery, part romance, and all parts outrageously funny."--Las Vegas Review
"Following Polly is a murderous romp featuring a clever and gently unhinged protagonist. Author Karen Bergreen, a professional comedian, exercises her comedic skill in creating New Yorker Alice Teakle, a perpetually underemployed (now unemployed), Harvard grad. Alice harbors unresolved resentment toward her former dorm-mate, Polly Linley Dawson, who has developed a wildly lucrative career as an entrepreneur in the fashion industry. With time on her hands, Alice takes on the bizarre task of stalking Polly and discovers the usual sexual indiscretions; however, nothing too dramatic occurs—until Polly is murdered, and Alice is named the prime suspect. Alice goes on the lam and seeks to identify the actual murderer. Along the way, she develops an unusual relationship with Charlie, the object of her college fantasies. Despite the screwball nature of this mystery, it works, and memorably so.
Moreover, one of Bergreen's major strengths as a writer is her ability to create witty repartee. The quick, ever-sarcastic Alice is highly entertaining. Also, Alice has an uncanny ability to navigate various strata of society, from the extraordinarily wealthy to the homeless. Her incredible resourcefulness and ready wit are guaranteed to entertain."--Mystery Scene magazine
or
Not Currently Available for Direct Purchase