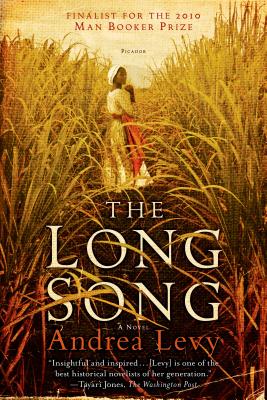 The Long Song
A Novel
Paperback

* Individual store prices may vary.
Other Editions of This Title:
Paperback (1/1/2011)
Hardcover (4/27/2010)
Description
Finalist for the 2010 Man Booker Prize

The New York Times Book Review Notable Book of the Year

In her follow-up to Small Island, winner of the Whitbread Book of the Year Award and the Orange Prize for Fiction, Andrea Levy once again reinvents the historical novel. Told in the irresistibly willful and intimate voice of Miss July, with some editorial assistance from her son, Thomas, The Long Song is at once defiant, funny, and shocking. The child of a field slave on the Amity sugar plantation in Jamaica, July lives with her mother until Mrs. Caroline Mortimer, a recently transplanted English widow, decides to move her into the great house and rename her "Marguerite." Together they live through the bloody Baptist War and the violent and chaotic end of slavery. An extraordinarily powerful story, "The Long Song leaves its reader with a newly burnished appreciation for life, love, and the pursuit of both" (The Boston Globe).
Praise For The Long Song: A Novel…
"This is a terrific book: beautifully written and imagined, and full of surprises . . . A brilliant historical novel." —A. N. Wilson, Reader's Digest

"In The Long Song, Andrea Levy explores her Jamaican heritage more completely than ever before. This sensational novel­--her first since the Orange Prize-­winning Small Island, recently adapted for the BBC--tells the life story of July, a slave girl living on a sugar plantation in 1830s Jamaica just as emancipation is juddering into action. Levy's handling of slavery is characteristically authentic, resonant and imaginative. She never sermonises. She doesn't need to--the events and characters speak loud and clear for themselves." —Holly Kyte, The Telegraph

"The Long Song is above all the female version of emancipation, told in vivid, vigorous language in which comedy, contempt and a fierce poetry are at work . . . For all that this is supposed to be the autobiography of a woman with 'little ink,' edited by her anxious, seemly son, The Long Song is told with irresistible cunning; it is captivating, mischievous and optimistic, generating new stories and plot lines throughout the tale. July is one of Levy's stubborn women who inspire both irritation and admiration. She is a splendid creation, whose wit, pride and resilience sweeten a tale that would otherwise make her white readers hang their heads in shame." —Amanda Craig, The Daily Telegraph

"As well as providing a history of post-abolition Jamaica, The Long Song is beautifully written, intricately plotted, humorous and earthy. The Long Song, not just for the insights on the 'wretched island,' but as a marvel of luminous storytelling." —Ian Thomson, Financial Times

"As I read, I kept thinking how magnificently this novel would work in the theatre. Levy has a talent for crowd control, ensemble work, comic timing. She loves to preside over chaos and includes several scenes of virtuoso Jamaican farce, including conflict in the master bedroom (July ends up under the bed). But you will need to crawl under there yourself to find out who was with her--and why--and what happened next. And be prepared for the laughter to stop suddenly. For Levy knows that there is nothing as seriously revealing as farce . . . A novel such as Small Island is a hard act to follow, but in her new book Levy has moved into top gear . . . The Long Song reads with the sort of ebullient effortlessness that can only be won by hard work." —Kate Kellaway, The Observer (London)

"As a story of suffering, indomitability and perseverance, it is thoroughly captivating." —Alex Clark, The Guardian

"As well as being beautifully written The Long Song is a thoroughly researched historical novel that is both powerful and heartbreaking." —Lianne Kolirin, Daily Express

"This is a huge leap of the imagination. It's also exceptionally good." —Claire Allfree, Metro

"Like all of Levy's work, The Long Song, in its power and beauty, is quite simply the truth." —Bonnie Greer, Book Quarterly

"It is a wonderful, life-enhancing, at times very funny book, largely because of the brilliant invention of the narrator, July . . . It is thoroughly researched, but it wears its research lightly and as well as a fascinating story of our joint black and white past, it gives us the splendid Miss July, who is surely destined to be one of literature's great characters." —Sharon Griffiths, The Northern Echo

"Levy has articulated the black British experience like no other . . . What a voice." —Daily Mirror

"The follow-up to Andrea Levy's award-winning Small Island is a set in early 19th century Jamaica and is a tale of the end of slavery. The novel takes the form of a memoir of an old Jamaican woman, July, who was herself once a slave, she is now living comfortably with her son, a printer, who intends to publish her story. Set against turbulent times of oppression and rebellion, July's story is a personal chronicle of the lives and struggles of individuals, which is at times both heartbreaking and uplifting. Despite the seriousness of her subject, the narrator's voice remains charged with humour and insight and she is able to delight and move us with her storytelling." —Hinterland Times

"An elegant allegory of storytelling . . . A subtly observed, beautifully written, structurally complex novel--an impressive follow-up to Small Island." —Kirkus Reviews (starred review)

"In the inexplicable absence of a definitive and revelatory history of Jamaica's nearly 300 years of slavery, Levy gamely steps into the void with this lively and engaging novel . . . Charming, alarming, Levy's vibrant historical novel shimmers with all of the artifice and chicanery slave owners felt compelled to exert." —Booklist

"The hardback book is a delicious gold, decorated with bronze sugar cane and tendrils of tall grass; I imagined it would be heavy to carry, but it is surprisingly light in weight. In many ways the same can be said of its narrative . . . The Long Song is not, as I had feared, a dark and accusing novel bound to elicit guilt or shame. (My great-grandfather owned a plantation in Trinidad, though not with working slaves.) It is not a discourse on the atrocities of slavery, nor a whip for white readers to lash themselves with. The Long Song is an inspiring, optimistic and beautifully written tale of one spirited woman's emancipation." —Amanda Smyth, The Irish Times

"For a novel about slavery, The Long Song is wonderfully funny, largely due to July's antic voice. And this is a book to be read for its voice, for its song." —Xarissa Holdaway, The Second Pass
Picador, 9780312571146, 352pp.
Publication Date: April 26, 2011
About the Author
Born in London, England to Jamaican parents, Andrea Levy (1956-2019) was the author of Small Island, winner of the Whitbread Award (now Costa Award), the Orange Prize for Fiction (now Women's Prize for Fiction), and the Commonwealth Writers' Prize. The BBC Masterpiece Classic television adaptation of her novel won an International Emmy for best TV movie/miniseries.

Andrea's other books include the Man Booker Prize finalist The Long Song, also adapted by the BBC for television, and Fruit of the Lemon, among others.