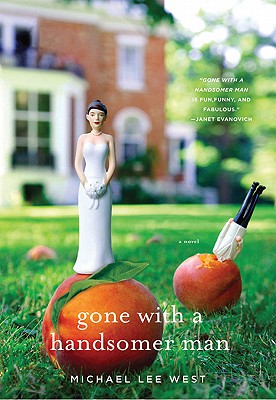 Gone with a Handsomer Man (Hardcover)
Minotaur Books, 9780312571221, 352pp.
Publication Date: April 12, 2011
* Individual store prices may vary.
Description
"Gone with a Handsomer Man is fun, funny, and fabulous!"---Janet Evanovich
Take one out-of-work pastry chef . . .
Teeny Templeton believes that her life is finally on track. She's getting married, she's baking her own wedding cake, and she's leaving her troubled past behind. And then? She finds her fiancé playing naked badminton with a couple of gorgeous, skanky chicks.
Add a whole lot of trouble . . .
Needless to say, the wedding is off. Adding insult to injury, her fiancé slaps a restraining order on her. When he's found dead a few days later, all fingers point to Teeny.
And stir like crazy!
Her only hope is through an old boyfriend-turned-lawyer, the guy who broke her heart a decade ago. But dredging up the past brings more than skeletons out of the closet, and Teeny doesn't know who she can trust. With evidence mounting and the heat turning up, Teeny must also figure out where to live, how to support herself, how to clear her name, and how to protect her heart.
About the Author
Michael Lee Westis the author of six novels, including "Crazy Ladies"," ""Mad Girls in Love"," ""American Pie"," " and "She Flew the Coop, " as well as a food memoir, "Consuming Passions." She lives with her husband on a farm in Lebanon, Tennessee, with three bratty Yorkshire terriers, a Chinese crested, assorted donkeys, chickens, sheep, and African Pygmy goats. Her faithful dog Zap was the inspiration of a character in "Mermaids in the Basement."
Praise For Gone with a Handsomer Man…
"Gone With A Handsomer Man is fun, funny, and fabulous." --Janet Evanovich
"West's diverting debut plays nice variations on several mystery subgenres—Southern, romantic, screwball, culinary.... Readers will look forward to more helpings of Teeny Templeton."
--Publishers Weekly
"Warm, funny page-turner. Teeny is a delightful heroine and Charleston, S.C.'s historic district is the ideal setting."
--RT Book Reviews
"A fresh, funny and delightfully flawed heroine that you'll fall in love with from the get go. Teeny is a trouble magnet, and it is wholly diverting to follow her tumbling joyride through bad men and good recipes. By turns sweet and surprising, it's a wonderful, quirky escape." --Joshilyn Jackson, NYT bestselling author of Backseat Saints
"Great cook --- though reluctant detective --- Teeny Templeton keeps the pot bubbling as she dishes out pathos, humor, and intrigue in equal measure... A delicious début to this new series." --Lee Smith, NYT Bestselling author of The Last Girls
"A story as delicious as the food she describes... sprinkled with startling insights... soaked with humor, mystery and redemption." --Patti Callahan Henry, NYT Bestselling author of Driftwood Summer
or
Not Currently Available for Direct Purchase