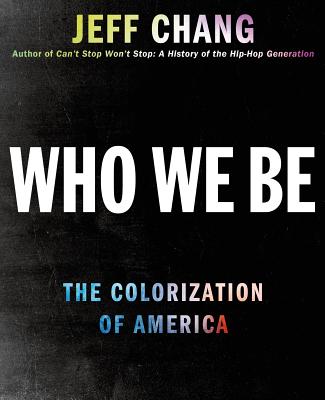 Who We Be
A Cultural History of Race in Post-Civil Rights America
Hardcover

* Individual store prices may vary.
Other Editions of This Title:
Paperback (1/5/2016)
Description
Race. A four-letter word. The greatest social divide in American life, a half-century ago and today.
During that time, the U.S. has seen the most dramatic demographic and cultural shifts in its history, what can be called the colorization of America. But the same nation that elected its first Black president on a wave of hope—another four-letter word—is still plunged into endless culture wars.
How do Americans see race now? How has that changed—and not changed—over the half-century? After eras framed by words like "multicultural" and "post-racial," do we see each other any more clearly?
Who We Be remixes comic strips and contemporary art, campus protests and corporate marketing campaigns, Martin Luther King, Jr. and Trayvon Martin into a powerful, unusual, and timely cultural history of the idea of racial progress. In this follow-up to the award-winning classic Can't Stop Won't Stop: A History of the Hip-Hop Generation, Jeff Chang brings fresh energy, style, and sweep to the essential American story.
Praise For Who We Be: A Cultural History of Race in Post-Civil Rights America…
"Who We Be confirms the singular brilliance of Jeff Chang...Here is the story of us, from the bottom up, the top down, and side-to-side - an astoundingly astute collage of forgotten battles brought to light and watershed events made new by Chang's analysis. Who We Be is essential reading - not this season or this year, but until the audacity of post-racism kicks in. Which won't be happening anytime soon." —Adam Mansbach, #1 New York Times bestselling author of Rage is Back and Go the F*ck to Sleep
"With Who We Be Jeff Chang has emerged as a premier chronicler of the broad and unruly narrative of American culture. His characteristically deft prose, broad perspective and incisive observations make this is an essential chronicle of the past three decades of American cultural history. Who We Be is a brilliant brief on who we've been all along." —Jelani Cobb, author of The Substance of Hope: Barack Obama and the Paradox of Progress; Director of the Institute for African American Studies at the University of Connecticut
"Jeff Chang writes with necessary fire about the things that matter. Who We Be is a compassionate, clear-eyed book, an exciting contribution to the history of our present moment. I know of no better account of the glories and sorrows of contemporary American diversity, nor any so attuned to the outsized role that art has played in that journey." —Teju Cole, author of Open City
"In 2005, Jeff Chang wrote the Hip Hop book none of us saw coming, but all
of us wished we'd written. Many of us spent a decade trying to catch up. Who We Be smashes assumptions of postracialism and multiculturalism into hundreds of prickly pieces...(It) cradles the personal, communal, institutional and structural while ultimately showing us how to rebuild each with a bit more honesty and integrity. This is the book we've been waiting for." —Kiese Laymon, author of Long Division and How to Slowly Kill Yourself and Others in America
"A new book by Jeff Chang is always a cause for celebration. His voice is unique, and his issues are our issues: this changing America, this complicated, polyglot future that some are already living in, while some are fighting to tear apart. Who We Be is an important, timely book, and it's also a terrific read." —Daniel Alarcón, author of At Night We Walk in Circles
St. Martin's Press, 9780312571290, 416pp.
Publication Date: October 21, 2014
About the Author
Jeff Chang has been a hip-hop journalist for more than a decade and has written for The San Francisco Chronicle, The Village Voice, Vibe, The Nation, URB, Rap Pages, Spin, and Mother Jones. He was a founding editor of Colorlines Magazine, senior editor at Russell Simmons's 360hiphop.com, and cofounder of the influential hip-hip label SoleSides, now Quannum Projects. He lives in California.
or
Not Currently Available for Direct Purchase