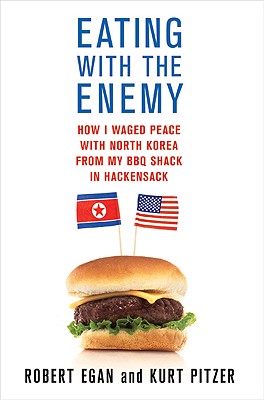 Eating with the Enemy
How I Waged Peace with North Korea from My BBQ Shack in Hackensack
Hardcover

* Individual store prices may vary.
Other Editions of This Title:
Digital Audiobook (10/24/2011)
CD-Audio (10/25/2011)
Compact Disc (10/25/2011)
MP3 CD (10/25/2011)
Description
There was only one chair in the room. Fluorescent tubes on the ceiling hummed with blue light. The woman smiled and explained in a soothing voice that there were some "procedures" they had to go through.
"We're just going to put you under for a few minutes," she said. One of the officials told me to turn around..
"Do I have a choice?" I lowered my pants, exposing most of my left butt cheek.  The woman came up from behind me, and I felt a sharp prick as she pushed in the needle and rammed the solution into my muscle. When she finished, I sat down.
"Which agency do you work for? CIA?" asked the other male official.
"I operate independently," I said. I started to feel good. Very good. I had the urge to laugh, even though nobody had said anything funny. "I'm a lone wolf. And I make burgers for a living. I'm a burger-making lone wolf."
I must have blacked out for some of it. When I opened my eyes again, the two men were there, but the woman was gone. I wiped my nose, and my hand came away bloody. I suddenly felt so sick and dizzy I thought I'd had a stroke. "What the fuck?
In Pyongyang in 1994, Robert Egan was given Sodium Pentathol, or "truth serum," by North Korean agents trying to determine his real identity. What was he doing in the world's most isolated nation---while the U.S. government recoiled at its human-rights record and its quest for dangerous nukes? Why had he befriended one of North Korea's top envoys to the United Nations? What was Egan after? Fast-paced and often astounding, Eating with the Enemy is the tale of a restless restaurant owner from a mobbed-up New Jersey town who for thirteen years inserted himself into the high-stakes diplomatic battles between the United States and North Korea.
Egan dropped out of high school in working-class Fairfield, New Jersey, in the midseventies and might have followed his father's path as a roofing contractor. But Bobby had bigger plans for himself, and after a few years wasted on drugs and petty crime, his life took an astonishing turn when his interest in the search for Vietnam-era POWs led to an introduction in the early nineties to North Korean officials desperate to improve relations with the United States. So Egan turned his restaurant, Cubby's, into his own version of Camp David. Between ball games, fishing trips, and heaping plates of pork ribs, he advised deputy ambassador to the United Nations, Han Song Ryol, and other North Koreans during tumultuous years that saw the death of Kim Il-sung and the rise of Kim Jong-il, false starts toward peace during the Clinton administration, the Bush "Axis of Evil" era, and North Korea's successful test of a nuclear weapon in 2006. All the while, Egan informed for the FBI, vexed the White House with his meddling, chaperoned the communist nation's athletes on hilarious adventures, and nearly rescued a captured U.S. Navy vessel---all in the interest of promoting peace.
Egan parses U.S. foreign policy with a mobster's street smarts, and he challenges the idea that the United States should not have relations with its adversaries. The intense yet unlikely friendship between him and Ambassador Han provides hope for better relations between enemy nations and shows just how far one lone citizen can go when he tries to right the world's wrongs.
St. Martin's Press, 9780312571306, 400pp.
Publication Date: April 27, 2010
About the Author
ROBERT EGAN has owned and run Cubby's, a barbecue restaurant in Hackensack, New Jersey, for the past twenty-five years. He has served as an "unofficial ambassador" for the government of North Korea and is the chairman of a trade group that has worked to improve ties between that country and the United States. KURT PITZER is a former commercial fisherman who has reported from some of the world's most turbulent regions for "The""Boston"" Globe"," ""The Sunday Times "of London, the "Los Angeles Times, " and "People" magazine. He cowrote "The Bomb in My Garden" with Saddam Hussein's nuclear mastermind, Mahdi Obeidi, after helping him escape from Baghdad in 2003.
or
Not Currently Available for Direct Purchase