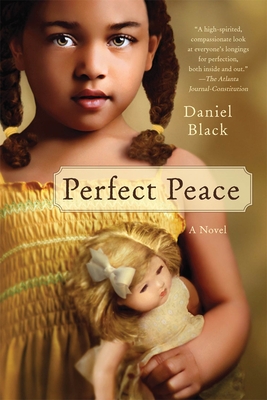 Perfect Peace
A Novel
Paperback

* Individual store prices may vary.
Other Editions of This Title:
Digital Audiobook (6/27/2016)
MP3 CD (6/28/2016)
Compact Disc (6/28/2016)
MP3 CD (6/28/2016)
Compact Disc (6/28/2016)
Hardcover (3/16/2010)
Description
Daniel Black's Perfect Peace is the heartbreaking portrait of a large, rural southern family's attempt to grapple with their mother's desperate decision to make her newborn son into the daughter she will never have

When the seventh child of the Peace family, named Perfect, turns eight, her mother Emma Jean tells her bewildered daughter, "You was born a boy. I made you a girl. But that ain't what you was supposed to be. So, from now on, you gon' be a boy. It'll be a little strange at first, but you'll get used to it, and this'll be over after while." From this point forward, his life becomes a bizarre kaleidoscope of events. Meanwhile, the Peace family is forced to question everything they thought they knew about gender, sexuality, unconditional love, and fulfillment.
Praise For Perfect Peace: A Novel…
"A high-spirited, compassionate look at everyone's longings for perfection, both inside and out." —The Atlanta Journal-Constitution

"Black effortlessly conveys Paul's agony over his inner shame and what the world sees on the outside. It's painful to see how his father also struggles to accept as a son the child he had once adored as a girl. For the Peace family, the end of Perfect is akin to the death of a loved one." —San Antonio Express-News

"Daniel Black understands the racial psychology and culture of the South so well that he can show, not tell, and his characters' actions always ring true. This novel is a powerful exploration of a small group of individuals who hold each other in high regard. The love among members of this family is severely challenged, but the challenge is triumphantly met. Each child grows to manhood and achieves success according to his gifts. Through their lives we experience disappointment and sorrow, but also fulfillment and joy. Perfect Peace is an intense and satisfying read." —Greg Iles, New York Times bestselling author of The Devil's Punchbowl

"Daniel Black writes of growing up in a small town with humor, grace and forgiveness." —Adriana Trigiani, New York Times bestselling author of Very Valentine and the Big Stone Gap Series

"Craft is not the word for this joyfully inscribed novel. The proper word is art. The book is a brave and complicated story perfectly told. Mr. Black offers a cultural gift to be welcomed." —Houston A. Baker, Jr., author of American Book Award winning Betrayal: How Black Intellectuals have abandoned the Ideals of the Civil Rights Era

"Perfect Peace is a morality tale of the consequences of letting our selfish needs trap the ones we love into roles they weren't born to play. The characters here are as flawed, their sins numerous, as any living human being held under the lens, but the author brings a compassion and understanding to their plights." —Mat Johnson, award-winning author of Incognegro, Drop, and Hunting in Harlem

"Daniel Black has pried open the isolated lives of rural southerners, allowing us to peek inside. To understand the complexities of the southern experience, read Perfect Peace." —Dr. Karyn Lacy, professor of Sociology, University of Michigan, author of Blue Chip Black: Race, Class, and Status in the New Black Middle Class

"Mr. Black's novel nudges our sense of awareness and accountability. His narrative eloquently poses difficult questions with disarming kindness: 'Do you know who you are? Do you know what you do? Do you know that there is never an excuse?' The relevance of this work with regard to all we are and all we do far exceeds his adroitly simple telling of the tale." —Keith Hamilton Cobb, actor

"Part cautionary tale, part folk tale, part fable, Daniel Black's Perfect Peace is a complete triumph. It bursts with emotions as intense as opera. Perfect Peace will bring you to tears and laughter. You will recognize characters from your own life, and perhaps even recognize yourself. In Emma Jean Peace, a mid-20th-Century rural Southern black woman who wants a daughter so desperately that she raises her infant son as a girl, Dr. Black has created a character as complex, equivocal and unforgettable as Scarlett O'Hara." —Larry Duplechan, author of Blackbird, Captain Swing, and the Lambda Literary Award-winning Got 'Til It's Gone
St. Martin's Griffin, 9780312571658, 352pp.
Publication Date: December 6, 2011
About the Author
Daniel Black is a native of Kansas City, Kansas, yet spent the majority of his childhood years in Blackwell, Arkansas. He is an associate professor at his alma mater, Clark Atlanta University, where he now aims to provide an example to young Americans of the importance of self-knowledge and communal commitment. He is the author of They Tell Me of a Home and The Sacred Place.