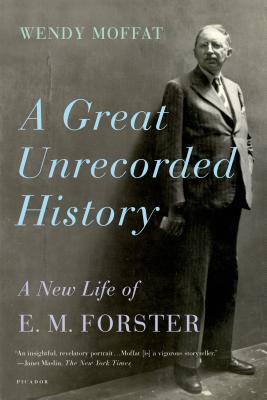 A Great Unrecorded History
A New Life of E. M. Forster
Paperback

* Individual store prices may vary.
Description
A New York Times Book Review Editors' Choice

Finalist for the PEN/Jacqueline Bograd Weld Award for Biography

ALA Stonewall Honor Book

Finalist for James Tait Black Memorial Prize

E. M. Forster's homosexuality was the central fact of his life. Between Wilde's imprisonment and the Stonewall riots, Forster led a long, strange, and imaginative life as a gay man. He preserved a vast archive of his private life---a history of gay experience he believed would find its audience in a happier time. Seeing Forster's life through the lens of his sexuality, Wendy Moffat's biography offers us a dramatic new view---revealing his astuteness as a social critic, his political bravery, and his prophetic vision of gay intimacy. A Great Unrecorded History casts fresh light on one of the most beloved writers of the twentieth century.
Praise For A Great Unrecorded History: A New Life of E. M. Forster…
"[A Great Unrecorded History is] a well-written, intelligent and perceptive biography . . . [Moffat] uses the sources for our knowledge of Forster's sexuality, including letters and diaries, without reducing the mystery and sheer individuality of Forster, without making his sexuality explain everything." —Colm Tóibín, The New York Times Book Review

"None of [Forster's] biographers have had either the will or the wherewithal to concentrate as closely on Forster's sexuality as Wendy Moffat . . . In A Great Unrecorded History, she offers an insightful, revelatory portrait of a man who deeply resented having to hide such an important side of himself . . . Ms. Moffat's overarching interests are in tracing Forster's attitudes about sex and hypocrisy and in placing this increasingly outspoken figure within the context of his changing times." —Janet Maslin, The New York Times

"The Forster who emerges from Moffat's work is a more human and satisfying figure than we've known. She portrays a limited man in full whose compromises between sense and sensuality parallel those of his most complex fictional characters." —Eric Banks, Time

"This eminently readable, beautifully and often lyrically written biography is gripping, mesmerizing, heartfelt, and kind....Moffat has written a splendid, thoughtful, riveting biography of a man who was a revolutionary in his work, descended into his own sexual depths with aplomb, and left all of us the richer for it." —Sam Coale, The Providence Journal

"This sympathetic, often touching biography will connect with literature lovers, gay and straight." —Jocelyn McClurg, USA Today

"Wendy Moffat's reexamination of E. M. Forster identifies his homosexuality as the essence of his creative life. Using unpublished writings, she charts his gradual awakening to the moral, intellectual, and emotional significance of his homoerotic imagination. Her book is an astute and original new portrait of this major novelist." —Michael Holroyd, author of A Strange Eventful History

"A Great Unrecorded History explores the intimate life of E. M. Forster with sensitivity and scholarship. Wendy Moffat writes with profound insight about a great writer who believed in the vital significance of personal connection while being unable to openly express his sexual feelings for the men he desired. She also gives us an illuminating picture of gay sexual culture in the first half of the twentieth century. This biography is at once an engrossing read and a book to cherish and go back to. Essential for understanding E. M. Forster and the times in which he lived." —Sheila Rowbotham , author of Edward Carpenter

"Wendy Moffat's biography of E. M. Forster is splendid--beautifully researched and written, imaginatively structured, and deeply revealing. We finally have a life of Forster that foregrounds his homosexuality and skillfully traces its impact on his life and art. We've had a long wait for a fully honest book on Forster--but at last we have it." —Martin Duberman, author of Paul Robeson

"A Great Unrecorded History is a bold new re-imagining of Forster's long career, which makes some striking connections between his life and work." —D. J. Taylor, author of Bright Young People
Picador, 9780312572891, 432pp.
Publication Date: April 26, 2011
About the Author
WENDY MOFFAT is a professor of English at Dickinson College in Carlisle, Pennsylvania. A Great Unrecorded History is her first book.