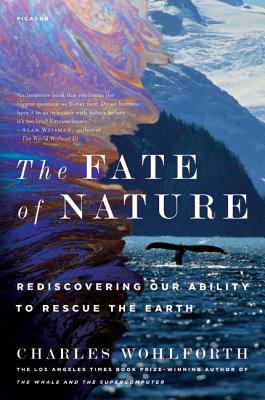 The Fate of Nature (Paperback)
Rediscovering Our Ability to Rescue the Earth
Picador, 9780312572976, 448pp.
Publication Date: March 29, 2011
* Individual store prices may vary.
Description
The Fate of Nature is a profoundly relevant call to action from journalist Charles Wohlforth, whose award-winning reportage addressed the infamous 1989 Exxon Valdez oil spill. In the wake of the tragic 2010 BP disaster, Wohlforth's voice has never been more necessary. Using as a stage coastal Alaska, populated by an array of odd and inspiring characters, he presents both an insightful assessment of our present state and a hopeful vision for our planet in his "thoughtful and felicitous new book . . . an inspired view of humankind's future" (Anchorage Daily News).
About the Author
Charles Wohlforth is a lifelong Alaska resident and author of The Whale and the Supercomputer, winner of the L.A. Times Book Prize, as well as many other books and articles about nature, history, politics, and travel in the North. An avid cross-country skier, Wohlforth lives during the winter in Anchorage with his wife, Barbara, and their four children. In summer they live off the grid on a remote Kachemak Bay shore reachable only by boat. Wohlforth began his career as a reporter for a small-town newspaper. As a reporter for the Anchorage Daily News he worked months in the field covering the Exxon Valdez oil spill.
Praise For The Fate of Nature: Rediscovering Our Ability to Rescue the Earth…
"Intellectual, philosophical and packed with feeling, Wohlforth's hopeful arguments for preserving our natural world are also practical and ring true as a bell, a gentle pause in the noise that often takes the place of civilized debate on the topic." —Book Page
"A terrific if somewhat polemical book." —Knight Science Journalism Tracker
"An immense book that confronts the biggest question we'll ever face: Do we humans have it in us to square with nature before it's too late?" —ALAN WEISMAN, author of The World Without Us
"The Fate of Nature is an important and compelling read. Wohlforth develops critical, unexamined issues about our relationship to nature through the vivid characters and magnificent landscapes of coastal Alaska. You'll be intrigued, and you may be changed." —ROBERT F. KENNEDY JR.
"The great question--to be settled in the next few decades--is whether 'human nature' will force us to wreck our planet, or whether it will turn out to be the saving grace. Charles Wohlforth doesn't make assumptions--he makes sense. And hopeful sense at that!" —BILL MCKIBBEN, author of Deep Economy
"An ambitious and big-hearted book, The Fate of Nature contains lessons we all need to learn. It should be read by everyone who cares about the oceans and the many lives--human or otherwise--that depend on them." —ELIZABETH KOLBERT, author of Field Notes from a Catastrophe
"No one does a better job of bringing the real Alaska to life than Charles Wohlforth. In The Fate of Nature, he has combined compelling story-telling with a provocative contribution to our national environmental debate. I don't agree with everything Charles has to say, but his eye-opening book is an invaluable read for anyone who cares about my state and our planet and wants to leave it better than we found it." —SENATOR MARK BEGICH, Alaska
"The hidden truths in The Fate of Nature gradually come into focus through the adventures, stories, and exhilarating experiences conveyed with masterful grace and deep understanding of ancient wisdom and modern realities by Charles Wohlforth. A must-read for all who care about securing an enduring future for humankind within the natural systems that sustain us." —SYLVIA A. EARLE, Explorer in Residence, National Geographic