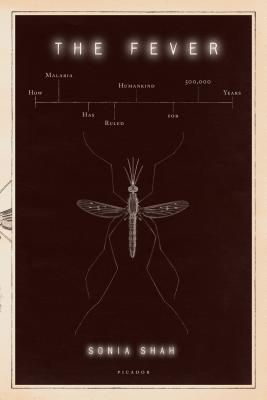 The Fever (Paperback)
How Malaria Has Ruled Humankind for 500,000 Years
Picador, 9780312573010, 320pp.
Publication Date: June 21, 2011
* Individual store prices may vary.
Description
In recent years, malaria has emerged as a cause célèbre for voguish philanthropists. Bill Gates, Bono, and Laura Bush are only a few of the personalities who have opened their pocketbooks in hopes of eradicating the scourge. How does a parasitic disease that we've known how to prevent for more than a century still infect three hundred million people every year, killing nearly one million of them? In The Fever, the journalist Sonia Shah sets out to answer this question, delivering a timely, inquisitive chronicle of the illness and its influence on human lives. The Fever captures the curiously fascinating, devastating history of this long-standing thorn in the side of humanity.
About the Author
Sonia Shah is an investigative journalist and the critically acclaimed author of The Body Hunters: Testing New Drugs on the World's Poorest Patients and Crude: The Story of Oil. Her writing has appeared in The Washington Post, The Boston Globe, New Scientist, The Nation, and elsewhere.
Praise For The Fever: How Malaria Has Ruled Humankind for 500,000 Years…
"Sonia Shah's tour-de-force history of malaria will convince you that the real sound track to our collective fate [is] the syncopated whine-slap, whine-slap of man and mosquito duking it out over the aeons." —The New York Times
"An often rollicking read . . . Shah has put together an engrossing cast of doctors, malariologists, and historical figures." —Time
"An insightful book explores the human struggle with malaria not just from a scientific angle, which is cogently detailed without being overwhelming, but also from sociological and anthropological perspectives. . . . Shah is to be commended. " —The Boston Globe
"Brilliant." —The Wall Street Journal
"The Fever is a vivid and compelling history with a message that's entirely relevant today." —Elizabeth Kolbert, author of Field Notes from a Catastrophe: Man, Nature, and Climate Change
"I didn't just read The Fever--I inhaled it. It's a fascinating book, elegantly written and superbly well researched: a poignant and important reminder of malaria's relentless human toll." —Nina Munk, author of Fools Rush In: Steve Case, Jerry Levin, and the Unmaking of AOL Time Warner
"A thrilling detective story, spanning centuries, about our erratic pursuit of a villain still at large and still a threat to mankind. The Fever is rich in colorful detail and engagingly told. An astonishing array of characters has joined the fray, and you can only be amazed at the deviousness and skill of the archenemy." —Malcolm Molyneux, Professor, Liverpool School of Tropical Medicine
"Extremely well-researched, The Fever provides a highly gripping account of one of mankind's worst diseases. Highly recommended." —Bart Knols, malariologist and managing director, MalariaWorld.org