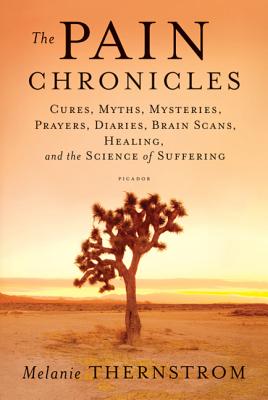 The Pain Chronicles (Paperback)
Cures, Myths, Mysteries, Prayers, Diaries, Brain Scans, Healing, and the Science of Suffering
Picador, 9780312573072, 432pp.
Publication Date: August 2, 2011
* Individual store prices may vary.
Description
In The Pain Chronicles, Melanie Thernstrom traces conceptions of pain throughout the ages—from ancient Babylonian pain-banishing spells to modern brain imaging—to reveal the elusive, mysterious nature of pain itself. Interweaving first-person reflections on her own battle with chronic pain, incisive reportage from leading pain clinics and medical research, and insights from a wide range of disciplines, Thernstrom shows that when dealing with pain we are neither as advanced as we imagine nor as helpless as we may fear.
About the Author
Melanie Thernstrom is a contributing writer to The New York Times Magazine and the author of The Pain Chronicles, The Dead Girl and Halfway Heaven: Diary of a Harvard Murder.
Praise For The Pain Chronicles: Cures, Myths, Mysteries, Prayers, Diaries, Brain Scans, Healing, and the Science of Suffering…
"Profound and engrossing, this exploration of pain is a pleasure." —People
"If you are one of the more than seventy million Americans who suffer from chronic hurt, The Pain Chronicles could very well be the first time you hear from someone who speaks your language." —Time
"[A] landmark book…deeply affecting…every word of Thernstrom's investigations into this mysterious subject rings true." —The Miami Herald
"Dense with insight and elegant in style…Thernstrom's study considers the mysteries of chronic pain from nearly every possible angle." —The New Yorker
"[The Pain Chronicles] is an expansive, invigorating mix of medical reportage, history, memoir and cultural criticism . . . At other times she is a fiercely knowledgeable science writer, delivering case studies and research findings with a storyteller's verve . . . But The Pain Chronicles is no mere self-help manual. It's a sophisticated, elegantly compiled treatise--as wide-ranging, complex and defiant as pain itself." —Robin Romm, The New York Times Book Review
"An ingenious mix of science, history, investigative journalism, and memoir." —Alec Solomita, The Boston Globe
"A comprehensive and thoroughly engaging portrait of a force that all of us have experienced, but few of us truly understand." —Ryan Brown, Salon
"There have been hundreds of books published in the last decades on pain and its management, but none that combine memoir, scholarly research and journalistic reportage in the way Ms. Thernstrom, the author of two previous books, does. A stellar example of literary nonfiction . . . You can become absorbed, as I was, in the fascinating struggle over the use of anesthesia (and, later, opiates) in 'Pain as History,' or play voyeur during absorbing clinical vignettes of 'Pain as Disease' . . . Melanie Thernstrom is such an engaging and intelligent writer that I remained intrigued with her investigation even as I disagreed with some of her reportorial choices." —Helen Epstein, The New York Times
"The Pain Chronicles blends cutting edge research, cultural and medical history, and real people's stories to make sense of the suffering." —O, The Oprah Magazine
"She covers vast swaths of history, culture, religion and science in short, accessible and beautifully sequenced chapters . . . This book offers an illuminating journey toward new vision and possible relief." —The Oregonian
"Thernstrom's descriptions . . . give a voice to millions of people whose lives are blackened by something that no one else can see." —Lucy Odling-Smee, Nature
"An exquisite, meticulous history of medicine's quest to alleviate pain . . . The personal chronicles lift this accomplished medical history to an astonishing record of courage and endurance . . . In these stories, there is a wealth of knowledge, wisdom, and hope for the rest of us." —Publishers Weekly (starred review)
"An intriguing investigation of chronic pain that combines expert opinion, philosophy and history with the author's personal struggle . . . A rich melange of ideas and journalism." —Kirkus Reviews
"The Pain Chronicles combines Melanie Thernstrom's talents for both medical journalism and memoir. Whether she is unpacking the cultural history of pain or elucidating scientific studies, her limitless curiosity will engage and enlighten readers. Rarely has a topic of such sadness been made so compulsively readable." —Arthur W. Frank, author of At the Will of the Body and The Wounded Storyteller
"A book about pain has no right to be so pleasurable to read, but such is the depth of Melanie Thernstrom's intellect, curiosity, and compassion that The Pain Chronicles is indeed a joy. It's also a revelation, a fascinating guide through a subject we all know so well but, until now, didn't know quite how to think about." —Stephen J. Dubner, coauthor of Freakonomics and SuperFreakonomics
"In this elegant, beautifully written book, Melanie Thernstrom trains her prodigious intellect on a subject at once utterly universal and deeply, poignantly personal. The Pain Chronicles is that rare hybrid: a meticulously researched and important work that is also a riveting page-turner. This is required reading for anyone who wants to understand an essential aspect of our humanity." —Dani Shapiro, author of Devotion: A Memoir
"An extraordinary tour of an important but often overlooked world--that of pain. Poignant and beautifully written, Melanie Thernstrom's book weaves together history, literature, psychology, neuroscience, and a deeply moving personal story to create a marvelously wise and erudite work that can enlighten us all." —Robert Klitzman, M.D., Professor of Clinical Psychiatry, Columbia University, and author of When Doctors Become Patients
"After going for a swim one day, Melanie Thernstrom emerged from the water with an ache in her neck and soon found herself plunging down a rabbit hole into the dark Wonderland known as chronic pain. Thernstrom takes us on a personal tour of this world, which has become a second home to her and millions of her fellow sufferers. Her superb book The Pain Chronicles is an essential resource for those similarly afflicted, their loved ones, and, indeed, anyone wanting to know more about the most primitive and powerful of all sensory experiences." —Frank T. Vertosick, Jr., M.D., FACS, author of Why We Hurt and When the Air Hits Your Brain
"Rarely has a single book so intelligently illuminated a universal human experience. Melding science, literature, religion, memoir, and history, Melanie Thernstrom has created a masterpiece that reveals how we seek diverse dimensions of meaning to transcend suffering." —Jerome Groopman, M.D., Recanati Professor at Harvard Medical School and author of The Anatomy of Hope and How Doctors Think
"The Pain Chronicles is scholarly, lyrical, and humane, and will give tremendous comfort to those who are in pain and those who hope to understand them." —Andrew Solomon, author of The Noonday Demon
"Melanie Thernstrom conveys, indelibly, that pain is not pressed upon us; it's in us, it's intrinsic to our being. I find that insight, and this book, invaluable in helping me understand my pain and the world's woe." —David Shields, author of Reality Hunger and The Thing About Life Is That One Day You'll Be Dead
"Chronic pain is the Wild West of medicine. In The Pain Chronicles, Melanie Thernstrom navigates this territory--its history, its evolution, and its always shifting frontiers--with keen intelligence and insight. She shares her own story in order to illuminate a narrative of pain that is becoming more and more a national narrative. Thernstrom never flinches in the face of a subject that is easily overlooked or judged by those for whom it is, ironically, too painful. This is stellar work." —Alice Sebold, author of The Lovely Bones and Lucky