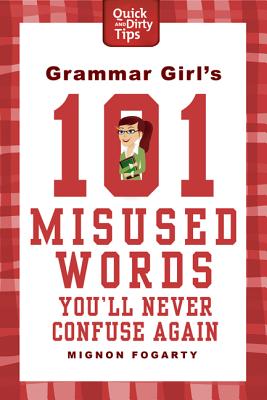 Grammar Girl's 101 Misused Words You'll Never Confuse Again (Quick & Dirty Tips) (Paperback)
St. Martin's Griffin, 9780312573379, 128pp.
Publication Date: July 5, 2011
* Individual store prices may vary.
Description
Millions of people around the world communicate better thanks to Mignon Fogarty, aka Grammar Girl, whose top-rated weekly grammar podcast has been downloaded more than 30 million times. After realizing her fans were asking the same questions over and over, Mignon decided to focus her attention on those words that continuously confound the masses. In Grammar Girl's 101 Misused Words You'll Never Confuse Again, you'll learn:
- When you should use affect and when effect is right
- Whether you should you say purposely or purposefully
- The difference between hilarious and hysterical
Packed with clear explanations, fun quotations showing the word used in context, and the quick and dirty memory tricks Mignon is known for, this friendly reference guide ends the confusion once and for all and helps you speak and write with confidence.
About the Author
Mignon Fogarty, the creator of Grammar Girl and the founder of the Quick and Dirty Tips network, is also the author of The New York Times bestselling GRAMMAR GIRL'S QUICK AND DIRTY TIPS FOR BETTER WRITING and THE GRAMMAR DEVOTIONAL.  Her straightforward, bite-sized tips on grammar have led to features in the New York Times, USA Today, the Los Angeles Times, and an appearance on Oprah. She lives in Reno, Nevada.
Praise For Grammar Girl's 101 Misused Words You'll Never Confuse Again (Quick & Dirty Tips)…
"For anyone who writes, whether blogs or greeting cards, and anyone who speaks in public ... this book should be in your reference library!" —City Book Review
"The book's tips will help increase SAT scores and will come in handy when writing papers or college entrance essays. You will find Fogarty's style to be warm, humorous, and accessible. Become a confident writer and speaker. You won't just sound smarter, you'll be smarter!" —Portland Book Review
Coverage from NPR