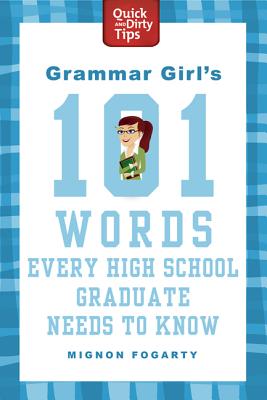 Grammar Girl's 101 Words Every High School Graduate Needs to Know (Quick & Dirty Tips) (Paperback)
St. Martin's Griffin, 9780312573454, 128pp.
Publication Date: July 5, 2011
* Individual store prices may vary.
Description
Millions of people around the world communicate better thanks to Mignon Fogarty, aka Grammar Girl, whose top-rated weekly grammar podcast has been downloaded more than 30 million times. Now she's turning her attention to improving our vocabulary—one word at a time—with Grammar Girl's 101 Words Every High School Graduate Needs to Know.
Not sure whether your post-high school vocabulary is up to snuff? This handy reference guide is a great starting point for ensuring you know the words that will help you impress your college professors, hold your own among your peers, write killer papers, and simply sound articulate—a skill that will benefit you for years to come.
Full of clear, straightforward definitions and fun quotations from luminaries such as J.D. Salinger and Susan B. Anthony, to characters such as Marge and Homer Simpson, this highly-useable guidebook gives you the confidence to succeed and sets you up for a lifetime of success.
About the Author
Mignon Fogarty, the creator of Grammar Girl and the founder of the Quick and Dirty Tips network, is also the author of The New York Times bestselling GRAMMAR GIRL'S QUICK AND DIRTY TIPS FOR BETTER WRITING and THE GRAMMAR DEVOTIONAL.  Her straightforward, bite-sized tips on grammar have led to features in the New York Times, USA Today, the Los Angeles Times, and an appearance on Oprah. She lives in Reno, Nevada.
Praise For Grammar Girl's 101 Words Every High School Graduate Needs to Know (Quick & Dirty Tips)…
"A fun and useful gift for any grad." —City Book Review
"101 Words Every High School Graduate Should Know will help you impress professors and bosses, write killer papers, and hold your own in any conversation ... Let the go-to gal of grammar help you with your vocabulary skills and you'll be set for life." —Portland Book Review