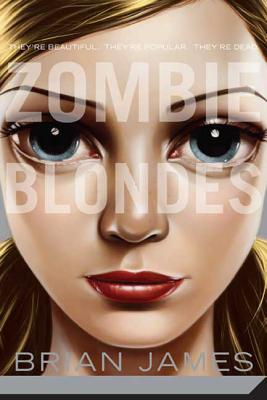 Zombie Blondes (Paperback)
Square Fish, 9780312573751, 232pp.
Publication Date: May 12, 2009
Description
They're beautiful. They're popular. They're dead. . . .
From the moment Hannah Sanders arrived in town, she felt there was something wrong. A lot of houses were for sale, and the town seemed infected by an unearthly quiet. And then, on Hannah's first day of classes, she ran into a group of cheerleaders -- the most popular girls in school.
The odd thing was that they were nearly identical in appearance: blonde, beautiful, and deathly pale.
But Hannah wants desperately to fit in -- regardless of what her friend Lukas is telling her: If she doesn't watch her back, she's going to be blonde and popular and dead -- just like all the other zombies in this town. . . .
"This foray into the world of the living dead is suspenseful and downright terrifying, with an ending right out of a classic film." -- Kirkus Reviews
About the Author
Brian James is the author of several notable books including Pure Sunshine and Dirty Liar. He lives in a small town in upstate New York that may or may not be overrun with zombies. He is currently researching the matter . . . very carefully.
Praise For Zombie Blondes…
"James has created a believable novel about starting over, making friends, bullying, and ostracism, while adding a dash of the supernatural . . . readers will still give a rousing cheer to James's take on teenage issues."—School Library Journal
"Narrated by Hannah Sanders, a new kid in a very strange town, Zombie Blondes takes its time making the case that the bitchy teen queens are actually deadly. It's tremendously readable stuff, though: James does a good job showing the allure of popularity even while Hannah tries to stay above it."—San Francisco Chronicle
Advertisement