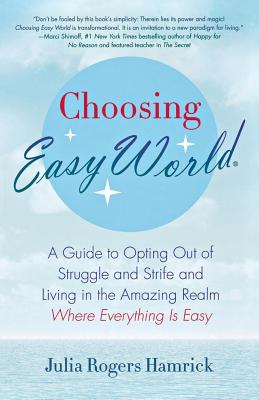 Choosing Easy World (Paperback)
A Guide to Opting Out of Struggle and Strife and Living in the Amazing Realm Where Everything Is Easy
St. Martins Press-3pl, 9780312574802, 237pp.
Publication Date: August 16, 2011
* Individual store prices may vary.
Description
Contrary to what we've believed, life does not have to be hard. And it was never intended to be Choosing Easy World explores the concept that there is a parallel reality we can access where everything works out effortlessly, harmoniously, and in support of our highest possibilities for well-being. As its title implies, Choosing Easy World reveals that the key to being in this reality--in "Easy World"--is as simple and easy as choosing to be. Woven through with powerful personal stories of opting into Easy World with remarkable results, Choosing Easy World provides readers with inspiration, instructions, and support for doing so themselves.
About the Author
JULIA ROGERS HAMRICK, author of Recreating Eden: The exquisitely simple, divinely ordained plan for transforming your life and your planet, has been a spiritual- growth facilitator since the early 1980s. She lives with her husband, Rick, and their two dachshunds.