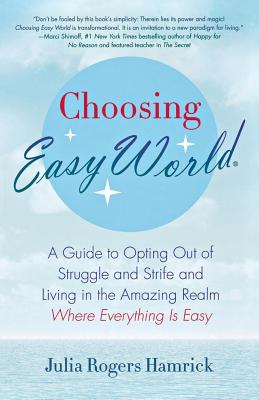 Choosing Easy World
A Guide to Opting Out of Struggle and Strife and Living in the Amazing Realm Where Everything is Easy
Paperback

* Individual store prices may vary.
Description
Contrary to what we've believed, life does not have to be hard. And it was never intended to be! Choosing Easy World explores the concept that there is a parallel reality we can access where everything works out effortlessly, harmoniously, and in support of our highest possibilities for well-being. As its title implies, Choosing Easy World reveals that the key to being in this reality—in "Easy World"—is as simple and easy as choosing to be. Woven through with powerful personal stories of opting into Easy World with remarkable results, Choosing Easy World provides readers with inspiration, instructions, and support for doing so themselves.
Praise For Choosing Easy World: A Guide to Opting Out of Struggle and Strife and Living in the Amazing Realm Where Everything is Easy…
"Don't be fooled by this book's simplicity: therein lies its power and magic! Choosing Easy World is transformational. It is an invitation to a new paradigm for living." —Marci Shimoff, # 1 New York Times bestselling author of Happy For No Reason and featured teacher in The Secret

"Julia is right, there is an Easy World! And with this wonderful book filled with insights and examples, she will help you find it." —Mike Dooley, bestselling author of Infinite Possiblities, creator of Notes From The Universe, and featured teacher in The Secret

"Allow Julia Rogers Hamrick to show you the way to a free-flowing world filled with abundance, joy, well-being and love, and you will be amazed at how easy it really is! Whatever you are doing right now, put it aside and immerse yourself in the brilliance of your new Easy World." —Peggy McColl, New York Times Best-Selling Author of Your Destiny Switch

"Choosing Easy World invites us to enter a new paradigm, where suffering and struggle are not possible and joy abounds. If this is the world you long for, this is the guide to get you there. You'll love it." —Sonia Choquette, New York Times Bestselling Author of The Answer is Simple…Love Yourself, Live Your Spirit!

"CHOOSING EASY WORLD is an amazing book designed for anyone wishing to learn the true wisdom of life in a truly difficult period of time: it will teach you how to emerge from challenges and discover the easy world we were all granted, but sometimes neglect. It is meant to help one unlock the potential for a resilient life and rejoice in everyday miracles." —Dr. Carmen Harra, author of The Eleven Eternal Principles

"Thanks to Julia Rogers Hamrick, easeful living now has a guidebook. Her message is one that all of us need to know: we're only a breath away from letting our lives unfold effortlessly. I particularly enjoyed Julia's voice in the book-- warm, friendly and clear--a breath of fresh air." —Gay Hendricks, Ph.D. bestselling author of The Big Leap, co-author (with Dr. Kathlyn Hendricks) of Conscious Loving
St. Martin's Griffin, 9780312574802, 256pp.
Publication Date: August 16, 2011
About the Author
Julia Rogers Hamrick, author of Recreating Eden: The Exquisitely Simple, Divinely Ordained Plan for Transforming Your Life and Your Planet, has been a spiritual-growth facilitator since the early 1980s. She lives with her husband, Rick, and their two dachshunds.