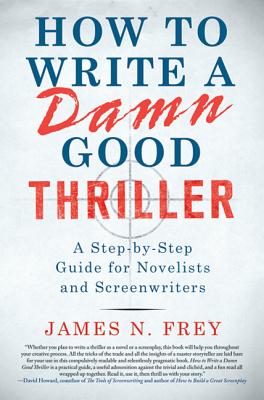 How to Write a Damn Good Thriller
A Step-by-Step Guide for Novelists and Screenwriters
Hardcover

* Individual store prices may vary.
Other Editions of This Title:
Hardcover (2/12/2004)
Hardcover (3/15/1994)
Description
A quick look at any fiction bestseller list reveals that thrillers make up most of the titles at the top. HOW TO WRITE A DAMN GOOD THRILLER will help the aspiring novelist or screenwriter to design, draft, write, and polish a thriller that is sure to grab readers. Frey uses examples from both books and movies and addresses the following hot topics:
*Germinal ideas
*Breathing life into great thriller characters
*Crafting a gripping opening
*Maintaining tension
*Creating obstacles and conflicts
*Writing a mean, lean thriller scene
*Adding surprise twists
*Building a smashing climax
and many more.
In his trademark approachable and humorous style, Frey illuminates the building blocks of great thrillers and gives the reader the tools to write his or her own.
Praise For How to Write a Damn Good Thriller: A Step-by-Step Guide for Novelists and Screenwriters…
"Jim Frey invented and owns the territory of disciplined fiction writing. Because he absolutely knows his stuff, he demands and tolerates nothing less than solid craft from his writing students, without settling for the niceties of mediocrity that won't get you published. If you want to understand what it takes to write a great story, and with unflinching clarity, Jim Frey is the guy." —Larry Brooks, author of Darkness Bound, Serpent's Dance, Bait and Switch, and Pressure Points

"I have James N. Frey's books on my shelves and the spines on both are falling apart from use. He absolutely forced me to understand things like "premise" that I otherwise would not have had a clue about. I firmly believe his books are among the best, if not the best books on the craft. He demands a lot of writers, but we both know that is absolutely essential if you are seeking to get published in this difficult market. I would be first in line to buy his new book on thrillers, though I'm certain it will cause me hours of angst because of all the things I don't know. Never met him, but would shake his hand if I did and thank him. He forces writers to think, and we don't like to do that, we like to write, but it is absolutely essential." —Robert Dugoni, New York Times bestselling author of Wrong Death, The Jury Master, and Damage Control

"For over twenty years, James N. Frey has been providing insightful, straightforward how-to guidance on how to achieve greater dramatic effect and power in writing fiction. His gift for clarity and his passion for craft resonate on every page. Don't be put off by the bare-knuckles title. This is a wise book. Anyone interested in writing thrillers would be foolish to pass it over." —David Corbett, author of Blood of Paradise, Done for a Dime, and The Devil's Redhead

"Whether you plan to write a thriller as a novel or a screenplay, this book will help you throughout your creative process. All the tricks of the trade and all the insights of a master storyteller are laid bare for your use in this compulsively readable and relentlessly pragmatic book. How to Write a Damn Good Thriller is a practical guide, a useful admonition against the trivial and clichéd and a fun read all wrapped up together. Read it, use it, then thrill us with your story." —David Howard, author of The Tools of Screenwriting and How to Build a Great Screenplay

"James N. Frey's How to Write a Damn Good Thriller is a must-read for anyone who dreams of writing a great thriller for the screen. Scorning simple-minded formulas, Frey shows with absolute clarity how to create well-orchestrated, highly motivated, complex characters and pit them against each other in a high-stakes conflict. This book is destined to be the thriller-writer's Bible." —Phil Gorn, screenwriter and award-winning director of S.F. and Ultimate Reality

"How to Write a Damn Good Thriller is an inspiring, entertaining read, packed with great advice about crafting your thriller, from finding a concept, through creating believable villains and heroes, to building an exciting climax. I've written four published thrillers, and Frey's book has me psyched to get started on the next one. I wish How to Write a Damn Good Thriller had come out years ago. It would have saved me a lot of time and trouble." —Patrick Quinlan, author of Smoked and The Takedown
St. Martin's Press, 9780312575076, 306pp.
Publication Date: March 30, 2010
About the Author
James N. Frey is the author of the internationally bestselling How to Write a Damn Good Novel and How to Write a Damn Good Novel, II, as well as nine novels. He has taught and lectured on creative writing at several different schools and conferences throughout the U.S. and Europe.