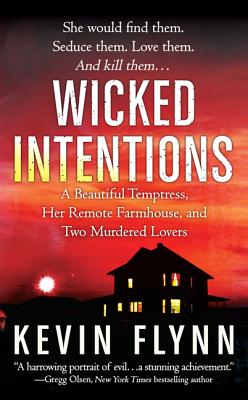 Wicked Intentions (Paperback)
A Remote Farmhouse, A Beautiful Temptress, and the Lovers She Murdered
St. Martin's True Crime, 9780312575779, 368pp.
Publication Date: December 29, 2009
* Individual store prices may vary.
Description
A beautiful woman in her forties, Sheila LaBarre had no problem attracting men. She preferred her lovers to be young and submissive. Once she gained a man's trust, she would invite him to live with her at her secluded New Hampshire farm, where she could play out her dark twisted games of abuse, torture, and revenge. Many of her lovers were never seen again. But when police discovered a human bone protruding from a smoking burn pit on Sheila's property, the whole world learned the shocking truth behind this seductive woman's wicked intentions.
About the Author
Kevin Flynn has spent eighteen years as a radio and TV journalist. He has won more than fifty broadcast awards, including an Emmy, four Edward R. Morrow Awards and three New Hampshire Magazine Best TV Reporter awards. Flynn also taught communications for ten years at Hesser College. Currently, Flynn writes for several magazines and works as Public Relations Manager for Griffin, York & Krause. He is also the co-author of Our Little Secret: The True Story of a Teenage Killer and The Silence of a Small New England Town.
Praise For Wicked Intentions: A Remote Farmhouse, A Beautiful Temptress, and the Lovers She Murdered…
"In Wicked Intentions, Kevin Flynn crafts a harrowing portrait of evil and retribution . . . you have no choice but to turn to the next page.." —Gregg Olsen, New York Times bestselling author
"Kevin Flynn delivers a grisly tale of manipulations, murder, madness and mystery…a frightening portrait of a brutal murderess." —Michael Glasgow, author of The Bridge
"Flynn takes the reader through LaBarre's disturbing life story, covering her abusive childhood, her failed marriages, her violent rages against the passive boyfriends she charmed and then controlled, and finally the evidence that pointed to at least one murder and perhaps many more." —Library Journal
"Wicked Intentions is a riveting tome full of crime, sex, money and unbelievable evil… . . . truly amazing." —The Republican (MA)
"Wicked Intentions is a tale about far more than just the facts of the case. It is an insightful exploration of the forces that drive many aspects of human behavior…Well worth a read." —New Hampshire magazine
"Readers will become obsessed with this case and how it intricately unfolds, one mind-blowing detail after the next. The Sheila LaBarre murders have it all: sex, money and shocking behavior that even a team of top Hollywood script writers could never concoct." —Jane Velez-Mitchell, celebrity journalist and author of Secrets Can Be Murder
"Flynn's research and attention to detail will give true crime junkies something truly spectacular to devour." —Amanda Lamb, author of Deadly Dose
"A real-life tale looking like it was ripped out of a horror movie . . . an ideal read for true crime and horror readers alike." —Midwest Book Review
or
Not Currently Available for Direct Purchase