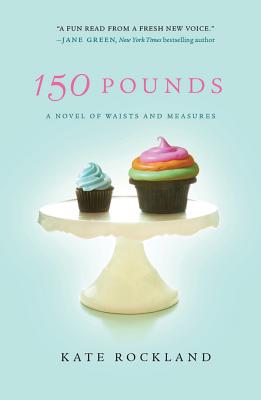 150 Pounds (Hardcover)
A Novel of Waists and Measures
Thomas Dunne Books, 9780312576011, 336pp.
Publication Date: January 17, 2012
* Individual store prices may vary.
Description
A smartly-written novel by author, Kate Rockland, of two women starting at opposite ends of the scale--and finding compromise and friendship in their journey towards 150 pounds
In the fast paced life of blogging, two women stand out: Alexis Allbright, of "Skinny Chick," and Shoshana Weiner, who writes "Fat and Fabulous." Both have over five million loyal readers. Both are hungry for success. But the similarities stop there.
With over 100 pounds on the scale separating them, weight isn't their only difference. Alexis is a loner who is so bitchy the only person who can stand her company is her gay best friend Billy. She gives neurotic New Yorkers a run for their money with her strict daily workout routine, and weighing of food. Shoshana is Alexis's opposite. Living in Jersey with rowdy roommates, she is someone who "collects friends," as her mother puts it; and treasures a life of expanding circles...and waistlines.
When both appear as panelists on a popular talk show, their lives intersect in ways neither could have imagined. In turns comedic, heartwarming--and familiar to any woman who's ever stepped on a scale--Alexis and Shoshana realize they have far more in common than either could have possibly imagined, and more importantly, something to offer.
About the Author
Kate Rockland is a frequent contributor to the "New York Times Style" section and has also written for "Playboy, Rolling Stone, Us Weekly, Time Out New York, Spin" and other magazines. She lives in New Jersey.
Praise For 150 Pounds: A Novel of Waists and Measures…
Praise for 150 Pounds:
"A fun read from a fresh new voice"--New York Times-bestselling author, Jane Green
"In Kate Rockland's newest novel, Shoshana and Alexis couldn't be more relatable—not to mention comedic, sassy and full of a rare sense of honesty.  The perfect novel for women of all sizes; to enjoy with a cupcake or on the stairmaster!"—Lisa Patton, bestselling author of Yankee Doodle Dixie
"Ms. Rockland handles an emotional topic sensitively yet head-on. The result is that the reader is left with an inner confidence and somehow more sure of living in HER own skin. Every woman who has hang-ups about her weight should read this." —Laura Pepper, author of Wow! Glowing Bride in 30 Days
"Rockland does an excellent job of subverting chick lit tropes…the uplifting message and quirky humor should satisfy readers of all sizes."–Publishers Weekly
"Charming, especially in Shoshana's story, which calls to mind Jennifer Weiner's Good in Bed. An interesting, if fluffy, approach to women's body-image issues and female empowerment."–Booklist
 Praise for
Falling is Like This
: 
"Rockland [has an] ear for dialogue...and thoughtful, humorous prose."
–
Nylon
Magazine
"Say hello to a new rock star in women's fiction...one of the best novels I've read in a long while."
–
New York Times
bestselling author Emily Giffin 
"Saucy, sexy, and well-written"
–Courtney Love  
or
Not Currently Available for Direct Purchase