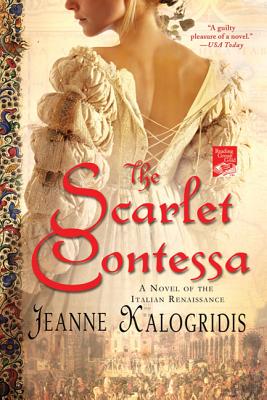 The Scarlet Contessa: A Novel of the Italian Renaissance (Paperback)
A Novel of the Italian Renaissance
St. Martin's Griffin, 9780312576240, 480pp.
Publication Date: July 5, 2011
Description
""
"What Philippa Gregory has done for Tudor England, Jeanne Kalogridis does for Renaissance Italy. Her latest irresistible historical novel is about a countess whose passion and willfulness knew no bounds Caterina Sforza."
""
""
Daughter of the Duke of Milan and wife of the conniving Count Girolamo Riario, Caterina Sforza was the bravest warrior Renaissance Italy ever knew. She ruled her own lands, fought her own battles, and openly took lovers whenever she pleased.
Her remarkable tale is told by her lady-in-waiting, Dea, a woman knowledgeable in reading the "triumph cards," the predecessor of modern-day tarot cards. As Dea tries to unravel the truth about her husband's murder, Caterina single-handedly holds off invaders who would steal her title and lands. However, Dea's reading of the cards reveals that Caterina cannot withstand a third and final invader none other than Cesare Borgia, son of the corrupt Pope Alexander VI, who has an old score to settle with Caterina. Trapped inside the fortress at Ravaldino as Borgia's cannons pound the walls, Dea reviews Caterina's scandalous past and struggles to understand their joint destiny, while Caterina valiantly tries to fight off Borgia's unconquerable army.
About the Author
Jeanne Kalogridis lives with her partner on the West Coast, where they share a house with two dogs. She is the author of The Borgia Bride, The Devil's Queen, and other dark fantasy and historical novels. Born in Florida, Kalogridis has a B.A. in Russian and a master's in linguistics, and taught English as a second language at The American University for eight years before retiring to write full-time.
Praise For The Scarlet Contessa: A Novel of the Italian Renaissance…
"Sexually voracious, battle hardened, a ruler in her own lands, Caterina rejects a woman's place in a macho culture. Does she get away with it? That's what this guilty pleasure of a novel is about." —USA Today
"In her fascinating novels Kalogridis focuses on the intrigues, passions and history of the Renaissance, drawing readers into the events that shaped the era through the lives of remarkable women. In a time when women quietly obeyed, Caterina Sforza forged her own destiny, choosing her lovers and fighting battles. In Kalogridis' hands, she comes alive as an extraordinary woman ahead of her time."—RT Book Review (4 stars)
"Historical novelist Kalogridis has again woven a delightful and intricate tapestry of life, love, lust, politics and ambition that made up the Italian peninsula in the 15th century. . . . Depictions of sumptuous richness and the basest squalor, the petty enmities and jealousies, the corruption at the heart of the Vatican are shown in splendid detail and make this an incredibly rewarding read. Highly recommended."—Library Journal
"[A] vividly rendered historical . . . plenty of intrigue and conspiracy in the lusty plot."—Publishers Weekly
Advertisement