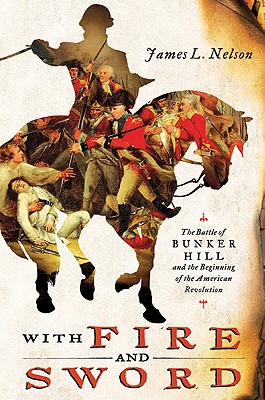 With Fire and Sword: The Battle of Bunker Hill and the Beginning of the American Revolution (Hardcover)
The Battle of Bunker Hill and the Beginning of the American Revolution
Thomas Dunne Books, 9780312576448, 384pp.
Publication Date: March 1, 2011
* Individual store prices may vary.
or
Not Currently Available for Direct Purchase
Description
On June 17, 1775, the entire dynamic of the newborn American Revolution was changed. If the Battle of Lexington and Concord was, in the immortal words of Ralph Waldo Emerson, the "shot heard round the world," Bunker Hill was the volley that rocked Britain's Parliament and the ministry of King George III to its core. The Battle of Bunker Hill was the first hostile engagement of the Revolution between two organized armies, and the first time that a genuine American army had ever taken the field. It gave the British their first inkling that the Colonial rabble-in-arms they had envisioned might actually prove to be a formidable fighting force.
In this book," "award-winning author James L. Nelson tells the exciting and dramatic story of the fight that changed the face of the American Revolution. He looks at the events leading up to that fateful day, the personalities on both the British and American sides who made momentous decisions, and the bloody outcome of those crucial choices, which would affect the British strategy on the battlefield throughout the coming six more years of active warfare.
A masterful new history of the first set-piece battle of the Revolutionary War, "With" "Fire and Sword" offers critical new insights into one of the most important actions of our country's founding.
About the Author
JAMES L. NELSON is the author of fifteen works of fiction and nonfiction. His novels include the five books of his Revolution at Sea saga and three in his Brethren of the Coast series. His novel "Glory in the Name" won the American Library Association's W.Y. Boyd Literary Award for Best Military Fiction. "Reign of Iron: The Story of the First Battling Ironclads" was his first work of nonfiction, and he has since authored three other histories of naval warfare dring the American Revolution: "Benedict Arnold's Navy, George Washington's Secret Navy, " which earend the SAmuel Eliot Morison Award from the Naval Order of the United STates, and "George Washington's Great Gamble." He lives in Harpswell, Maine, with his wife and four children.
Praise For With Fire and Sword: The Battle of Bunker Hill and the Beginning of the American Revolution…
"A dramatic and assiduously researched history.... James L. Nelson's With Fire and Sword is packed with incisive information on how the new American government and army were formed. And its sharply rendered battle scenes, sometimes taken straight from participants' diaries, project a vicious, gritty reality more reminiscent of World War II and Vietnam reportage than of a war which has so often been romanticized. Readers will surely find Nelson's objective history exciting and bracing."--Philadelphia Inquirer "Top-notch research and an entertaining narrative capture all of the drama and flavor of this important event. Nelson writes with the clarity and authority of an historian who at the top of his game."--Tucson Citizen "Excellent, vivid blow-by-blow account from fine storyteller."--American History Magazine "Nelson does a remarkable job of bringing history to life, using the voices of those involved.... Nelson brilliantly succeeds at drawing readers into the first major battle of the Revolutionary War."--Bangor Daily News "[Nelson] makes history entertaining, exciting and fascinating."--Kennebec Journal "This rousing history rescues Bunker Hill from its folkloric shroud and presents it as one of the revolution's more significant and dramatic battles. ... Nelson's well-researched, entertaining account of the revolution's opening chapter aptly conveys the difficulty and riskiness of the patriots' gamble."--Publishers Weekly "A clever, often sardonic history of an iconic battle. ... Nelson makes an entertaining case that the American Revolution may have been won on Bunker Hill."--Kirkus Reviews (starred review) "Nelson has written a vivid description of the savage fighting, paying ample tribute to the courage and tenacity displayed by both sides. ... This is a well-done examination of a critical battle, ideal for general readers."--Booklist "Most appealing is Nelson's refreshing ability to write about historical events and people in a manner that makes history come alive — entertaining, exciting, and fascinating. ... Best, however, is Nelson's gripping description of the battle itself."--New Maine Times "Mr. Nelson has taken an episode, which usually does not occupy more than a few paragraphs in most histories of Revolution, an d with convincing research and vivid narrative style turned it into an important, marvelously readble book." --Thomas Fleming on George Washington's Secret Navy "Benedict Arnold's Navy is an excellent book and one worthy of its author, James L. Nelson, who has written several historical books of exceptional quality.  Typical of his work, Nelson has taken an episode of history, researched it thoroughly, and produced a smoothly told narrative." --Associated Press "A suspenseful vivid account." - the Wall Street Journal on Benedict Arnold's Navy "Nelson does a masterful job of storytelling, describing not just the military actions but also the petty jealousies and backbiting that were all too common in the Continental Army at that time." --Military Heritage on Benedict Arnold's Navy "Nelson shows in Reign of Iron that his knack as a storyteller is as strong in a historical examination as it is in novels.  But he also displays a great grasp of perspective that allows him to deal with the significance of events." --Pittsburgh Tribune-Review
Advertisement