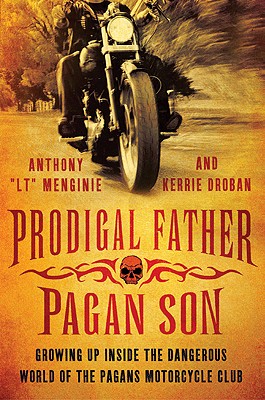 Prodigal Father, Pagan Son: Growing Up Inside the Dangerous World of the Pagans Motorcycle Club (Hardcover)
Growing Up Inside the Dangerous World of the Pagans Motorcycle Club
Thomas Dunne Books, 9780312576547, 288pp.
Publication Date: March 29, 2011
* Individual store prices may vary.
or
Not Currently Available for Direct Purchase
Description
Winner of the USA Book News National Book Award for Best Nonfiction True Crime and Best Memoir/Autobiography

By the time he was thirteen, he already had attended thirteen funerals.
Abandoned by his mother, and with his father, "Mangy" Menginie--president of the Pagans Motorcycle Club, Philadelphia chapter--in jail, Anthony "LT" Menginie is raised inside the Pagans and inducted into a life of sex, violence, drugs, and organized crime.
In Mangy's absence, LT finds a father figure in the Saint, a club member who helps teach him the difference between the club members you respect and those you fear. The author recounts the power struggles that occur when Mangy is released from jail and tries to resume his role as father and president. Soon all hell breaks loose when Mangy betrays the club by going over to the rival Hells Angels, helping to touch off the "Biker Wars" in Philadelphia. The chapter's new president grooms LT to one day confront his father for his treachery. Faced with an impossible decision, LT has to decide where his loyalties lie.
"Prodigal Father, Pagan Son" is a voyeuristic glimpse into the shocking and hypnotic underworld of notorious "one-percenter" biker clubs, hit men, drug dealers, and the other individuals who operate under no other rules than the "club code." But more than this, Menginie's story is the gritty and powerful true tale of surviving amid personal trials and tragedies, and of one man's determination to escape to a better life.
About the Author
ANTHONY "LT" MENGINIE is the son of Anthony "Mangy" Menginie, former Philadelphia chapter president of the Pagans Motorcycle Club.

KERRIE DROBAN is the author of "Running with the Devil: The True Story of the ATF's Infiltration of the Hells Angels, "winner of the USA Book News National Book Award for True Crime." "She is a criminal defense attorney in Arizona.
Praise For Prodigal Father, Pagan Son: Growing Up Inside the Dangerous World of the Pagans Motorcycle Club…
"A down-and-dirty memoir that should appeal to readers of such books as Sonny Barger's Hell's Angel (2001) and Hunter Thompson's classic Hell's Angels (1967)."—Kirkus Reviews

"One of the most extraordinary true crime autobiographies."—Sydney Morning Herald

"Gritty and real, tragic and brutal. The book is filled with powerful characters. A compelling read...not for the sqeamish."—MotorcycleUSA.com
"Any general-interest lending library will find this an involving, moving memoir!"—Midwest Book Review
"The raw honesty and horrendous recounts of events give readers a sense of empathy, and you can't help but imagine the travesties that the character endures as a young boy....
Prodigal Father, Pagan Son
 is written with emotion, detail and brilliant imagery. The book is able to capture the audience with authenticity and believability."
—
NomadsLeathers.com
"This is a one-of-a-kind true tale of being born into madness . . . and of rising above it.—Robert K. Tanenbaum, New York Times bestselling author of Betrayed and Capture

"Delves into the secret underworld of 'one-percenter' clubs and delivers a candid and fascinating look at one man's search for brotherhood amid a life of dysfunction and abuse."—Jack Ballentine, author of Murder for Hire: My Life as the Country's Most Successful Undercover Agent

Advertisement