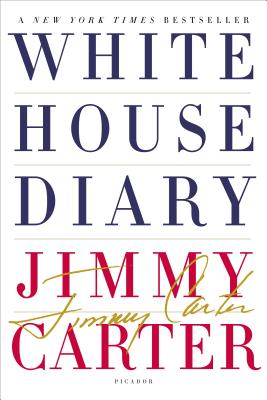 White House Diary (Paperback)
Picador, 9780312577193, 592pp.
Publication Date: August 30, 2011
Other Editions of This Title:
Digital Audiobook (9/19/2010)
Compact Disc (9/20/2010)
Hardcover (9/20/2010)
* Individual store prices may vary.
Description
A New York Times Bestseller
Each day during his presidency, Jimmy Carter kept a private diary. In it, he supplied unvarnished assessments of cabinet members, congressmen, and foreign leaders, and narrated the progress of secret negotiations; he recorded his thoughts and his impressions of White House life, and chronicled the delights and the frustrations of occupying the world's most powerful political office. Yet this extraordinary document was never made public--until now. By carefully selecting the most illuminating entries, Carter provides us with an astonishingly intimate view of his presidency. Day by day, we see his forceful advocacy for nuclear containment, and his campaign for peace in the Middle East. Remarkably, thirty years after the fact, he has annotated the diary with candid reflections on the people and events that shaped his presidency, and on the many lessons he learned. Offering an unprecedented look inside both the man and his tenure, White House Diary is a fascinating book that stands as a unique contribution to the history of the American presidency.
About the Author
Jimmy Carter, our thirty-ninth president, received the Nobel Peace Prize in 2002. He is the author of numerous bestsellers, including White House Diary, An Hour Before Daylight and Palestine Peace Not Apartheid. Carter grew up on a peanut farm in Plains, Georgia. He graduated from the Naval Academy in 1946, and after seven years of service in the Navy, he returned to Georgia and entered state politics, becoming governor in 1971. In 1976, he was elected President of the United States.  Carter aspired to make government "competent and compassionate," and fought for human rights around the world. His successes include the Israel-Egypt peace treaty, the Panama Canal treaties, and establishing full diplomatic relations with China.  After leaving office, he and his wife Rosalynn created the Carter Center, a nonpartisan organization working to advance human rights and democracy, resolve conflicts, and relieve suffering from disease and hunger around the world. The Carters live in Plains, Georgia, but continue to travel around the world in support of numerous philanthropic efforts.
Praise For White House Diary…
"Fascinating...The pace gives a sense of what it is like to be president, and the entries contain blunt appraisals of the people with whom he dealt." —The New York Times
"Outstanding…Anyone seeking insight into the thirty-ninth president of the United States would do well to pick up [this] book." —The Christian Science Monitor
"A substantial contribution to [history]… a uniquely unfiltered look at what occupying the Oval Office day to day means." —Los Angeles Times
"[Carter's] tart wit and cutting candor add flavor to a revealing portrait of presidential achievement." —Publishers Weekly