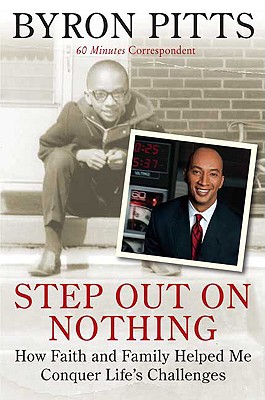 Step Out on Nothing (Hardcover)
How Faith and Family Helped Me Conquer Life's Challenges
St. Martin's Press, 9780312577667, 304pp.
Publication Date: September 29, 2009
Other Editions of This Title:
Paperback (10/12/2010)
Compact Disc, Abridged, Abridged (9/29/2009)
* Individual store prices may vary.
Description
It was August 25, 2006, my first on-camera studio open for the CBS News broadcast 60 Minutes. Executive Producer Jeff Fager poked his head in the dressing room." Good luck, Brotha! You've come a long way to get here. You've earned it."
…If only he knew. My mind flashed back to elementary school, when a therapist had informed my mother, "I'm sorry, Mrs. Pitts, your son cannot read."
In Step Out on Nothing, Byron Pitts chronicles his astonishing story of overcoming a childhood filled with obstacles to achieve enormous success in life. Throughout Byron's difficult youth—his parents separated when he was twelve and his mother worked two jobs to make ends meet—he suffered from a debilitating stutter. But Byron was keeping an even more embarrassing secret: He was also functionally illiterate. For a kid from inner-city Baltimore, it was a recipe for failure.
Pitts turned struggle into strength and overcame both of his impediments. Along the way, a few key people "stepped out on nothing" to make a difference for him—from his mother, who worked tirelessly to raise her kids right and delivered ample amounts of tough love, to his college roommate, who helped Byron practice his vocabulary and speech. Pitts even learns from those who didn't believe in him, like the college professor who labeled him a failure and told him to drop out of college. Through it all, he persevered, following his steadfast passion. After fifteen years in local television, he landed a job as a correspondent for CBS News in 1998, and went on to become an Emmy Award–winning journalist and a contributing correspondent for 60 Minutes. Not bad for a kid who couldn't read.
From a challenged youth to a reporting career that has covered 9/11 and Iraq, Pitts's triumphant and uplifting story will resonate with anyone who has felt like giving up in the face of seemingly insurmountable hardships.
About the Author
BYRON PITTS was named a contributor to "60 Minutes" and chief national correspondent for CBS News""in Jan. 2009. Pitts was one of CBS News' lead reporters during the 9/11 attacks and won a national Emmy Award for his coverage. As an embedded reporter covering the Iraq War, he was recognized for his work under fire within minutes of the fall of the Saddam statue. Other major stories covered by Pitts include the Chicago train wreck in 1999, for which he received a national Emmy Award, Hurricane Katrina, the war in Afghanistan, the military buildup in Kuwait, the Elian Gonzalez story, the Florida Presidential recount, and the refugee crisis in Kosovo. He won recognition as NABJ Journalist of the Year Award in 2002 for his coverage of the 9/11 attacks. He is also the recipient of four Associated Press Awards and six regional Emmy Awards. Pitts graduated from Ohio Wesleyan University with a B.A. in journalism and speech communication. He lives with his wife in Montclair, N.J.
Praise For Step Out on Nothing: How Faith and Family Helped Me Conquer Life's Challenges…
"Byron Pitts' book, "Step Out on Nothing – How Faith and Family Helped me Overcome Life's Obstacles" should be required reading for anyone who has been told "You can't do it." Faced with obstacles and challenges that many would find insurmountable, Byron through his remarkable faith and the support of his family refused to accept what all too many resign themselves to today, a life left unfilled, with promise, dreams and aspirations sadly left on the doorsteps of our future. Faith without works is dead; Byron's faith is far from dead! - TD Jakes, author and chief pastor of The Potter's House
"It seems unimaginable that someone of Byron's intelligence and elegance could have faced so many struggles as a young man. No wonder he is such an inspired story teller – his own story is inspiring."
- Katie Couric, anchor and managing editor, CBS Evening News with Katie Couric, and 60 Minutes correspondent
"Byron Pitts had a secret . . . one he thought was shameful and embarrassing. So he kept it—for years and years. That he was able to is only one astonishing detail in his wonderfully candid, you-are-there memoir. Vividly written, Byron can tell a yarn with passion and intimacy. Step Out on Nothing is truly moving." - Lesley Stahl, 60 Minutes correspondent
"I have always had the utmost respect for Byron as a fellow journalist. He is outstanding. I felt this way even before I discovered all he had to overcome to reach such heights of our profession. Reading Byron's moving story left me speechless. You can't help but be inspired." - Robin Roberts, Good Morning America co-anchor
"If you have ever been told, "You can't achieve your dreams," you need to read Step Out on Nothing. Byron Pitts has used his remarkable skills as a reporter to reveal his most fascinating story to date - the story of his own life. It is a triumphant tale of faith and family, and one man's determination to overcome seemingly impossible odds. This book will move you, inspire you, and make you look at your own difficulties in a whole new light." - Anderson Cooper, CNN anchor
"Pitts, chief national correspondent for CBS News and contributing correspondent on 60 Minutes, is as suave and assured as any in a long line of famous correspondents. But Pitts' achievements are particularly noteworthy because he grew up in inner-city Baltimore, painfully shy, stuttering badly, and functionally illiterate. Because he was quiet and polite, he was passed along until fifth grade, when he was tested and consigned to remedial classes. But his determined and religious mother worked with him, coaches and others encouraged him, and he managed to gain admission to Ohio Wesleyan University. When one professor threatened to fail him, another worked with him individually, and yet another provided impromptu speech therapy. Despite his stuttering, he was determined to go into broadcast journalism and recalls the mentors who encouraged him and the tormentors who made him angry enough that he didn't give up. He traces his path through local news stations until he reached a national network. An inspiring memoir of faith and determination, by an Emmy-winning journalist."
— Booklist
Coverage from NPR
or
Not Currently Available for Direct Purchase