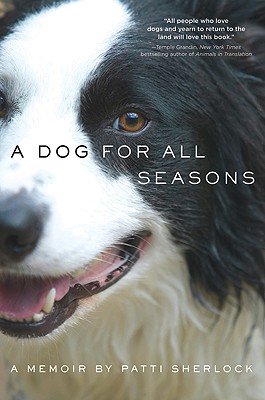 A Dog for All Seasons: A Memoir (Hardcover)
A Memoir
Thomas Dunne Books, 9780312577926, 256pp.
Publication Date: March 30, 2010
* Individual store prices may vary.
or
Not Currently Available for Direct Purchase
Description
A love letter to the working dog, this heartwarming memoir about life on a sheep farm captures the joys and heartbreak of loving a pet
Patti Sherlock's working relationship with her Border Collie, Duncan, got her through the ups and downs of sixteen years on a sheep farm in Idaho. During that time, Duncan was an unwavering companion through the destruction of Patti's marriage, her children inevitably leaving home one by one, and eventually, her decision to stop raising sheep. Patti's life on the farm is a reflection of beginnings and endings, and the cycle of seasons in all of our lives.
About the Author
Patti Sherlock lives on a farm in Idaho. She walks her dogs in fields that are home to hawks, owls, ravens, coyotes, and a family of golden eagles.
Praise For A Dog for All Seasons: A Memoir…
"A moving memoir of a loving relationship with a dog and the trials and tribulations of living on a western sheep farm. All people who love dogs and yearn to return to the land will love this book."
-Temple Grandin, New York Times bestselling author of ANIMALS IN TRANSLATION and ANIMALS MAKE US HUMAN
"If you've forgotten how to see miracles in everyday moments, this book will remind you. It's a story about the
real
world, the world where human beings live in constant contact with nature, and where animals are more than best friends
."
--W. Michael Gear and Kathleen O'Neal Gear
, New York Times bestselling authors of PEOPLE OF THE THUNDER
"Beautifully written, it is a memoir sure to rivet the attention of those who have had the blessing of a dog woven into the fabric of a human's life."
--
Mordecai Siegal,
bestselling author of I JUST GOT A PUPPY, WHAT DO I DO? "Patti Sherlock brings you to the peaceable barnyard kingdom she shares with her family and Duncan, a high-energy, weather-forecasting, sheep-herding Border collie. When the going gets tough and her marriage falls apart, it is the indiscriminately kind Duncan who helps Sherlock get beyond the past and find her way to green pastures."
--
Marsha Boulton
, author of WALLY'S WORLD
"A DOG FOR ALL SEASONS
g
ives us the convergence of a remarkable woman, a wonderful dog, and a fascinating way of life. It's the literary equivalent of fresh air, pure water, and sparkling sunlight. The book should be savored."
--
Tim Sandlin,
author of JIMI HENDRIX TURNS EIGHTY and ROWDY IN PARIS
Advertisement