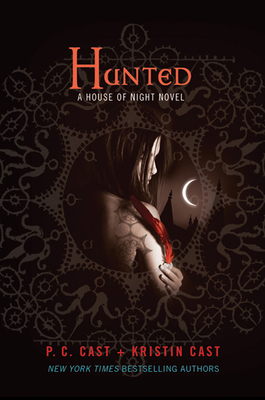 Hunted
A House of Night Novel (House of Night Novels #5)
Paperback

* Individual store prices may vary.
Other Editions of This Title:
Digital Audiobook (3/9/2009)
Hardcover (3/10/2009)
Mass Market (7/23/2013)
Paperback, Chinese (1/1/2011)
Compact Disc (3/10/2009)
Hardcover, Large Print (4/2/2010)
Prebound (3/16/2010)
Description
What if the hottest guy in the world was hiding a nameless evil, and all he wanted was you?

At the start of this heart-pounding new installment of the bestselling House of Night series, Zoey and her gang must discover a way to deal with an unexpected danger that might bring them all down. Neferet guards her powerful new consort, Kalona, who looks gorgeous and has the House of Night under his spell. A past life holds the key to breaking his rapidly spreading power, but what if it shows Zoey truths she can't face? Meanwhile, the red fledglings have cleaned up well, but are they really as friendly as they seem? On the boyfriend front, Zoey has a chance to fix things with super-hot ex-, Erik, but she can't stop thinking about Stark, the archer who died in her arms, and she is driven to save him from Neferet's sinister influence. Will anyone believe the power evil has to hide among us?
Praise For Hunted: A House of Night Novel (House of Night Novels #5)…
"Cast and Cast pull out all the stops and take this story to shattering new heights with devastating consequences!" —Romantic Times (4 ½ stars) on Tempted

"P. C. And Kristin Cast have made an absolutely amazing [YA] series. The visuals offered by this fantastic duo are entertaining and imaginative, with nonstop action… This is easily a [YA] series that can entertain adults with action, hot Vampyres, true friendship, budding romance, a loving Goddess, and a twist of the unexpected." —HowlingGoodBooks.com (5 stars) on Tempted

"I loved every one of the books in the [House of Night] series. Tempted is my definite favorite…. This book had me ripping through the pages." —Teen review on Flamingnet.com on Tempted

"Move over, Stephenie Meyer." —People on Hunted

"Zoey Redbird's first-person adventures take on added danger and importance in the latest House of Night release. Forced by circumstance to grow up quickly, Zoey's emotional and spiritual evolution is fascinating. The Cast duo breathes life and vibrancy into the characters and makes each one an integral part of the saga. Awesome and unforgettable as always!" —Romantic Times (4.5 stars) on Hunted

"The Cast duo has done it again! These ladies appear to be an unstoppable force within the world of YA literature… Teenage readers will be drawn to Zoey's everyday, angst-riddled life. Not only does she need to save the world, Zoey needs to solve some major vampyre/human boy drama. These stories are surreal, yet shockingly accurate when it comes to teenagers and their lives." —TeensReadToo.com (5 stars) on Hunted

"The most masterful part of the writing lies in how the authors take on serious issues sex, peer pressure, bullying, parental alienation, religion, and substance abuse and weave them into the text. It is a refreshing perspective that doesn't feel like preaching." —Tulsa World on Hunted

"I absolutely loved this book…. I enjoyed the story line very much and thought that the authors had correctly portrayed the mind of a teenager…. I would recommend this book to vampyre fans and anyone who would enjoy a wondrous fantasy story." —Teen review on Flamingnet.com on Hunted

"An exceptional vampire tale… P.C. and Kristin Cast do a phenomenal job." —Darquereviews.com on Hunted

"Hunted is an appealing supernatural thriller… The exciting storyline is filled with teenage angst as Zoey struggles with choices that would cause PTSD in most adults…. This fine entry casts a strong spell on readers." —Thebestreviews.com on Hunted

"A richly nuanced standout… Even when she's confused, even when she's embroiled in teen-angst, Zoey's choices, delivered in fresh first person, seem believable. Even better? They seem smart…. This series has dark themes and subject matter, but the Cast team delivers them with sparkling dialogue, wry humor, and realistic characters driven by genuine humanity." —Fictionistas.blogspot.com on Hunted

"This is a series that should not be missed!" —EnchantingReviews.com

"Chosen, The House of Night series book 3, is like the cream in an Oreo cookie holding the two ends together. This story is gearing up for the final showdown between Zoey and Nepheret and mother and daughter team, P.C. and Kristen Cast are setting the stage perfectly for this….Again, P.C. Cast is an auto-buy author for me and this series is also on that auto-buy list." —Paranormal Romance Reviews

"Betrayed continues the House of Night series in a chilling fashion. PC and Kristin Cast once again prove their talent in telling a tale filled with all the normal teenage angst compounded with becoming a Vampyre….If you liked the first book in the series, you'll love this one!" —Paranormal Romance Reviews

"Marked is one of the best coming of age stories to come out of Oklahoma since S. E. Hinton's The Outsiders. It teaches about the beauty of being a social outcast, friendship, and finding your own inner spirituality." —The Beltane Papers
St. Martin's Griffin, 9780312577995, 336pp.
Publication Date: March 16, 2010
About the Author
P.C. Cast is the author of the House of Night novels, including Marked, Betrayed, Chosen, and Untamed.

Ms. Cast is a #1 New York Times and USA Today Best-Selling author and a member of the Oklahoma Writers Hall of Fame. With more than 20 million copies in print in over 40 countries, her novels have been awarded the prestigious Oklahoma Book Award, YALSA Quick Pick for Reluctant Readers, Romantic Times Reviewers' Choice Award, the Prism, Holt Medallion, Daphne du Maurier, Booksellers' Best, and the Laurel Wreath.

Ms. Cast was born in the Midwest and grew up being shuttled back and forth between Illinois and Oklahoma, which is where she fell in love with Quarter Horses and mythology. After high school she joined the United States Air Force and began public speaking and writing. After her tour in the USAF, she taught high school for 15 years before retiring to write full time. She now lives in Oregon surrounded by beloved cats, dogs, horses, and family.
Kristin Cast
is a #1
New York Times
and #1
USA Today
bestselling author who teams with her mother to write the wildly successful HOUSE OF NIGHT series. She has editorial credits, a thriving t-shirt line, and a passion for all things paranormal. When away from her writing desk, Kristin loves going on adventures with her friends, family, and significant other, playing with her dogs (Grace Kelly and Hobbs the Tiny Dragon), and is obsessed with her baby.