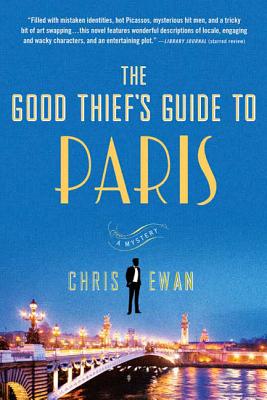 The Good Thief's Guide to Paris: A Mystery (Paperback)
A Mystery
Minotaur Books, 9780312578053, 280pp.
Publication Date: September 15, 2009
Description
Charlie Howard--globe-trotting mystery writer and the most disarming burglar since Cary Grant in "It Takes a Thief"--is flush with the success of his Paris book reading and a few glasses of wine when he agrees to show a novice how to break into an apartment. The next day, Charlie is hired to steal a painting--from the same address. Coincidence? Perhaps, but then why does a dead body turn up in his living room? And what is he going to do when his charming literary agent, Victoria (who is trusting enough to assume he looks like his author photo), decides they should finally meet face to face?
Nobody ever said a life of suspense was easy, but in Chris Ewan's "The Good Thief's Guide to Paris, "Charlie, the most disarmingly charming burglar since Cary Grant, soon finds things are getting way out of control.
About the Author
CHRIS EWAN is a lawyer on the Isle of Man. His first novel, The Good Thief's Guide to Amsterdam, was hailed as one of the best "books for grownups" by the editors of Publishers Weekly and AARP The Magazine.
Praise For The Good Thief's Guide to Paris: A Mystery…
"Fast and funny, Ewan's second offering in the Good Thief series is even better than the first."
--Booklist (Starred Review)
"Charlie Howard ... once again makes a funny, fast-talking narrator in Ewan's delightful second mystery."
--Publishers Weekly
"A feast for the amoral."
--Kirkus Reviews
"Wonderful descriptions of locale, engaging and wacky characters, and an entertaining plot that will leave readers eager for the next book. Highly recommended."
--Library Journal
Advertisement