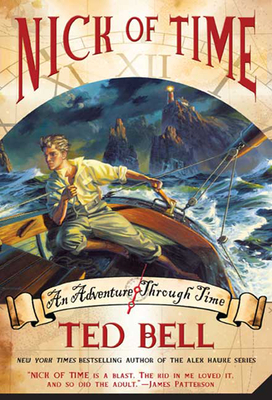 Nick of Time (Paperback)
A Nick McIver Time Adventure (Nick McIver Adventures Through Time #1)
Square Fish, 9780312581435, 464pp.
Publication Date: September 1, 2009
* Individual store prices may vary.
Description
Nick of Time is the first young reader's book written by bestselling author Ted Bell.
The setting is England, 1939, on the eve of war. Nick and his sister, Kate, begin gathering vital information for Winston Churchill as he tries to warn England of the imminent Nazi invasion. But the Nazis become the least of Nick's problems after he discovers a time machine hidden in a cove. Unfortunately, the evil pirate Captain Billy Blood, who travels through time capturing little children and holding them for ransom, will stop at nothing to possess the priceless machine. With the help of Lord Hawke, whose children have been taken by Blood, Nick must fight the ruthless pirate on land and sea in two different centuries in a desperate attempt to save his home and his family from being utterly destroyed.
About the Author
Ted Bell is the New York Times bestselling author of Nick of Time and The Time Pirate, as well as the bestselling Alexander Hawke series. For many years he was a leading talent in advertising, and won numerous Clios and Cannes Gold Lions and the Cannes Grand Prix. He began his advertising career as a copy-writer at Doyle Dane Bernbach in the 1970s. In 1991, he joined Young & Rubicam, one of the world's largest advertising agencies, as Vice-Chairman of the board and World-Wide Creative Director. Bell retired from advertising in 2001 to write full-time. He lives in Florida and Colorado.
Praise For Nick of Time: A Nick McIver Time Adventure (Nick McIver Adventures Through Time #1)…
"Nick of Time is an American Classic." —Glenn Beck
"Nick of Time is a blast--the best of Robert Louis Stevenson, Horatio Hornblower and Harry Potter. The kid in me loved it, and so did the adult." —James Patterson
"Nick of Time takes young readers on a thrilling historical voyage . . . definitely not for the faint of heart." —Los Angeles Times
"An immensely appealing book. Three huzzahs and a great big 21-gun salute to Bell for his first novel for kids." —School Library Journal, Starred Review
"This old-fashioned adventure adds a new twist to elements of Treasure Island, Horatio Hornblower, and 'Indiana Jones' . . . Every middle school boy (and many girls, too) will relish joining Nick on his heroic adventures. Charming and thrilling, this book could become a classic with its good, clean, swashbuckling fun." —Voice of Youth Advocates
"Bell's narrative never lacks for excitement . . . for younger readers . . . this book will become an instant classic." —KLIATT
"A brilliant adventure, hidden within a rolling saga, tucked inside an intriguing mystery. That's Nick of Time. Ted Bell proves that he's the master of swashbuckling for both young and old." —Steve Berry, New York Times bestselling author of The Amber Room
"In an adventure many times his size, Nick travels time to defeat both Napoleon's plot and a secret experimental Nazi submarine in this vibrant and enchanting book." —Jordan Weisman, co-author of the New York Times bestselling Cathy's Book
"Wow! Some books sweep you away. Nick of Time amazed me, dazzled me, and swept my imagination off to sea. . . . I've been craving an adventure story with a good mystery, and this arrived in the nick of time to rescue me." —SchoolLibraryJournal.com
"Nick of Time is one heck of an adventure! Filled with colorful characters, non-stop action, scary pirates, nasty Nazis, technically advanced submarines, rousing old-time sailing ships, thrilling battle scenes, heart-pounding sea voyages and nail-biting espionage, this story has it all. . . . If you are looking for a thrill and a new hero, this is it." —TeenReads.com
"Nick of Time reminded me of Brian Jacques, one of my favorite authors. Everything clicks together perfectly . . . I really like the era and technology of World War II, especially the 'secret weapons' . . . the whole pirate thing really appeals to me . . . The time travel idea is cool, and what's even better is that da Vinci created it!" —Henry Willshire, age 13