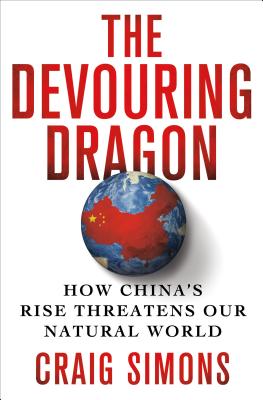 The Devouring Dragon: How China's Rise Threatens Our Natural World (Hardcover)
How China's Rise Threatens Our Natural World
St. Martin's Press, 9780312581763, 304pp.
Publication Date: March 12, 2013
* Individual store prices may vary.
or
Not Currently Available for Direct Purchase
Description
China's rise is assaulting the natural world at an alarming rate. In a few short years, China has become the planet's largest market for endangered wildlife, its top importer of tropical trees, and its biggest emitter of greenhouse gases. Its rapid economic growth has driven up the world's very metabolism: in Brazil, farmers clear large swaths of the Amazon to plant soybeans; Indian poachers hunt tigers and elephants to feed Chinese demand; in the United States, clouds of mercury and ozone drift earthward after trans-Pacific jet-stream journeys. Craig Simons' The Devouring Dragon looks at how an ascending China has rapidly surpassed the U.S. and Europe as the planet's worst-polluting superpower. It argues that China's most important 21st-century legacy will be determined not by jobs, corporate profits, or political alliances, but by how quickly its growth degrades the global environment and whether it can stem the damage. Combining in-depth reporting with wide-ranging interviews and scientific research, The Devouring Dragon shines a spotlight on how China has put our planet's forests, wildlife, oceans, and climate in jeopardy, multiplying the risks for everyone in our burgeoning, increasingly busy world.
About the Author
Craig Simons has reported on the environment from a dozen Asian nations for Newsweek and Cox Newspapers. He has also written for Outside, Backpacker, The New York Times, and The Wall Street Journal. He studied at Harvard University, The University of Pennsylvania, and--as a Knight Science Journalism Fellow--MIT.
Praise For The Devouring Dragon: How China's Rise Threatens Our Natural World…
"From the coal mines of Colorado to the forests of Papua New Guinea, and all over China in between, Craig Simons illustrates from the ground up how the Middle Kingdom's economic takeoff is upending the planet at the very moment it is reaching an environmental tipping point. The book is both a gripping grassroots narrative of economic development as well as a heartfelt plea for the future."—Richard McGregor, author of The Party and Washington Bureau chief for the Financial Times

"China's insatiable appetite for resources has raised the world's metabolism in ways that you could never imagine. Craig Simons' Devouring Dragon takes you clear across the globe—from the ghost town of Trinidad, Colo., to a jungle in Papua New Guinea to the world's largest dam on the Yangtze River -- as he tells the fascinating story of the world's interconnectedness. This is the most important book about the environment in years, scary, riveting and packed with insight into how the world's resources are exploited for economic growth."—Barbara Demick, author of Nothing to Envy: Ordinary Lives in North Korea and Logavina Street: Life and Death in a Sarajevo Neighborhood

"In The Devouring Dragon, Craig Simons gives a lucid portrayal of the ways in which the world is being changed by China's rise. The science and the statistics are sobering, but so are the human faces behind the numbers as Simons writes with deep sympathy for people struggling to overcome poverty and isolation: the New Guinean who longs to travel, the Chinese farm family who, despite being careful consumers, are part of a massive transformation that threatens to throw the world out of balance."—Peter Hessler, author of River Town: Two Years on the Yangtze, Country Driving: A Chinese Road Trip and Oracle Bones: A Journey Through Time in China

"Simons paints a devastating picture of the global consequences of China's relentless and rapacious growth, from the clear-cutting of the earth's last stands of exotic hardwoods to the extinction of major animal species, from coal dust that reaches Oregon to the crippling pollution that swaddles China's cities. China's rise, as Simons shows, has raised hundreds of millions of its people out of poverty; the cost, environmentally and ecologically, has been calamitous for the planet."—Edward A. Gargan, author of The River's Tale: A Year on the Mekong

"The Devouring Dragon offers a wide-ranging, carefully researched, and ultimately chilling account of China's impact on global biodiversity and climate change. Craig Simons journeys around the world to speak to illegal loggers, biologists tracking species extinction, and a panoply of Chinese -- whose appetite for resources and a higher standard of living is catalyzing a planetary environmental crisis. By turns diverting and personal, informative and thoughtful, this book serves as an urgent call for all of us to change our patterns of consumption before it is too late."—Judith Shapiro, author of China's Environmental Challenges and Mao's War against Nature

"A compelling and superbly written account of China's massive environmental impact around the globe. A must read for any thoughtful citizen, The Devouring Dragon portrays the choice before humanity: a headlong rush to a highly degraded planet OR a truly sustainable path that respects the wondrous living planet and its promise for all."—Thomas E. Lovejoy, University Professor of Environmental Science and Policy George Mason University Biodiversity Chair The Heinz Center for Science, Economics and the Environment

"From Papua New Guinea to Trinidad, USA, Simons goes further than anyone before him in tracing the impact of China's rise on the global environment. Adroitly blending science and theory with personal stories and on-the-road reportage, this book vividly describes the risks posed by climate change and biodiversity loss as Chinese consumers follow the unsustainable path set by their counterparts in the West. The author does not flinch from grim stories, but neither is he overwhelmed by them. This book ends with an optimistic message of empowerment and change."—Jonathan Watts, author of When a Billion Chinese Jump
Advertisement