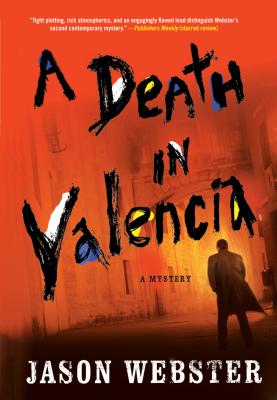 A Death in Valencia (Hardcover)
Minotaur Books, 9780312581848, 216pp.
Publication Date: September 18, 2012
* Individual store prices may vary.
or
Not Currently Available for Direct Purchase
Description
"A Death in Valencia "is the electrifying second Max Camara Valencian crime novel from Jason Webster, author of "Or the Bull Kills You."
Max Camara is feeling low. Ominous cracks have appeared in the walls of his flat; the body of a well-known paella chef has been washed up on the beach; there are rows and threats about abortion clinics in anticipation of the Pope's visit to Valencia; and Town Hall officials are set on demolishing El Cabanyal, the colorful fisherman's quarter on Valencia's seafront. As Camara untangles these threads, he stumbles into a web of corruption and violence, uncovering deep animosities and hidden secrets, and forcing him to question his own doubts and desires.
This is the second novel in Webster's dark and witty series, following his widely praised debut, "Or the Bull Kills You." The plot is fast and twisting, the scene-setting vivid, and the atmosphere powerfully authentic. Starring the determined Camara, with his love of flamenco and brandy, and occasional doped-out high, "A Death in Valencia" delves into issues that rouse unruly passions and divide the Spanish people today.
About the Author
Jason Webster was born in California and was brought up in England and Germany. After spells in Italy and Egypt, he moved to Spain in 1993, where he was inspired to write a number of highly acclaimed nonfiction books as well as the first mystery in the Max Camara series, " Or the Bull Kills You." He lives near Valencia with his wife, the flamenco dancer, Salud, and their two sons."
Praise For A Death in Valencia…
Praise for A Death in Valencia:
"Tight plotting, rich atmospherics, and an engagingly flawed lead distinguish Webster's second contemporary mystery."-- Publishers Weekly (starred review)
"Returning after a well-received debut, CI Cámara remains a fresh and appealing protagonist whether in victory or defeat."--Kirkus Reviews
"Max is a wonderful character, and Valencia is a splendid setting, but Webster also employs real, decades-long tensions in Spanish national affairs andcurrent tensions over legalized abortion and gay marriage to great effect. Fans of international crimefiction will love this series, and they are sure to add Valencia to their genre gazetteers."--Booklist
"[Camara's] perceptions of what is wrong with Spanish society form an original background to a complex thriller." -- The Independent (UK)
"Jason Webster has made Valencia his own ... This is Chief Inspector Max Camara's second outing, and his colourful personality is every bit a match for the vibrant but often troubled home of paella he has to keep safe." -- The Daily Mirror (UK)
"'[Camara] is a lively addition to Mediterranean coppery."--The London Times
 Praise for Or the Bull Kills You
"Valencia looks dazzling in Jason Webster's first novel." —The New York Times Book Review 
"With its rapid pace and wonderfully flawed detective, this vibrant novel has tremendous appeal." —Library Journal (starred review)
"[A] remarkable first novel, a baffling mystery." —Publishers Weekly (starred review)
"[A] superb Spanish police procedural . . . The country's culture and heritage, the city, the two faced politicians, and the sport provide strong pillars to a terrific whodunit."
 —Midwest Book Review
"[Max Cámara is]one of the most attractive figures to enter recent detective fiction. . . . Like the best detective stories, this book becomes a scrutiny of our own most powerful drives and secrets." —The Independent (UK)
"Webster does for Spain what Michael Dibdin did to wonderful effect in his 'Zen' novels for Italy. . . . A marvellous novel ripe with passion, love, and murder." —CrimeSquad.com
Advertisement