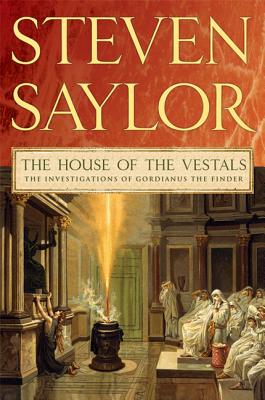 The House of the Vestals (Paperback)
The Investigations of Gordianus the Finder (Novels of Ancient Rome #6)
Minotaur Books, 9780312582418, 240pp.
Publication Date: January 5, 2010
Other Editions of This Title:
Compact Disc (6/1/2013)
Compact Disc (6/1/2013)
MP3 CD (6/1/2013)
* Individual store prices may vary.
Description
It is Ancient Rome, and Gordianus the Finder has a knack for finding trouble. Known to many as the one man in the ancient world who can both keep a secret and uncover one, Gordianus lays bare some of his most intriguing and compelling adventures.
The House of the Vestals collects nine of the award-winning stories of Gordianus the Finder by critically acclaimed, bestselling author Steven Saylor. Filling in some of the gaps between novels, this delightful collection of unique and unforgetable mysteries is Saylor at his finest - revealing the intrigues in the secret history of Rome.
About the Author
Steven Saylor is the author of the long running Roma Sub Rosa series featuring Gordianus the Finder, as well as the New York Times bestselling novel, Roma and its follow-up, Empire. He has appeared as an on-air expert on Roman history and life on The History Channel. Saylor was born in Texas and graduated with high honors from The University of Texas at Austin, where he studied history and classics. He divides his time between Berkeley, California, and Austin, Texas.
Praise For The House of the Vestals: The Investigations of Gordianus the Finder (Novels of Ancient Rome #6)…
"Ingenious . . . Saylor offers rich history with great imagination." —Seattle Times
"Entertainment of the first order." —The Washington Post Book World
"Saylor's fluid and probing characterization work as effectively in the short story as they have in his admirable Gordianus novels" —Publishers Weekly
"This collection of short stories . . . shows how a fine hand at historical research can enliven the most traditional and well-titled of genres . . . Gordianus himself is a compelling character." —The Herald (SC)
"Three groups of readers will find these stories irresistible: history buffs who appreciate Saylor's careful research into Roman politics and Roman mores; fans of his novels who want to find out how the [Finder] first became Lucius Claudius' friend, or how he acquired his faithful slave Belbo; and anyone who enjoys leisurely, literate storytelling." —Kirkus Reviews
"Saylor serves up a collection of short stories designed to fill in some of the gaps that have piqued the curiosity of devoted fans of his popular Roma Sub Rosa series. Set between the years 80 and 72 B.C., these nine tales document some of the early adventures of Gordianus the Finder. During the course of these cases, Gordianus establishes firm and tender relationships with Eco, his adopted son; Bethesda, his Jewish-Egyptian concubine; Belbo, his loyal manservant and bodyguard; and Lucius Claudius, his generous patron. While each brief mystery presented is a gem in and of itself, readers will delight in the informational overview provided by the collection as a whole. As usual, Saylor does a superb job of seamlessly incorporating the tumultuous history of the Roman Republic into the narrative flow. A welcome addition to the ever fascinating chronicles of Gordianus the Finder." —Booklist