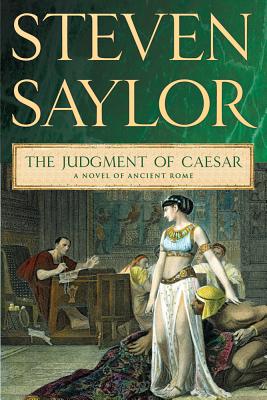 The Judgment of Caesar
A Novel of Ancient Rome (Novels of Ancient Rome #10)
Paperback

* Individual store prices may vary.
Description
Gordianus the Finder and his ailing wife Bethesda travel to Egypt - Bethesda's homeland - seeking a cure for her enduring, mysterious illness. They arrive as the Civil War between Caesar and Pompey is reaching its conclusion on its shores. Captured by Pompey, but rescued by Ptolemy's men who kill Pompey for Caesar, Gordianus is caught in the middle of the struggle between Ptolemy and his sister Cleopatra, Caesar's seduction by Cleopatra, and the dying days of the Roman Republic. When his wife disappears into the Nile, never to resurface, Gordianus must uncover the truth behind a series of mysterious occurrences if he is to find out what has happened to his wife, now presumed dead.
Praise For The Judgment of Caesar: A Novel of Ancient Rome (Novels of Ancient Rome #10)…
"But the real substance of the book is Saylor's confident recreation of Alexandria at this crucial moment in both Egyptian and Roman history. As always in Saylor's historical fiction, the interaction between powerful and ordinary people is a great strength, as is the evocation of an ancient city: he does here for Alexandria what he has already achieved for Rome. His Caesar is completely believable, as are his circuitous dealings with the Egyptian queen. Gordianus is as fascinating as he was as a young man, and the novel provides all the customary pleasures of serial fiction. But it also stands in its own right. Saylor evokes the ancient world more convincingly than any other writer of his generation." —Sunday Times (London)

"[A] superb historical novel...the reader is engaged throughout...this is a compelling testament to Saylor's growth as a writer and to his seemingly effortless ability to imagine characters who feel real...longtime fans will find the evolution of Gordianus's personal relationships fascinating, but the back story is not so complex as to bar new readers from entering Saylor's world." —Publishers Weekly (Starred Review)

"A solid series addition." —Library Journal

"Superb. From the exceptional attention to historical detail to the development of character and plot, which is based on real history, it's a treat to read. All the action takes place in a time of great upheaval both in Rome and Egypt, and Saylor, an excellent scholar, makes the most of it. This is a great getaway novel." —Globe & Mail

"Expert mystery-mongering closely woven into a pageant featuring the most star-studded cast imaginable. Fans of the historical mystery couldn't do better." —Kirkus Reviews (Starred Review)
Minotaur Books, 9780312582456, 320pp.
Publication Date: January 3, 2012
About the Author
Steven Saylor is the author of the long running Roma Sub Rosa series featuring Gordianus the Finder, as well as the New York Times bestselling novel, Roma and its follow-up, Empire. He has appeared as an on-air expert on Roman history and life on The History Channel. Saylor was born in Texas and graduated with high honors from The University of Texas at Austin, where he studied history and classics. He divides his time between Berkeley, California, and Austin, Texas.