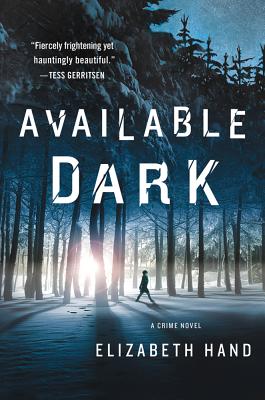 Available Dark (Hardcover)
A Crime Novel
Minotaur Books, 9780312585945, 256pp.
Publication Date: February 14, 2012
Other Editions of This Title:
Compact Disc (6/25/2019)
Paperback (1/29/2013)
Compact Disc (1/25/2019)
MP3 CD (6/25/2019)
MP3 CD (5/3/2016)
* Individual store prices may vary.
Description
"A skin-blistering crime novel, as edgy and black as dried blood on a moonlit night."
--Robert Crais
Elizabeth Hand's writing honors include the Shirley Jackson Award, the James Tiptree Award, the Nebula Award, the World Fantasy Award, the International Horror Guild Award, and many others. Now, this uniquely gifted storyteller brings us a searing and iconoclastic crime novel, in which photographer Cass Neary, introduced in the underground classic "Generation Loss, " finds herself drawn into the shadowy world of crime in Scandinavia's coldest corners.
As this riveting tour-de-force opens, the police already want to talk to Cass about a mysterious death she was involved with previously, but before they can bring her in, Cass accepts a job offer from overseas and hops on a plane.
In Helsinki, she authenticates a series of disturbing but stunning images taken by a famous fashion photographer who has cut himself off from the violent Nordic music scene where he first made his reputation. Paid off by her shady employer, she buys a one-way ticket to Reykjavik, in search of a lover from her own dark past.
But when the fashion photographer's mutilated corpse is discovered back in Finland, Cass finds herself sucked into a vortex of ancient myth and betrayal, vengeance and serial murder, set against a bone-splintering soundtrack of black metal and the terrifying beauty of the sunless Icelandic wilderness. In this eagerly awaited sequel to the award-winning "Generation Loss," Cass Neary finds her own worst fears confirmed: it's always darkest before it turns completely black.
About the Author
ELIZABETH HAND, a "New York Times" notable author, has written eight novels and

several short-story collections. She has won the Shirley Jackson Award, the James Tiptree

Award, the Nebula Award (twice), the World Fantasy Award (three times), and many others.

Her novella, "The Maiden Flight of McCauley's Bellerophon," was recently nominated for

a Hugo Award. Hand is a longtime contributor to numerous publications, including the "Washington"

"

Post Book World" and the "Village Voice Literary Supplement." She divides her time between the coast of Maine and North London.
Praise For Available Dark: A Crime Novel…
Praise for Available Dark
"A hair-raising novel of psychological suspense. This is a series I hope will continue."
--The Globe and Mail
"The millions who devoured Stieg Larsson's "Millennium" trilogy will not flinch at Hand's dark subject matter... Expect this novel to break out onto best seller lists."
--Library Journal
"Cass Neary... makes Lisbeth Salander seem like a model of mental stability... Stunning."
--Publishers Weekly (starred)

"Very, very good…In Hand's thriller, we see what Lisbeth Salander would look like in 30 years, if she were tall, blonde and plausible…Hand is a bonafide literary artist."
--Lev Grossman, Time

"In the spirit of Stieg Larsson's The Girl with the Dragon Tattoo... As the dark Nordic forest thickens, so does the plot. Larsson fanatics may be unable to resist."
--The New York Post

"Pulsing with tension throughout… charged with its own chilling luminosity."
--The Washington Post

"A strong writer. Her studies of artists and musicians are something fierce, and there's a deadly beauty to her bleak rendering of the Nordic landscape."
--Marilyn Stasio, The New York Times

"Cass Neary could make Lisbeth Salander look like a suburban housewife... A stunning look at a woman forever teetering on the edge."
--Oline H. Cogdill, South Florida Sun-Sentinel

"Brilliant...stunning." 
--Booklist (starred) 

"Award-winner Hand... brings her great skill to a mystery series that's equally dark and enthralling... Beautiful writing and elegant, intelligent style make this a pleasure."
--RT Book Reviews (4 1/2 stars) 

"A gasoline burn of a book; but it's also a tightly-plotted noir thriller...Unputdownable."
--The Rejectionist
  
"A brilliant sequel to Hand's acclaimed literary thriller Generation Loss… Stunning."
--Booklist (starred review)
"Fiercely frightening yet hauntingly beautiful, with a startling heroine you'll never forget… Shimmers with gorgeous writing even as it scares the dickens out of you."
--Tess Gerritsen
"Cass Neary is one of literature's great noir anti-heroes… Ferocious, aching with compassion and cruelly brilliant, Available Dark is a sinful pleasure."
--Katherine Dunn
Praise for Generation Loss
"Rightly compared with the sort of crime fiction turned out by the late, great Patricia Highsmith ... Hand expertly ratchets up the suspense until it's at the level of a high-pitched scream."
--Milwaukee Journal Sentinel  
"Cass Neary, the battle-scarred shutterbug of Elizabeth Hand's incendiary literary thriller is a marvel."
--Los Angeles Times
"Brilliantly written and completely original, Hand's novel is an achievement with a capital A."
--Booklist (starred review)
Praise for Elizabeth Hand's Other Work
"A superior stylist."
--The New York Times Book Review on Waking the Moon
"Hypnotic… Moves Hand's work into the territory of John Fowles and A.S. Byatt."
--Locus on Mortal Love
"Elizabeth Hand has the written the best book of her generation."
--Peter Straub on Mortal Love
"As noteworthy in its way as Margaret Atwood's A Handmaid's Tale."
--People on Winterlong
or
Not Currently Available for Direct Purchase