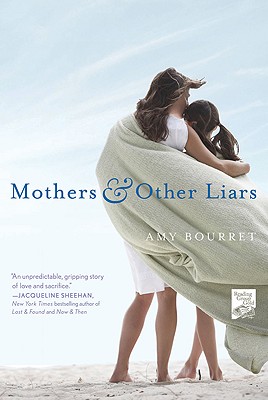 Mothers and Other Liars (Paperback)
Griffin, 9780312586584, 288pp.
Publication Date: August 3, 2010
Other Editions of This Title:
Hardcover, Large Print, Large Print (11/1/2010)
MP3 CD (5/3/2016)
* Individual store prices may vary.
Description
How far will a mother go to save her child?
Ten years ago, Ruby Leander was a drifting nineteen-year-old who made a split-second decision at an Oklahoma rest stop. Fast forward nine years: Ruby and her daughter Lark live in New Mexico. Lark is a precocious, animal loving imp, and Ruby has built a family for them with a wonderful community of friends and her boyfriend of three years. Life is good. Until the day Ruby reads a magazine article about parents searching for an infant kidnapped by car-jackers. Then Ruby faces a choice no mother should have to make. A choice that will change both her and Lark's lives forever.
About the Author
Amy Bourret is a Yale Law School graduate and former partner in a national law firm. In school and in her practice, she did pro bono work for child advocacy organizations, where the passion that fuels her novel "Mothers and Other Liars" was born. She has also been a gymnast, event planner, community volunteer, judicial clerk, official neighborhood bee catcher, corporate communications director, and flower girl at a tadpole funeral, but above all, she has always been a writer. She splits her time between Dallas and Aspen.
Praise For Mothers and Other Liars…
"Watch your back, Jodi Picoult! Here comes Bourret, a Yale-trained lawyer who practiced child-advocacy law and draws on past experiences for her gripping first novel. When Ruby was 19, she found a baby abandoned in a rest-stop trash can. Thinking she is doing the right thing, Ruby takes the baby to raise as her own. Flash forward nine years, and Ruby and the little girl, Lark, are a happy family in New Mexico, where Ruby works as a nail technician. They have a large network of friends and bond with Ruby's boyfriend's family. Then Ruby sees a tabloid article about an abandoned baby, and everything tilts. Lark wasn't simply left, she was kidnapped, and now Ruby must figure out what to do. The choices she makes tear her world apart. VERDICT Bourret nails the character development and pacing that make a good novel compelling. She unfolds her well-written, dramatic story in tidbits that will make readers hungry for more. Perfect for summer reading." --Library Journal

"What a joy to discover a wonderful storyteller like Amy Bourret.  Her debut novel, Mothers and Other Liars, underscores not only the strength of the ties that bind mother and daughter but those that connect friends, as well.  The love between Ruby and Lark goes to my heart.  Amy Bourret's voice is one of compassion and humor, and I want to hear it again and again."
--Sandra Dallas, New York Times bestselling author of Prayers For Sale

"This lovely, lyrical novel is one that will have you on the edge of your seat as you wipe a tear from your eye… The dialogue sings on every page and the story rings with authenticity.  Anyone who loved Marisa de Los Santos's Love Walked In will love this." 
--Eileen Goudge, New York Times bestselling author of The Diary

"Bourret has created a wonderfully flawed character who is willing to do whatever it takes to keep a promise to her child. There is nothing predictable about this story of love and sacrifice. Ruby is confronted with an unrelenting question; what are willing to do for those you love? Bourret is fearless with her answers." –Jacqueline Sheehan (see below)

"Bourret has created an unpredictable, gripping story of love and sacrifice."
--Jacqueline Sheehan, New York Times bestselling author of Lost and Found and Now and Then

"Amy Bourret's smart, compelling tale of motherhood, fate, law, and love, grabbed me and pulled me into the murky pool that lies between morally right and unimaginably wrong, where good intentions are not enough to keep poor Ruby Leander afloat.  You will ache for Ruby and her daughter Lark, and stay up late turning the pages, hoping for justice and for joy.  Thought-provoking and suspenseful, Mothers and Other Liars will have you asking, 'What do you do when all the choices are impossible ones?'"--Therese Fowler, internationally acclaimed author of Souvenir

"Mothers and Other Liars is the absorbing story of Ruby, a woman who bravely does the wrong things for all the right reasons—all for one child.  Readers will be talking about this compelling novel and what it means to be a child's real mother.  A strong debut." --Lynne Griffin, author of Life Without Summer

"The beauty of Amy Bourret's novel is that she makes you yearn for each and every character to get exactly what they what—an outcome that is of course impossible and sets up the most delicious conflict of interests all the way to the surprising end.  I was captivated by this wrenching tale of Ruby, her spunky Lark, and their tribe of fiercely loyal friends." --Katrina Kittle, author of The Kindness of Strangers

"Mothers and Other Liars is a page-turner from beginning to end, impossible to put down. It will provoke lively debate about the meaning of motherhood, nurture, sacrifice and law. Readers who love Jodi Picoult's novels will find a new favorite in Amy Bourret." –Liz Rosenberg, author of Home Repair
or
Not Currently Available for Direct Purchase