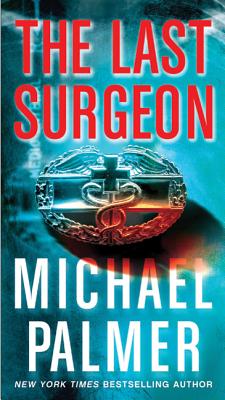 The Last Surgeon (Mass Market Paperbound)
St. Martin's Press, 9780312587505, 448pp.
Publication Date: December 28, 2010
* Individual store prices may vary.
or
Not Currently Available for Direct Purchase
Description
Surgeon Nick Garrity, a vet suffering from post-traumatic stress disorder, spends his days and nights dispensing medical treatment from a mobile clinic to the homeless in D.C. and Baltimore. In addition, he is constantly on the lookout for his best friend who was recruited for a secret military mission four years ago, never to be seen again. Then there's the case of Belle Coates, an ICU nurse who appears to have killed herself but left a subtle clue for her sister, Jillian, that connects her with Nick.
Now it's up to Nick and Jillian, a psychiatric nurse, to find out what really happened. Together, they determine that everyone involved in one specific surgical case is mysteriously dying, one by one... Soon their discoveries will pit them against Franz Koller, the highly paid assassin who specializes in the art of the "non-kill" murder that does not look like murder. And Nick and Jillian are slated to be the next victims
About the Author
Michael Palmer (1942-2013) wrote internationally bestselling novels of medical suspense, including The First Patient, The Second Opinion, The Last Surgeon, A Heartbeat Away, Oath of Office and Political Suicide. His book Extreme Measures was adapted into a movie starring Hugh Grant and Gene Hackman. His books have been translated into thirty-five languages. Palmer earned his bachelor's degree at Wesleyan University, and he attended medical school at Case Western Reserve University. He trained in internal medicine at Boston City and Massachusetts General Hospitals. He spent twenty years as a full-time practitioner of internal and emergency medicine. In addition to his writing, Palmer was an associate director of the Massachusetts Medical Society Physician Health Services, devoted to helping physicians troubled by mental illness, physical illness, behavioral issues, and chemical dependency. He lived in eastern Massachusetts.
Praise For The Last Surgeon…
Praise for
THE LAST SURGEON
"Prepare to burn some serious midnight oil."—Boston Herald
"Highly suspenseful and compelling."—Booklist
"Palmer has always been a good writer but he has never crafted a story as suspenseful as this one…This is the kind of book you read with a bright light on and all the doors locked…Franz Koller is one of the most deadly villains to grace the pages of a novel since the introduction of Hannibal Lecter."—Huffington Post
"Should please…all those who enjoy their suspense mixed with medical characters and settings."—Library Journal 
"The thrill of the non-kill…[is] chilling."—North Shore Sunday
"More twists and turns than a sociopath's psyche…inventive and effective, an entertaining and engaging read."—California Literary Review
THE SECOND OPINION
"A heart-pounding medical thriller…satisfying, expertly paced [with] enough suspense to keep readers happily turning the pages."—Boston Globe
"The novel is not merely a thriller but also an exploration of its central character's unique gifts and her determination to communicate with her comatose father despite overwhelming odds. Another winner from a consistently fine writer."—Booklist
"A splendid novel."—Globe and Mail (Canada)
THE FIRST PATIENT
"An exciting thriller that is full of surprises and captures the intense atmosphere of the White House, how the medical system works, and how the 25th Amendment could be brought into play. I thoroughly enjoyed it." —President Bill Clinton
"An incredibly realistic, frightening thriller that is every White House doctor's nightmare. " —Dr. E. Connie Mariano, White House Physician 1992 - 2001
"Endlessly entertaining…the roller-coaster ride of a plot builds to an undeniably shocking conclusion." —Publishers Weekly
Advertisement