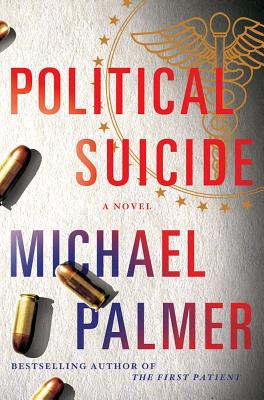 Political Suicide (Hardcover)
St. Martin's Press, 9780312587550, 355pp.
Publication Date: December 11, 2012
* Individual store prices may vary.
or
Not Currently Available for Direct Purchase
Description
A massive cover-up gone awry
A prominent physician accused of murder
Uncovering the truth could put the entire country at risk
 Dr. Gary McHugh, known around Washington, D.C. as the "society doc," calls his longtime friend Dr. Lou Welcome in a state of panic, certain he is about to be arrested for murder. McHugh was found in an alcoholic blackout in his wrecked car after visiting a patient of his, the powerful Chairman of the House Armed Services Committee, Elias Colston. Soon after McHugh leaves, Colston's wife returns home to find her husband shot to death in their garage. McHugh has no recollection of committing the crime and no one who would possibly believe in his innocence, other than Lou. As more facts come to light, even Lou has serious doubts. But something about McHugh's story nags at him and as he looks into matters, pieces of the puzzle don't point to his friend's guilt so definitively. 
With the help of Sarah Cooper, an ambitious attorney with her own reasons for hating doctors, Lou finds himself at the center of a deadly, high-level conspiracy where the difference between right and wrong is a matter of interpretation, and the words "whatever it takes" have a chilling meaning. If Lou and Sarah don't uncover the real reasons Colston is dead, they may not survive themselves, and the entire country could be at risk for attacks that could destroy the very fabric of national security.
Once again, bestselling author Michael Palmer proves that he is the king of suspense in this page-turning thriller, Political Suicide, set at the crossroads of politics, the military, and medical science. 
About the Author
Michael Palmer (1942-2013) wrote internationally bestselling novels of medical suspense, including "The First Patient," "The Second Opinion," "The Last Surgeon," "A Heartbeat Away," "Oath of Office" and "Political Suicide." His book "Extreme Measures" was adapted into a movie starring Hugh Grant and Gene Hackman. His books have been translated into thirty-five languages. Palmer earned his bachelor's degree at Wesleyan University, and he attended medical school at Case Western Reserve University. He trained in internal medicine at Boston City and Massachusetts General Hospitals. He spent twenty years as a full-time practitioner of internal and emergency medicine. In addition to his writing, Palmer was an associate director of the Massachusetts Medical Society Physician Health Services, devoted to helping physicians troubled by mental illness, physical illness, behavioral issues, and chemical dependency. He lived in eastern Massachusetts.
Praise For Political Suicide…
"This is a definite keeper!" -- Amy Lignor in a review for Suspense Magazine
"It's a must-read for fans of political intrigue." -- The Fort-Worth Star Telegram
"Michael Palmer once again delivers an adrenaline-pumped political and medical action thriller... Palmer fans will not be disappointed in this suspenseful and realistic, fast-paced whodunit." -- The Jewish Journal
"When you open the pages of a Michael Palmer novel, you know you are in the hands of a pro. This author knows how to weave a plot and keep the action coming, and the readers know it won't all fall apart at the end.  Such is definitely the case with Palmer's latest book, Political Suicide." -- The Huffington Post
Advertisement