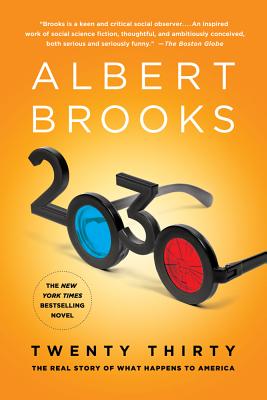 2030
The Real Story of What Happens to America
Paperback

* Individual store prices may vary.
Other Editions of This Title:
Digital Audiobook (5/31/2011)
Compact Disc (6/1/2011)
MP3 CD (6/1/2011)
MP3 CD (6/1/2011)
Compact Disc (6/1/2011)
Compact Disc (6/1/2011)
Hardcover (5/10/2011)
Description
Is this what's in store?

June 12, 2030 started out like any other day in memory—and by then, memories were long. Since cancer had been cured fifteen years before, America's population was aging rapidly. That sounds like good news, but consider this: millions of baby boomers, with a big natural predator picked off, were sucking dry benefits and resources that were never meant to hold them into their eighties and beyond. Young people around the country simmered with resentment toward "the olds" and anger at the treadmill they could never get off of just to maintain their parents' entitlement programs.

But on that June 12th, everything changed: a massive earthquake devastated Los Angeles, and the government, always teetering on the edge of bankruptcy, was unable to respond.
The fallout from the earthquake sets in motion a sweeping novel of ideas that pits national hope for the future against assurances from the past and is peopled by a memorable cast of refugees and billionaires, presidents and revolutionaries, all struggling to find their way. In 2030, Albert Brooks' all-too-believable, dystopian imagining of where today's challenges could lead us tomorrow makes gripping and thought-provoking reading.
Praise For 2030: The Real Story of What Happens to America…
"With 2030 Mr. Brooks has made the nervy move of transposing his worrywart sensibility from film to book. Two things are immediately apparent about his debut novel: that it's as purposeful as it is funny, and that Mr. Brooks has immersed himself deeply in its creation." —New York Times

"The novel is a revelation, painting a caustic, unsettling and only occasionally comic portrait of a country plumb down on its luck." —Los Angeles Times

"Albert Brooks is a keen and critical social observer...His first novel is an inspired work of social science fiction, thoughtful and ambitiously conceived, both serious and seriously funny." —Boston Globe

"Comedian and filmmaker Brooks welcomes the reader to the year 2030 in his smart and surprisingly serious debut....Brooks's mordant vision encompasses the future of politics, medicine, entertainment, and daily living, resulting in a novel as entertaining as it is thought provoking, like something from the imagination of a borscht belt H.G. Wells." —Publishers Weekly

"An intriguing vision of America's future." —Library Journal

"Required reading!" —New York Post

"As a comedian and filmmaker, the very gifted Albert Brooks has specialized for more than 30 years in cooking up quandaries with no ready solution except humiliation. His often ingenious first novel is no exception." —New York Times Book Review

"Brooks's vision of the future is credible and compelling." —Booklist
St. Martin's Griffin, 9780312591298, 384pp.
Publication Date: April 10, 2012
About the Author
ALBERT BROOKS is among the most inventive practitioners of motion picture comedy, as well as one of its most incisive commentators on contemporary life. Brooks began his career as a stand-up comic, and went on to become an award-winning actor, writer and filmmaker. Brooks has written, directed and starred in seven feature films: Real Life, Modern Romance, Lost In America, Defending Your Life, Mother, The Muse and Looking for Comedy in the Muslim World. Brooks made his acting debut in Martin Scorsese's 1976 classic, Taxi Driver. His other acting credits include such films as Private Benjamin, Unfaithfully Yours, I'll Do Anything, Critical Care, Out of Sight and My First Mister. He earned an Academy Award nomination for his performance in Broadcast News. Finding Nemo, which he starred in, received an Academy Award for Best Animated Feature and has become one of the highest grossing animated films ever made.Born and raised in Los Angeles, Brooks studied drama at Carnegie Mellon University before starting his performing career in 1968 doing stand-up comedy on network television. He began on The Steve Allen Show, later became a regular on The Dean Martin Show, and performed on such variety programs as The Ed Sullivan Show, The Merv Griffin Show, The Hollywood Palace and had over forty appearances on The Tonight Show starring Johnny Carson. Brooks has recorded two comedy albums: Comedy Minus One and A Star is Bought, the latter earning him a Grammy Award nomination for Best Comedy Recording. His first directorial effort was in 1972 for the PBS series The Great American Dream Machine. He adapted an article he had written for Esquire Magazine, "Albert Brooks' Famous School for Comedians" into a short film. Following this, he created six short films for the debut season of Saturday Night Live. Brooks has been honored by the American Film Institute with a retrospective of his work at the first U.S. Comedy Arts Festival in Aspen Colorado. His first novel, 2030, was published in 2011.