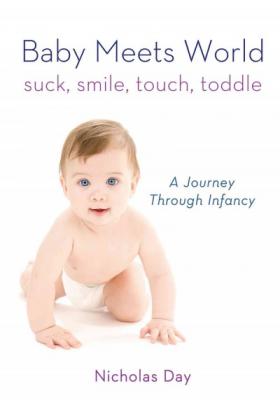 Baby Meets World (Hardcover)
Suck, Smile, Touch, Toddle: A Journey Through Infancy
St. Martin's Press, 9780312591342, 356pp.
Publication Date: April 2, 2013
Other Editions of This Title:
Paperback (4/22/2014)
* Individual store prices may vary.
Description
A dynamic new story about how babies make their way in the world and how grown-ups have tried to make sense of these tiny inscrutable beings.
As a new parent, Nicholas Day had some basic but confounding questions: "Why does my son find the straitjacket of his swaddling blanket comforting and not terrifying? How can he never meet a developmental norm and still be OK? And when will he stop sucking my finger? "So he went digging for answers. They were not what he expected.
Drawing on a wealth of perspectives scientific, historical, cross-cultural, personal "Baby Meets World" is organized around the mundane activities that dominate the life of an infant: sucking, smiling, touching, toddling. From these everyday activities, Day weaves together an account that is anything but ordinary: a fresh, surprising story, both weird and wondrous, about our first experience of the world.
Part hidden history of parenthood, part secret lives of babies, "Baby Meets World" steps back from the moment-to-moment chaos of babydom. It allows readers to see infancy anew in all its strangeness and splendor.
About the Author
NICHOLAS DAY has been a wine salesman, a wedding cake baker, a fairground maintenance man, and a stay-at-home father. He writes about the care of children for Slate and the feeding of them for Food52. His writing has also appeared in Salon, Washington Post, Chicago Tribune, Chicago Reader, and Time Out Chicago, among other publications. He lives in Chicago with his family.
Praise For Baby Meets World: Suck, Smile, Touch, Toddle: A Journey Through Infancy…
"Nicholas Day has birthed a perfect book:  expertly researched, beautifully written, wise, warm, honest, funny.  What makes it fascinating is the same thing that makes it reassuring:  When it comes to caring for babies, there has never been one right way to do it, but dozens -- contradictory, bizarre (goat wet nurses!), hilarious in retrospect but always well-meant.   If you have a baby, expect a baby, were or still are a baby, this is a book for you." –Mary Roach, author of Stiff and Gulp
"With wry humor and sharp writing, Nicholas Day explains how -- as in childbirth -- raising a baby is often a reflection of the time and place in which it happens. Most important, he offers the perspective parents so often lack in the fog of battle. If you read one parenting book, make this it." –Tina Cassidy, author of Birth: The Surprising History of How We Are Born
"Baby Meets World is a breath of fresh air for parents increasingly pressured to do the next "right" thing for their children. By exploring the wondrous complexities of early development in the context of personal experience as well as cultural norms, fads, and fancies, Nicholas Day provides a fascinating, entertaining, and ultimately reassuring look at what babies really need."  --Susan Linn, author of The Case for Make Believe: Saving Play in a Commercialized World

"Babies, yours or anyone else's, won't look the same after you've read Baby Meets World. Nicholas Day unearths the many peculiar things "experts" and other adults have believed about infancy down the ages. With a fresh curiosity any baby could admire, he also pays rapt attention to some very normal things all babies do. He makes the familiar strange and utterly fascinating. What better antidote to all our fretting?" –Ann Hulbert, author of Raising America: Experts, Parents, and a Century of Advice About Children

"The challenges that face new parents are timeless, but as this wry, accessible, and provocative book demonstrates, the responses of various cultures and historical eras differ profoundly.  Anyone interested in infancy, or simply the significance of a baby's smile will benefit greatly from this book's astute insights drawn from history, anthropology, physiology, and developmental psychology."
--Steven Mintz, author of Huck's Raft: A History of American Childhood
"In Baby Meets World, Nicholas Day brings us the book about infants that parents should have had all along: smart, funny, and tender, with just the right amount of edge. Engaging and enlightening, it belongs in the diaper bag of every new mom and dad."
-- Annie Murphy Paul, author of Origins: How the Nine Months Before Birth Shape the Rest of Our Lives

"A thorough look at an 'inscrutable creature,' a 'glorious, unfathomable mystery': the infant . . . An entertaining study of newborn behavior." --Kirkus
"Nicholas Day's edgy Baby Meets World is the anti-child-rearing book – a brilliantly researched, fascinating volume that just happens to focus on the subject of babies . . . excellently researched, interesting guide to the history of babies that parents will dig – as will people who never intend to procreate." –Shelf Awareness

"What Day offers here is unique: A tour through the history and science of infancy. Equal parts funny and fascinating, Day investigates the mysteries of newborn behavior and explores the surprising backstories behind everything we know – or think we know – about babies. An engaging read that's also bound to reassure shell-shocked new moms and dads that there's no real right way to care for an infant." –Parade.com
or
Not Currently Available for Direct Purchase