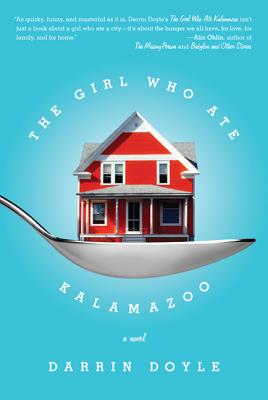 The Girl Who Ate Kalamazoo
A Novel
Paperback

* Individual store prices may vary.
Description
In this charming novel, Darrin Doyle paints a captivating portrait of the all-American family—if the all-American family's youngest child ate an entire city in Michigan with a smile, that is. Doyle has a flare for writing about family dysfunction with a twist. With a unique blend of realism and fantasy, The Girl Who Ate Kalamazoo is the moving story of the hauntingly beautiful Audrey Mapes, who began her illustrious "career" by downing crayons by the carton only to graduate to eating an entire city one bite at a time. With vivid, acerbic wit, Doyle details the life of the world's most gifted "eatist" through the eyes of Audrey's sister, McKenna. Through her eyes, we see the real tragedy of the Mapes story is not the destruction of a city, but rather, the quiet disintegration of a family who just didn't quite know how to love.
Praise For The Girl Who Ate Kalamazoo: A Novel…
"Darrin Doyle's The Girl Who Ate Kalamazoo is wildly out there, but its message about family dysfunction is achingly real." —DailyCandy.com, Best New Winter Reads Pick

"As quirky, funny, and masterful as it is, Darrin Doyle's The Girl Who Ate Kalamazoo isn't just a book about a girl who ate a city--it's about the hunger we all have, for love, for family, and for home." —Alix Ohlin, author of The Missing Person and Babylon and Other Stories

"Darrin Doyle's The Girl Who Ate Kalamazoo is about, well, the girl who ate Kalamazoo, but it's about much more than that: family, religion, urban blight and renewal, fame, literature, sister love, and weightlifters. This is why Audrey Mapes is such an incredible character: in creating this girl who can and will eat everything, Darrin Doyle has also created a way to talk about the things that matter most to us. It's an incredible, riotous, beautifully written, sneakily profound novel. I don't know of another book like it; I would be jealous of it if I weren't so busy being amazed by it." —Brock Clarke, author of An Arsonist's Guide to Writers' Homes in New England
St. Martin's Griffin, 9780312592318, 256pp.
Publication Date: January 5, 2010
About the Author
Darrin Doyle was born and raised in Michigan and lived in Kalamazoo. His short stories have appeared in Puerto del Sol, The Long Story, Alaska Quarterly Review, Antietam Review, Laurel Review, and Night Train, among others. He is the author of The Girl Who Ate Kalamazoo. He teaches fiction writing and literature at Central Michigan University.