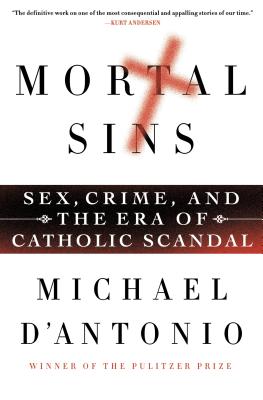 Mortal Sins: Sex, Crime, and the Era of Catholic Scandal (Hardcover)
Sex, Crime, and the Era of Catholic Scandal
Thomas Dunne Books, 9780312594893, 400pp.
Publication Date: April 9, 2013
* Individual store prices may vary.
or
Not Currently Available for Direct Purchase
Description
A "Publishers Weekly" Best Nonfiction Book of 2013
A "Kirkus Reviews "Best Book of 2013
An Edgar Award for Best Fact Crime Nominee
An explosive, sweeping account of the scandal that has sent the Catholic Church into a tailspin -- and the brave few who fought for justice
In the mid-1980s a dynamic young monsignor assigned to the Vatican's embassy in Washington set out to investigate the problem of sexually abusive priests. He found a scandal in the making, confirmed by secret files revealing complaints that had been hidden from police and covered up by the Church hierarchy. He also understood that the United States judicial system was eager to punish offenders and those who aided them. He presented all of this to the American bishops, warning that the Church could be devastated by negative publicity and bankrupted by its legal liability. They ignored him.
Meanwhile, a young lawyer listened to a new client describe an abusive sexual history with a priest that began when he was ten years old. His parents' complaints were downplayed by Church officials who offered them money to go away. The lawyer saw a claim that any defendant would want to settle. Then he began to suspect he was onto something bigger, involving thousands of priests who had abused countless children while the Church had done almost nothing about it. The lawsuit he filed would touch off a legal war of historic and global proportions.
Part history, part journalism, and part true-crime thriller, Michael D'Antonio's "Mortal Sins" brings to mind landmark books such as "All the President's Men, And the Band Played On, " and "The Informant," as it reveals a long and ferocious battle for the soul of the largest and oldest organization in the world.
About the Author
As part of a team of journalists from Newsday, MICHAEL D'ANTONIO won the Pulitzer Prize for his reporting before going on to write many acclaimed books, including Atomic Harvest and The State Boys Rebellion. He has also written for Esquire, The New York Times Magazine, and Sports Illustrated. He lives in Miller Place, New York.
Praise For Mortal Sins: Sex, Crime, and the Era of Catholic Scandal…
"Adds a new dimension to the story, concentrating on the arduous legal battle to bring the church to account. In this new telling, the heroes are not just the survivors of the abuse but also the lawyers and advocates who have gone to bat for them. This is perhaps the most comprehensive narrative of the abuse debacle to date, and D'Antonio … had access to key players, as well as a trove of previously unseen church files and court documents. … The story he tells – about the culture of secrecy inside one of the world's largest religious organizations – is damning."
—The New York Times Book Review
"The definitive history of the Catholic Church's 'most severe crisis since the Reformation.'"
—Publishers Weekly (starred review)
"This landmark work of recent history remains gripping and affecting to the last word."
—Booklist (starred review)
"A devastating chronicle not only of sexual abuse but also of abuse of power — or, rather, of the inclination of those in power to avert their eyes from abuse."
—The Boston Globe
"Gripping…. Captures the drama, impact and reach of a 30-year-crisis that began before the Boston meltdown and continues today. … A powerful and important work."
—The Plain Dealer (Cleveland)
"Nearly three decades of scandal, expertly exposed. … The author weaves a captivating tale of legal drama set against the backdrop of an intransigent ecclesiastical hierarchy. The real-life characters of the story range from colorful to tragic; flamboyant lawyers, alcoholic clerics and activist abuse survivors all help make the story a true page-turner. … In a readable manner, he has helped document a watershed era in the life of the Roman Catholic Church. Riveting and fascinating—sure to serve future generations well as they look back on this era."
—Kirkus (starred review)
"Mortal Sins will be the gold standard for unraveling what happened during the Catholic priests' sex abuse scandal of the last three decades. D'Antonio's balanced exposition and analysis is the equivalent of a cleansing shower on a disturbing period in church history that will reverberate for 100 years or more. … Mortal Sins reads like a detective story."
—Buffalo News
"Pulitzer Prize-winning writer Michael D'Antonio deserves another one. Another Pulitzer prize, that is, for his new book, Mortal Sins. …  Though non-fiction, it reads with the drama of a novel, or perhaps a detective story, and much of the tale is inspirational and surprising."
—Huffington Post
"[A] sweeping account of the crisis, using his reporter's eye for factual detail to provide a comprehensive history spanning three decades."
—Ms.
"An in-depth portrayal of the tragedy of the American church in the late 20th century."
—Pittsburgh Post-Gazette
"A tremendous addition to the fund of our understanding of this crisis. … [Mortal Sins] is a searing and deeply engaging account of the contemporary battles that have been waged against the culture of secrecy and cover-up maintained by the Catholic hierarchy.   The extraordinary quality of the writing makes this difficult story both readable and impossible to put down. … Mortal Sins takes us past the shock, into the understanding that is the precursor to a society solving its most deep-seated problems.  Please read this book for our children, and their children."
—Justia.com
"If like me you've followed this story only glancingly and intermittently over the years, reading Mortal Sins – that is, discovering the full scale and scope and nature of the crimes and cover-ups – will be shocking. Its power is all the greater because Michael D'Antonio is such a scrupulous, lucid chronicler. This is clearly the definitive work on one of the most consequential and appalling stories of our time."
—Kurt Andersen, bestselling author of True Believer and Hey Day, and host of Public Radio's Studio 360 
"Mortal Sins is a powerful book that gives dimension to the story of the heroes who fought to uncover the clerical sex abuse crisis of the Catholic Church. While the shadow of these crimes against children are long, D'Antonio's story of the whistleblowers brings needed light into the darkness."
—Alex Gibney, Academy Award-winning director of Taxi to the Dark Side 
"This is a valuable 'inside' story of the unraveling of the scandal, complete with fascinating original interviews of the main actors."
—Anson Shupe, author of Rogue Clerics, Bad Pastors, and Spoils of the Kingdom
"A well-researched and accurate account of one of the great scandals of our time - a crime against humanity, no less, to which the Vatican turns a blind eye. When his church cares more for its reputation and its wealth than it does for its children, did Jesus Christ live - and die - in vain?"
—Geoffrey Robertson, author of The Case of the Pope
"Skillfully weaving together the stories of the lawyers, journalists, clergy, and laity who worked to expose abusive priests and the superiors who covered up their crimes, Michael D'Antonio has created a vivid and compelling narrative of the greatest crisis in the Catholic Church since the Protestant Reformation."
—Mark Silk, editor of Religion in the News and author of Spiritual Politics 
Advertisement