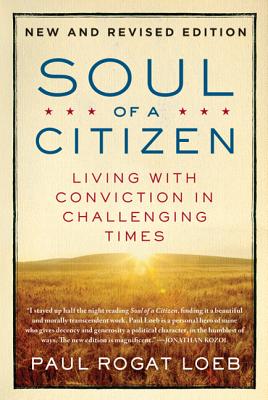 Soul of a Citizen
Living with Conviction in Challenging Times
Paperback

* Individual store prices may vary.
Other Editions of This Title:
Digital Audiobook (5/3/2017)
Description
Soul of a Citizen awakens within us the desire and the ability to make our voices heard and our actions count. We can lead lives worthy of our convictions.

A book of inspiration and integrity, Soul of a Citizen is an antidote to the twin scourges of modern life--powerlessness and cynicism. In his evocative style, Paul Loeb tells moving stories of ordinary Americans who have found unexpected fulfillment in social involvement. Through their example and Loeb's own wise and powerful lessons, we are compelled to move from passivity to participation. The reward of our action, we learn, is nothing less than a sense of connection and purpose not found in a purely personal life.

Soul of a Citizen has become the handbook for budding social activists, veteran organizers, and anybody who wants to make a change—big or small—in the world around them. At this critical historical time , Paul Loeb's completely revised edition—and inspiring message—is more urgently important than ever.
Praise For Soul of a Citizen: Living with Conviction in Challenging Times…
"Soul has been a powerful inspiration to citizens acting for environmental sanity, showing how they can take committed stands, even if they don't know every last answer. The new edition is even more inspirational." —Bill McKibben

"I stayed up half the night reading Soul of a Citizen, finding it a beautiful and morally transcendent work. Paul Loeb is a personal hero of mine who gives decency and generosity a political character, in the humblest of ways. The new edition is magnificent" —Jonathan Kozol

"When my daughter asked from college how to be an effective grassroots citizen, I gave her Paul's book. The new edition is even more powerful." —Josette Sheeran, Executive Director, United Nations World Food Program

"Soul has inspired thousands of young people, of widely differing perspectives, to take a stand. It teaches them how to get past the barriers to act, and why their actions matter. The new edition is a powerful personal guide to get involved." —Hans Riemer, Youth Vote Director, Barack Obama campaign, former political director, Rock the Vote

"Soul of a Citizen has been a powerful resource to get thousands of students involved in their communities, giving them the opportunity to apply their learning in meaningful ways. This updated edition is both timely and exceptionally useful to campuses that want to reclaim higher education's central role in educating responsible, democratic citizens." —Carol Geary Schneider, President, American Association of Colleges and Universities

"Soul of a Citizen has inspired countless students, faculty, and other readers since its publication a decade ago. Amazing as that book was, this new version is even wiser, deeper, and more inspiring. Loeb has given even more soul to his wonderful work." —Thomas Ehrlich, former president Indiana University

"Without engaged citizens, politics is dead. Citizen activism was the source of this country's birth, and today ensures its future. To really, truly understand why it's important for us all to stand up and act, and how to do it, read the new updated edition of Soul of a Citizen, an activist classic that belongs on the shelf right next to Saul Alinsky." —Thom Hartmann

"Soul of a Citizen helps us find the faith we need to act on our deepest beliefs--and keep on." —Marian Wright Edelman, president, The Children's Defense Fund

"Compassion, intelligence, and thought-provoking wisdom...A new vision for personal engagement with societal issues." —Publishers Weekly, starred review

"A passionate but reasoned call for Americans to become involved in issues that matter." —Chicago Sun-Times

"Brims with stirring stories of everyday heroes who saw something wrong, heeded the voice of their conscience, gathered support and, acting in concert with others, changed things and made a difference." —Philadelphia Inquirer

"Should be mandatory reading for anyone over the age of 12--especially every woman or man who has traded 'I give a damn' for 'I give up.'" —San Francisco Chronicle

"Rich, engaging, clearly written. An essential book for anyone who wants to work for change. It will inspire people new to activism, and deals with cynicism and burnout in a good way for movement veterans. Altogether, a wonderful job, rich with specific experience." —Howard Zinn

"You are part of what's good about this world and I admire your work very much." —Bill Moyers

"Loeb can pierce a cynic's armor with his practical examination of social change." —San Jose Mercury News

"Thoughtful and encouraging, Loeb offers a rich spirituality of citizenship for both experienced activists and those just wondering where to begin." —Jim Wallis, editor, Sojourners

"A call for community involvement and a challenge to apathy." —Digby Diehl, AARP Magazine

"Loeb writes very powerfully." —Chicago Tribune

"Examines the psychology and spirituality of community involvement, recounting numerous true stories of how ordinary citizens produced significant social change." —Atlanta Journal-Constitution

"[Teaches] what it means to be a caring, compassionate citizen" —Parents magazine

"Makes the argument that not only can modern people reclaim their sanity, but they can make a difference in the world and lose their apathy." —Minneapolis Star Tribune

"[Describing] ordinary people who became activists, Loeb examines the stumbling blocks--perceived powerlessness, cynicism, burnout--that keep most Americans from participating in the public sphere, as well as the rewards of following a different path." —Sierra Club magazine

"Loeb believes in commitment and believes in it passionately." —Columbus Dispatch

"A highly personable story of integrity and commitment that reminds all of us that we have often-unrealized abilities to live lives worthy of our convictions." —Steelabor, United Steelworkers

"A much-needed call for community involvement." —Art Levine, president, Teachers College, Columbia University.

"A transformative book of courage and authenticity, Soul of a Citizen challenges the apathy and ennui of modern life. If you have children, give it to them. If not, give it to your parents." —Paul Hawken, co-founder Smith & Hawken, author, The Ecology of Commerce

"This wonderful book teaches us the value of taking chances and not being afraid to fail. It reminds us that the more we help others build productive lives, the better our own lives will be." —Bob Chase, president, National Education Association

"Recounts what's preventing regular folks from working in a more committed fashion beyond writing the odd cheque in these cynical times." —Toronto Globe & Mail

"Loeb has amassed a powerful arsenal for his assault on cynicism, [gathering] hundreds of stories of ordinary people who are changing the world one step at a time." —The Oregonian
St. Martin's Griffin, 9780312595371, 400pp.
Publication Date: March 30, 2010
About the Author
Paul Rogat Loeb has spent thirty-five years researching and writing about citizen responsibility and empowerment. Paul lectures widely at colleges and conferences and is the author of several widely praised books, including Soul of a Citizen.
or
Not Currently Available for Direct Purchase