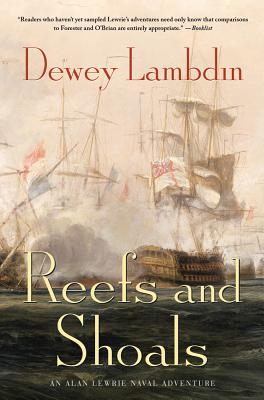 Reefs and Shoals: An Alan Lewrie Naval Adventure (Hardcover)
An Alan Lewrie Naval Adventure
Thomas Dunne Books, 9780312595715, 368pp.
Publication Date: January 17, 2012
* Individual store prices may vary.
or
Not Currently Available for Direct Purchase
Description
Pity poor Captain Alan Lewrie, Royal Navy He's been wind-muzzled for weeks in Portsmouth, snugly tucked into a warm shore bed with lovely, and loving, Lydia Stangbourne, a Viscount's daughter, and beginning to enjoy indulging his idle streak, when Admiralty tears Lewrie away and order him to the Bahamas, into the teeth of ferocious winter storms. It's enough to make a rakehell such as he weep and kick furniture
At least his new orders allow Lewrie to form a small squadron from what ships he can dredge up at Bermuda and New Providence and hoist his first broad pendant, even if it is the lesser version, and style himself a Commodore.
Lewrie is to scour the shores of Cuba and Spanish Florida, the Keys and the Florida Straits in search of French and Spanish privateers which have been taking British merchantmen at an appalling rate, and call upon neutral American seaports to determine if privateers are getting aid and comfort from that quarter. Lewrie is to be "Diplomatic." Diplomatic? Lewrie? Not bloody likely
To solve the problem and find the answers will put Lewrie in touch with old friends, old foes, and more frustration than a dog has fleas. As usual, though, Captain Alan Lewrie will find his own unique way to fulfill his duties, and in the doing, find some fun in his own irrepressible manner
"Reefs and Shoals" is the 18th installment in the Alan Lewrie series, from Dewey Lambdin, "The brilliantly stylish American master of salty-tongued British naval tales" ("Kirkus Reviews").
About the Author
DEWEY LAMBDIN is the author of seventeen previous Alan Lewrie novels. A member of the U.S. Naval Institute and a Friend of the National Maritime Museum in Greenwich, England, he spends his free time working and sailing. He makes his home in Nashville, TN, but would much prefer Margaritaville or Murrells Inlet.
Praise For Reefs and Shoals: An Alan Lewrie Naval Adventure…
Praise for Reefs and Shoals:

"Check the log, shipmate: Dewey Lambdin has left Alexander Kent and C.S. Forester hull-down in an ocean of words and is closing on Patrick O'Brian as the most prolific historical novelist to celebrate a Royal Navy mariner during the age of sail."--Washington Times

"Lewrie's a worthy shipmate for Aubrey and Hornblower."--Kirkus Reviews

"Lambdin succeeds with high-seas action, bravado, and Lewrie's characteristic antics, putting himself in good company with Julian Stockwin and Seth Hunter as worthy successors to the popular 18th- and 19th-century naval adventures of Forester, Kent, and Pope. ... Lewrie is a delightfully randy and irreverent character, the perfect man to walk the quarterdeck of a Royal Navy frigate."--Publishers Weekly (starred review)

"A hugely entertaining naval adventure (á la Forester and O'Brian) with a different kind of protagonist. ... Not merely a worthy entry in the very popular Lewrie series but a top-of-the-line naval adventure that can be thoroughly enjoyed by readers who've never met Captain Lewrie until now."--Booklist

"Naval adventures in the time of wooden ships and iron men form a distinct literary genre. Nashville novelist Dewey Lambdin has mastered it."--Chapter 16

"Dewey Lambdin may well be the best author of Age of Sail fiction currently practicing the art. ... Lambdin's writing skills are a perfect for his research. His well-chosen words capture the feel, the tang, almost the taste of the moment. His characters are immensely believable, either drawn from the pages of history or evocative of the cads, scamps, and occasional good friends that we mee in life. ... Let none have uncertainties about Dewey Lambdin or his Alan Lewire: 'hearts of oak' both! Reefs and Shoals (and the entire series of novels) is heartily recommended to lubbers and sailors alike.)"--United States Naval Institute

Praise for the Alan Lewrie Series:


"The brilliantly stylish American master of salty-tongued British naval tales."--Kirkus Reviews

"You could get addicted to this series. Easily."--The New York Times Book Review

"The best naval adventure series since C. S. Forester."--Library Journal

"Stunning naval adventure, reeking of powder and mayhem. I wish I had written this series." --Bernard Cornwell

"Lewrie is a marvelous creation, resourceful and bold."--James L. Nelson, author of the Revolution at Sea Saga

"Lewrie is an endearing character-hero, philanderer, smuggler, spy: a courageous naval officer unencumbered by high morals or indecision."--Publishers Weekly
Advertisement