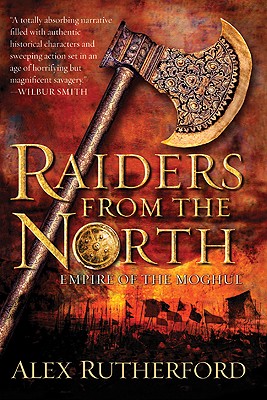 Raiders from the North: Empire of the Moghul (Hardcover)
Empire of the Moghul
Thomas Dunne Books, 9780312597009, 448pp.
Publication Date: May 11, 2010
* Individual store prices may vary.
or
Not Currently Available for Direct Purchase
Description
THE EPIC STORY OF ONE OF THE MOST POWERFUL EMPIRES IN HISTORY
The mighty Empire of the Moghuls burst out of Central Asia into India in the sixteenth century. The first in a compelling new series of novels, Raiders from the North tells the largely unknown story of the rise and fall of the Mogul dynasties.
It is 1494 when the ruler of Ferghana dies in an extraordinary accident. His only son, Babur, faces a seemingly impossible challenge. Babur is determined to live up to the example of his legendary ancestor, Tamburlaine, whose conquests transformed the face of the earth from Delhi to the Mediterranean, from wealthy Persia to the wildernesses along the Volga. But Babur is dangerously young to inherit a kingdom.
Before Babur can summon enough warlords to declare him the rightful king, plots against his crown, even his life, are hatching. And soon, he will discover that even the bravest and most fearless leader can be betrayed. With the wisest of advisers and most courageous of warriors by his side, Babur can achieve a great destiny and found an empire in India, but every step of his journey will be fraught with danger.
Set in a world of tribal rivalries, rampaging armies, and ruthlessly ambitious enemies, Raiders from the North is historical adventure at its very best.
About the Author
ALEX RUTHERFORD is the pen name for Diana Preston and her husband, Michael, whose nonfiction has been awarded the Los Angeles Times Science and Technology Prize and been praised worldwide. They have written seven books including "Cleopatra," "Taj Mahal," and "Before the Fallout." They live in London.
Praise For Raiders from the North: Empire of the Moghul…
"A totally absorbing narrative filled with authentic historical characters and sweeping action set in an age of horrifying but magnificent savagery. The writing is as compelling as the events described and kept me eagerly leaping from one page to the next." – Wilbur Smith
"Rutherford's glorious, broad-sweeping adventure in the wild lands of the Moghul sees the start of a wonderful series… In Babur, he has found a real-life hero, with all the flaws, mistakes, and misadventures that spark true heroism… Breathtaking stuff." – Manda Scott, author of The Boudica Quartet
"Raiders from the North is a rousing, rampant gallop through the golden age of one of the world's greatest empires. With a solid grasp of history and an eye for detail, Alex Rutherford imbues the story of Babur's rise with unstoppable momentum. If the first volume is any indication, this series will conquer readers as utterly as a Moghul army." – Nicholas Nicastro, author of Empire of Ashes and Antigone's Wake
"A swift and exciting book that brings to new life a story that history had nearly forgotten. Rutherford's handling of this complex tale is masterful, and I look forward to reading the sequels." – Michael Curtis Ford, author of The Ten Thousand and The Fall of Rome
"Brilliant and bloodthirsty." – The Northern Echo (UK)
"Rollicking." – The Hindustan Times (India)
"A compelling series of novels." – Deccan Herald (India)
"The pace is fast, and Rutherford carries off the battle scenes with élan." – Business Standard (India)
"Alex Rutherford has set the bar high for his sequels." – The Daily Mail (UK)
"The books belong to the bigselling genre of historical fiction -- where skimpy facts are fleshed out with vivid descriptions and adorned with the glittering brocades of imagination."--The Times of India
"An engaging, well-balanced work . . . [with] a certain cinematic helf to it, with a TV documentary-like treatment of the dramatic and the historic."--New Delhi (India)
Advertisement