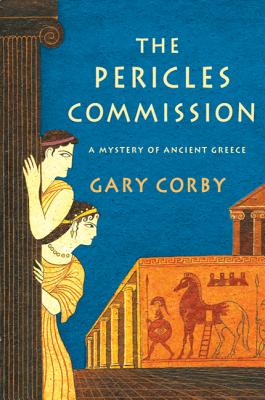 The Pericles Commission (Mysteries of Ancient Greece #1) (Hardcover)
Minotaur Books, 9780312599027, 352pp.
Publication Date: November 9, 2010
Other Editions of This Title:
Paperback (1/15/2013)
* Individual store prices may vary.
Description
Nicolaos walks the mean streets of Classical Athens as an agent for the promising young politician Pericles. His mission is to find the assassin of the statesman Ephialtes, the man who brought democracy to Athens and whose murder has thrown the city into uproar. It's a job not made any easier by the depressingly increasing number of dead witnesses.
But murder and mayhem don't bother Nico; what's really on his mind is how to get closer (much closer) to Diotima, the intelligent and annoyingly virgin priestess of Artemis, and how to shake off his irritating twelve year-old brother Socrates.
The Pericles Commission is the first in an exciting new series by first-time novelist Gary Corby, who takes us to Ancient Greece at one of the most exciting times in history. In this wonderfully approachable, historically rich novel, Athens is brought vividly to life in a mystery engaging from the first page to last.
About the Author
Gary Corby has long been fascinated by ancient history, finding it more exciting and bizarre than any modern thriller. He's combined the ancient world with his love of whodunits, to create an historical mystery series set in classical Greece. He is the author of The Ionia Sanction and The Pericles Commission. Gary lives in Sydney, Australia, with his wife and two daughters.
Praise For The Pericles Commission (Mysteries of Ancient Greece #1)…
"Gary Corby comes through in a rare style....A good read that not only entertains but leaves the reader knowing a lot more about Classical Athens." —John Maddox Roberts on The Pericles Commission
"Gary Corby's ambitious series debut delivers an unexpected dividend--a lively sense of humor which leavens the weighty subject matter: the messy birth of democracy in Athens, attended by riot, revenge, and, of course, murder." —Steven Saylor, international bestselling author of Roma
"A promising debut...Corby displays a real gift for pacing and plotting." —Publishers Weekly (starred review)