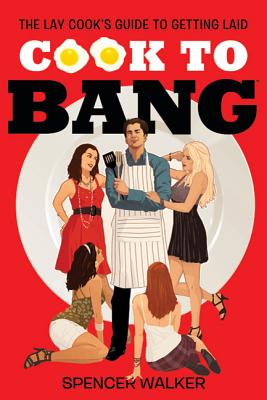 Cook to Bang (Paperback)
The Lay Cook's Guide to Getting Laid
St. Martin's Griffin, 9780312600181, 240pp.
Publication Date: May 11, 2010
* Individual store prices may vary.
Description
Tired of dates that leave you with nothing but a $150 dinner tab, a doggy bag, and blue balls? Enter Cook to Bang, a guide to wining, dining, and sixty-nining for cooks who don't know their asparagus from their elbows. It offers a history of Cook to Bang seduction throughout the ages, tips for setting the bait, the best menu for each "sexual profile," methods for creating a sexy-time vibe, and a game plan for how to make your move. Born from the popular Web site, Cook to Bang is an everyman's guide to cooking your way into your date's bed.
About the Author
Spencer Walker has been a sous-chef and a private chef, and he has worked for the renowned Los Angeles catering outfit The Kitchen for Exploring Foods. Renee Russo once declared his lamb chops "orgasmic." He has been a creative executive for Nickelodeon and Cartoon Network and has written television episodes for Warner Bros., Nickelodeon, and Disney.
Praise For Cook to Bang: The Lay Cook's Guide to Getting Laid…
"He teaches you how to tap your inner Julia Child and easily tap that girl's…" —Houston Chronicle
"A bumper-to-bumper culinary seduction guide covering everything from drink pairing to mood music." —Huffington Post
"Walker's step-by-step process turns Chef Boyardee into Chef Justgotlaidlastnight." —AOL's Asylum
"Don't take Walker's word for it: according to celebrity chef Mario Batali, 'There's two ways to make someone happy-both are by putting something in them.'" —Newsweek
"Spencer Walker's highly manticipated Cook to Bang." —NY Magazine
"Miss Manners it's not, but undoubtedly smart stuff." —Philadelphia City Paper
"I would suggest this book to anyone who likes to read, cook, laugh or wants to get closer to a lady friend." —Bobby D Radio Show
"The methodology for the making of true romance can be found in Walker's masterpiece, 'Cook to Bang'." —Crave Online
"Walker is a culinary pioneer." —University of Arizona Daily Wildcat