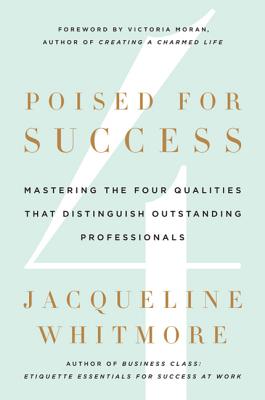 Poised for Success (Hardcover)
Mastering the Four Qualities That Distinguish Outstanding Professionals
St. Martin's Press, 9780312600327, 192pp.
Publication Date: November 8, 2011
* Individual store prices may vary.
Description
Secrets to mastering the details that will get you ahead at work, from international etiquette expert and author of BUSINESS CLASS, Jacqueline Whitmore.


In the past, the business world favored the aggressive "Type A" personality. But in these unsettled times, being courteous and thoughtful has proven to be a more effective way to win clients and customers and influence others. The competitive advantage depends on your ability to use your emotional intelligence and social graces to take your career to the next level.
In POISED FOR SUCCESS, Jacqueline Whitmore states that good business etiquette is important, but she also knows that there is more to becoming invaluable at work than simply mastering good behavior. In order to be poised for success, you must cultivate what Jacqueline calls the four "P" qualities: Presence, Polish, Professionalism, and Passion. These include how to:
-Package yourself for success by refining your personal brand
-Nurture professional relationships with flair
-Master the five ways to make yourself more memorable
-Learn the seven unwritten rules of workplace etiquette
Whitmore, using her 15 years of experience as a protocol and etiquette expert, will arm you with the skills to become more self-aware, more confident and comfortable in your own skin, and better able to communicate with others in a credible, authentic manner.
About the Author
Jacqueline Whitmore is an internationally recognized etiquette expert and the founder of The Protocol School of Palm Beach. Her extensive client base includes the U.S. Department of Defense, Booz Allen Hamilton, Office Depot, The Hartford Financial Services Group, Deloitte, Merrill Lynch, Ernst & Young, Bloomingdale's, Sprint, and Burger King Corporation, among others.
Jacqueline is a popular guest on radio and television and her etiquette advice has appeared in The New York Times, USA Today, The Wall Street Journal, Glamour, Cosmopolitan, Marie Claire, Real Simple, Fortune, and O: The Oprah Magazine. Jacqueline and her husband, Brian Gleason, live in Florida.
Praise For Poised for Success: Mastering the Four Qualities That Distinguish Outstanding Professionals…
"In Poised for Success, Jacqueline Whitmore explores the what, why, and how of being ready for and attaining success in practical and inspiring terms. It's a must-read for all those looking to get ahead!" —Marshall Goldsmith, author of the New York Times bestsellers, MOJO and What Got You Here Won't Get You There
"Jacqueline Whitmore's book is not only informative (do you know what bespoke suits, cuillères, or barrel cuffs are?) it is heartfelt and entertaining. Jacqueline presents important concepts in a pragmatic and gracious way (read chapter 8), and balances it all with a tone that makes you want to meet for coffee." —Terri Morrison, coauthor of Kiss, Bow or Shake Hands: the Bestselling Guide to Doing Business in More Than Sixty Countries
"The #1 must-read book for anyone seeking the easy path to success and emotional prosperity. Poised for Success is exploding with so many powerful takeaways that my highlighter ran out of ink! Jacqueline Whitmore is the business world's best-kept secret!" —Janine Driver, author of The New York Times bestseller, You Say More Than You Think: A 7-Day Plan For Using the New Body Language to Get What You Want
"Trust this book, live this book, treasure this book." —P.M. Forni, professor, Johns Hopkins University and author of the bestselling book Choosing Civility
"Why read Jacqueline Whitmore's Poised for Success? Because you want to do the very most and the very best with the time and the life you have. Because we all need direction and inspiration to achieve that. And because in these pages – in plain but powerful language – is the way to get there. Read it and see change. Read it and be changed." —Simon T. Bailey, brillionaire and author of Release Your Brilliance
"Jacqueline Whitmore's wisdom is simple, straightforward, and incredibly effective. Poised for Success will change your attitude and outlook on doing business with others while helping you become more successful. Relevant, inspiring, wise, and practical -- this is truly a MUST read!" —Andrea R. Nierenberg, coauthor of Networking for the College Students (and Recent Graduates)
"For those of us fashion clods who need help getting ready for prime time, there is the amazing Jacqueline Whitmore. Poised for Success is a style makeover from the outside in." —Fawn Germer, global leadership speaker and bestselling author of Hard Won Wisdom and Mustang Sallies
"Read Poised for Success to discover exactly what poise is and how you can develop it. With this understanding you're able to present your best, connect from the heart, achieve high-touch in a world of high-tech, strengthen your business relationships, and achieve your greatest success." —Larina Kase, PsyD, MBA, author of Clients, Clients and More Clients, and coauthor of The New York Times bestseller The Confident Speaker
"Jacqueline Whitmore's Poised for Success helps business people be their best at work and in their personal lives. The insights and practical advice she brings to our modern day manner dilemmas are priceless." —Karen Leland, bestselling author of Public Speaking in an Instant: 60 Ways to Stand Up and Be Heard