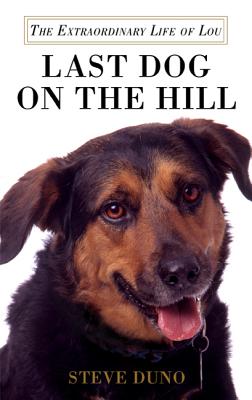 Last Dog on the Hill
The Extraordinary Life of Lou
Hardcover

* Individual store prices may vary.
Other Editions of This Title:
Paperback (7/19/2011)
Hardcover, Large Print, Large Print (10/1/2010)
Description
"The moving story of the author's adopted Rottweiler mix, Lou, a free-thinking heroic dog who changed his life forever "
""
""Born of guard dogs on a secret marijuana farm in Mendicino County, Lou truly was one dog in a million. On the winter day that the ailing, tick-infested feral pup was rescued by Steve Duno, neither dog nor man had a clue as to what they were getting into, or where the relationship would lead.
"Last Dog on the Hill "tells the story of an indigent young Rottweiler mix who, after abandoning his pack and the hills of his birth, went on to change the lives of hundreds of people and dogs, including the author's, whose career as a behaviorist and writer was made possible through Lou's extraordinary intelligence and heart. Lou won the respect of gang members, foiled an armed robbery, caught a rapist, fought coyotes and kidnappers, comforted elderly war veterans and Alzheimer patients in their final days, taught ASL to kids, learned scores of unique behaviors and tricks, amassed a vocabulary of nearly 200 words, helped rehabilitate hundreds of aggressive dogs and saved them from euthanasia. He was also a clown, consummate performer and Steve's best friend for sixteen years. His story will make readers laugh and cry in equal measures.
Praise For Last Dog on the Hill: The Extraordinary Life of Lou…
"Lou's story is an emotional and deeply felt tribute to the powerful bond between dogs and humans. Last Dog on the Hill will make you long for that one special super-dog that can truly change your life. We should all be so lucky to have a dog like Lou in our world."--Garth Stein, author of The Art of Racing in the Rain
"Last Dog on the Hill is a wonderful mixture of humor, heartbreak, and high jinks. I couldn't put it down. Lou will steal your heart."--Janet Evanovich, New York Times bestselling author of the Stephanie Plum series
"When making your pile of 'best dog stories ever,' make space for another one.  This book is great!  Lou is a real  working dog, not just a pile of emotive fluff.  His exploits and accomplishments are nothing short of heroic.  You will cheer for this dog and the fullness of his life. The relationship between Steve Duno and Lou is remarkable.  We all want to know a dog like Lou.  Here's your chance. There is a tear or two, but they are tears of joy for lives well-shared."--Greg Kincaid, author of A Dog Named Christmas
"There's nothing whispery or mysterious about the connection between Steve Duno and his remarkable Rottweiler mix Lou.  It's a full-voiced love story, a vigorous tale of rescue and mutual redemption, and an eloquent human-canine conversation that grows richer and deeper through the years.  Last Dog on the Hill reminds us not only how much dogs can learn, but more importantly, how much they can teach us about the things that really matter -- loyalty, honor, hard work, and plenty of sheer delight."-- Steven Winn, Author of Come Back, Como: Winning the Heart of a Reluctant Do
"Everyone needs to experience a dog like Lou; and every dog needs a person like Steve Duno.
Last Dog on the Hill
 is one of those rare animal memoirs that isn't sentimental, yet moves the reader to tears as easily as laughter.  It also makes me wonder how many vocabulary words my dog knows."--Susan Wilson, author of
One Good Dog
 "If Jack Reacher had a dog, he'd be Lou. If Jack Reacher were a dog, he'd be Lou."-- Lee Child, New York Times bestselling author of the Jack Reacher series "There are so many accounts and testaments that verify beyond doubt that a dog is man's best friend. What makes this story special is that Lou, in terms of fate, was destined for a rough and unspectacular life. Lou and Steve found each other by sheer chance. Lou's life was richer for being Steve's dog, but the real twist of fate is how Steve's life and the lives of all those who knew Lou, were enriched forever."--Nuala Gardner, author of
A Friend Like Henry: The Remarkable True Story of an Autistic Boy and the Dog That Unlocked His World
 "Anyone who has ever loved or lost a dog, or both, will be touched by this spellbinding story about two beings who crossed the human-dog divide and met on the other side."--Stefan Bechtel, author of
Dogtown: Tales of Rescue, Rehabilitation and Redemption
 "Steve Duno describes Lou and himself as 'neither dog nor human but family, just family.'  Anyone who has ever loved with their heart wide open will want to come along for this ride.  Unpredictable, heroic and funny…just like Lou."--Monica Holloway, author of
Cowboy & Wills: A Love Story
 "Memorable from beginning to end, this tribute to a truly great dog will make you laugh, cry, and recall your own memories of special dogs." --
Modern Dog
St. Martin's Press, 9780312600495, 323pp.
Publication Date: June 22, 2010
About the Author
Last Dog on the Hill is veteran pet behaviorist STEVE DUNO's eighteenth book. He has trained thousands of dogs, and a good number of cats. He lives in Seattle with his family and an ever-changing assortment of rescued pets.
or
Not Currently Available for Direct Purchase