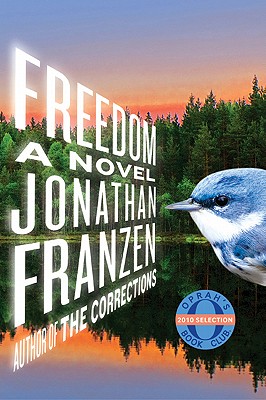 Freedom - Oprah #64
Hardcover

* Individual store prices may vary.
Other Editions of This Title:
Digital Audiobook (4/20/2012)
Digital Audiobook (8/30/2010)
Compact Disc (8/31/2010)
Paperback, French (8/3/2012)
Paperback (9/27/2011)
Digital Audiobook, Spanish, Castilian (9/22/2021)
Description
Patty and Walter Berglund were the new pioneers of old St. Paul—the gentrifiers, the hands-on parents, the avant-garde of the Whole Foods generation. Patty was the ideal sort of neighbor, who could tell you where to recycle your batteries and how to get the local cops to actually do their job. She was an enviably perfect mother and the wife of Walter's dreams. Together with Walter—environmental lawyer, commuter cyclist, total family man—she was doing her small part to build a better world.
But now, in the new millennium, the Berglunds have become a mystery. Why has their teenage son moved in with the aggressively Republican family next door? Why has Walter taken a job working with Big Coal? What exactly is Richard Katz—outré rocker and Walter's college best friend and rival—still doing in the picture? Most of all, what has happened to Patty? Why has the bright star of Barrier Street become "a very different kind of neighbor," an implacable Fury coming unhinged before the street's attentive eyes?
In his first novel since The Corrections, Jonathan Franzen has given us an epic of contemporary love and marriage. Freedom comically and tragically captures the temptations and burdens of liberty: the thrills of teenage lust, the shaken compromises of middle age, the wages of suburban sprawl, the heavy weight of empire. In charting the mistakes and joys of Freedom's characters as they struggle to learn how to live in an ever more confusing world, Franzen has produced an indelible and deeply moving portrait of our time.
Praise For Freedom - Oprah #64…
Praise for Freedom
"Jonathan Franzen's new novel,
Freedom
, like his previous one,
The Corrections
, is a masterpiece of American fiction . . .
Freedom
is a still richer and deeper work—less glittering on its surface but more confident in its method . . . Like all great novels,
Freedom
does not just tell an engrossing story. It illuminates, through the steady radiance of its author's profound moral intelligence, the world we thought we knew."—Sam Tanenhaus,
The New York Times Book Review
(cover review) "Writing in prose that is at once visceral and lapidary, Mr. Franzen shows us how his characters strive to navigate a world of technological gadgetry and ever-shifting mores, how they struggle to balance the equation between their expectations of life and dull reality, their political ideals and mercenary personal urges. He proves himself as adept at adolescent comedy as he is at grown-up tragedy; as skilled at holding a mirror to the world his people inhabit day by dreary day as he is at limning their messy inner lives . . . Mr. Franzen has written his most deeply felt novel yet—a novel that turns out to be both a compelling biography of a dysfunctional family and an indelible portrait of our times." —Michiko Kakutani,
The New York Times
 "[
Freedom
is] a work of total genius: a reminder both of why everyone got so excited about Franzen in the first place and of the undeniable magic—even today, in our digital end-times—of the old-timey literary novel . . . Few modern novelists rival Franzen in that primal skill of creating life, of tricking us into believing that a text-generated set of neural patterns, a purely abstract mind-event, is in fact a tangible human being that we can love, pity, hate, admire, and possibly even run into someday at the grocery store. His characters are so densely rendered—their mental lives sketched right down to the smallest cognitive micrograins—that they manage to bust through the art-reality threshold: They hit us in the same place that our friends and neighbors and classmates and lovers do. This is what makes Franzen's books such special event." —Sam Anderson,
New York Magazine
"The Great American Novel." —Esquire
"Epic." —Vanity Fair
"Exhilarating . . . Gripping . . . Moving . . . On a level with The Great Gatsby [and] Gone With the Wind." —Craig Seligman, Bloomberg

"A page turner that engages the mind." —Dan Cryer, Newsday

"Consuming and extraordinarily moving." —David L. Ulin, Los Angeles Times
"It's refreshing to see a novelist who wants to engage the questions of our time in the tradition of 20th-century greats like John Steinbeck and Sinclair Lewis . . . [This] is a book you'll still be thinking about long after you've finished reading it." —Patrick Condon,  Associated Press
"Deeply moving and superbly crafted . . . It's such a full novel, rich in description, broad in its reach and full of wry observations." —Bob Hoover, Pittsburg Post-Gazette
"Freedom, his new book, and The Corrections, its predecessor, are at the same time engrossing sagas and scathing satires, and both books are funny, sad, cranky, revelatory, hugely ambitious, deeply human and, at times, truly disturbing. Together, they provide a striking and quite possibly enduring portrait of America in the years on either side of the turn of the 21st century . . . His writing is so gorgeous . . . Franzen is one of those exceptional writers whose works define an era and a generation, and his books demand to be read." —Harper Barnes, St. Louis Post-Dispatch

"A tour de force . . . one of the finest novelists of his generation." — Glenn C. Altschuler, The Philadelphia Inquirer

"Freedom is a bracingly earnest, ethically serious psychological epic that introduces and exploits its characters' mistakes and foibles, then challenges itself to discover myriad ways to eventually forgive them their trespasses . . . A highly readable triumph of conventional realism . . . Addictive." —Akiva Gottlieb, The National

"A lavishly entertaining account of a family at war with itself, and a brilliant dissection of the dissatisfactions and disappointments of contemporary American life . . . Compelling . . . Freedom, though frequently funny, is ultimately tender: its emotional currency is both the pain and the pleasure that that word implies . . . A rare pleasure, an irresistible invitation to binge-read . . . That it also grapples with a fundamental dilemma of modern middle-class America—namely: Is it really still OK to spend your life asserting your unalienable right to the pursuit of happiness, when the rest of the world is in such a state?—is what makes it something wonderful. If Freedom doesn't qualify as a Great American Novel for our time, then I don't know what would . . . The reason to celebrate him is not that he is doing something new but that he is doing something old, presumed dead—and doing it brilliantly. Freedom bids for a place alongside the great achievements of his predecessors, not his contemporaries; it belongs on the same shelf as John Updike's Rabbit, Tom Wolfe's The Bonfire of the Vanities, Philip Roth's American Pastoral. It is the first Great American Novel of the post-Obama era." —Benjamin Secher, Telegraph (U. K.)

"A literary genius for our time . . . An extraordinary work . . . This is simply on a different plane from other contemporary fiction . . . A novel of our time . . . Demands comparison rather with Saul Bellow's Herzog. . . a modern classic . . . Freedom is the novel of the year, and the century." —Jonathan Jones, Guardian (U.K.)

"A triumph . . . A pleasure to read." —Michael H. Miller, The New York Observer

"Brilliant . . . Epic . . . An extraordinary stylist." —Ron Charles, The Washington Post

"A surprisingly moving and even hopeful epic." —Heller McAlpin, NPR
Farrar, Straus and Giroux, 9780312600846, 576pp.
Publication Date: September 17, 2010
About the Author
Jonathan Franzen is the author of "The Corrections," winner of the National Book Award and a finalist for the Pulitzer Prize and the Pen/Faulkner. He is also the author of the novels "The Twenty-Seventh City" and "Strong Motion," and two works of nonfiction, "How to Be Alone" and "The Discomfort Zone," all published by Farrar, Straus and Giroux. In 1996, he was named one of Granta's Best of Young American Novelists. He lives in New York City and Santa Cruz, California.
or
Not Currently Available for Direct Purchase