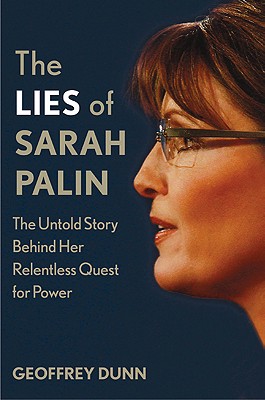 The Lies of Sarah Palin: The Untold Story Behind Her Relentless Quest for Power (Hardcover)
The Untold Story Behind Her Relentless Quest for Power
St. Martin's Press, 9780312601867, 464pp.
Publication Date: May 10, 2011
* Individual store prices may vary.
or
Not Currently Available for Direct Purchase
Description
In "The Lies of Sarah Palin, " Geoffrey Dunn""provides the first full-scale and in-depth political biography of the controversial Republican vice-presidential candidate and former governor of Alaska.
Based on more than two-hundred interviews---many of them with Republican colleagues and one-time political allies of Palin's---and more than forty-thousand pages of uncovered documents, Dunn chronicles Palin's troubling penchant for duplicity in grim detail, from her dysfunctional childhood in Wasilla through her contentious run for mayor and her failed governorship of Alaska. He also provides the shocking inside story of her betrayal of running mate John McCain during the 2008 presidential campaign and her self-serving resignation as governor in July of the following year. Dunn deftly places Palin in the American tradition of right-wing demagogues---from Huey Long to Joe McCarthy---and details her troubling obsession with Barack Obama as it fuels her own political ambitions and a potential run for the presidency in 2012.
"The Lies of Sarah Palin" is a journalistic tour de force that vividly reveals the Queen of the Tea Party movement as a vengeful and manipulative empress without clothes. This is the definitive book on Sarah Palin.
About the Author
Geoffrey Dunn is an award-winning author and documentary filmmaker with more than three decades experience as an investigative reporter. A frequent contributor to "The Huffington Post," where he has broken several national stories on Sarah Palin since the 2008 presidential campaign, Dunn has also served as a Senior Editor for Metro Newspapers in Northern California, where he has received awards for investigative journalism from the National Newspaper Association, the California Newspaper Publishers Association, and the Peninsula Press Club. His documentary films include the award-winning "Calypso Dreams"; "Miss...or Myth?;" and "Dollar a Day, 10[ a Dance." Dunn received a B.A. in politics (with honors), as well as an M.A. and Ph.D. in sociology, from the University of California, Santa Cruz, where he has taught courses in documentary film, nonfiction writing and American political history and culture. He received an Excellence in Teaching Award there in 2000. Dunn was raised in an Italian-American fishing community and worked in the Pacific Coast fishery industry until the mid-1980s.
Praise For The Lies of Sarah Palin: The Untold Story Behind Her Relentless Quest for Power…
"Dunn's achievement is to tie together his immense amount of research into a finely wrought work that is fair to a succession of people from all across the political spectrum, all of whom had to deal with, for better or worse, the most intensely dishonest and divisive political personality in recent American history."--Firedoglake Book Salon
Advertisement