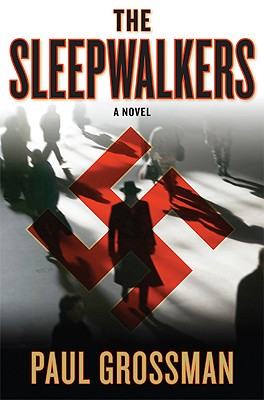 The Sleepwalkers (Hardcover)
St. Martin's Press, 9780312601904, 320pp.
Publication Date: October 12, 2010
Other Editions of This Title:
Digital Audiobook (10/11/2010)
Paperback (9/13/2011)
CD-Audio (10/12/2010)
Hardcover, Large Print (12/1/2010)
* Individual store prices may vary.
Description
Berlin, 1932. In the final weeks of the Weimar Republic, as Hitler and his National Socialist party angle to assume control of Germany, beautiful girls are seen sleepwalking through the streets. Then, a young woman of mysterious origin, with her legs bizarrely deformed, is pulled dead from the Havel River. Willi Kraus, a high ranking detective in Berlin's police force, begins a murder investigation.
A decorated World War I hero and the nation's most famous detective, Willi also is a Jew. Despite his elite status in the criminal police, he is disturbed by the direction Germany is taking. Working urgently to identify the dead woman and solve the murder, Willi finds his superiors diverting him at every turn, and is forced to waste precious time on a politically-sensitive missing person case. Colleagues seem to avoid him; a man on a streetcar stops him from reading a newspaper over his shoulder; he is uncomfortably aware of being watched. But he persists, and soon enters the dangerous Berlin underworld of debauched nightclubs, prostitutes with secrets to hide, and a hypnotist with troubling connections.
As he moves through darkness closer to the truth, Willi begins to understand that much more than the solution to a murder is at stake. What he discovers will mean that his life, the lives of his friends and family, and Germany itself will never be the same

The Sleepwalkers is a powerful, dramatic debut thriller of a nation's unstoppable corruption, featuring a good man trapped between his duty to serve and his grave doubts about what, and who, he serves.
About the Author
PAUL GROSSMAN is the critically acclaimed author of "The Sleepwalkers" and "Children of Wrath." He is a long time teacher of writing and literature at the City University of New York. Visit him at his website at www.paulgrossmanwriter.com.
Praise For The Sleepwalkers…
"Simultaneously a work of historical fiction, a medical mystery, a thriller, and a work of crime noir, this debut novel powerfully captures the atmosphere of Berlin on the verge of Nazi takeover, the elegance and cultural brilliance amid the decadence, and the sense of impending doom." - Library Journal, starred review
With wonderful stories like these to tell, Paul Grossman is assured a long future. I look forward to his next one."
---Olen Steinhauer, New York Times bestselling author of The Nearest Exit
"Fresh and riveting. This thriller isn't only exciting---it's meaningful."
---David Morrell, New York Times bestselling author of The Shimmer
"What a remarkable debut.  The Sleepwalkers weaves together an unusual mystery with a vivid and uneasy setting. Paul Grossman has recreated German on the eve of the Third Reich with extraordinary skill, sensitivity, and narrative flair."
---David Liss, bestselling author of The Devil's Company
"Richly imagined and sumptuously researched, The Sleepwalkers roars through 1932 Berlin like a Messerschmitt fighter."
-Gregg Hurwitz, New York Times bestselling author of They're Watching
or
Not Currently Available for Direct Purchase