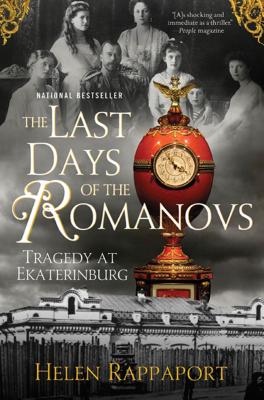 The Last Days of the Romanovs (Paperback)
Tragedy at Ekaterinburg
St. Martin's Griffin, 9780312603472, 288pp.
Publication Date: January 19, 2010
Other Editions of This Title:
MP3 CD (6/14/2017)
Compact Disc (6/14/2017)
Hardcover (2/3/2009)
* Individual store prices may vary.
Description
From the New York Times bestselling author of The Romanov Sisters and Caught in the Revolution, The Last Days of the Romanovs is Helen Rappaport's riveting, moment-by-moment account of the last fourteen days of the Russian Imperial family.

"The brutal 1918 massacre of the Romanov family may be familiar, but in Russian scholar Rappaport's hands, the tale becomes as shocking and immediate as a thriller. . . . A gripping read." —People magazine

This is the story of the murders that ended three hundred years of Romanov rule and set their stamp on an era of state-orchestrated terror and brutal repression. Counting down to the last, tense hours of the Imperial family's lives, Rappaport strips away the over-romanticized versions of previous accounts. The story focuses on the family inside the Ipatiev House, capturing the oppressive atmosphere and the dynamics of a group—the Romanovs, their servants, and guards—thrown together by extraordinary events.

Marshaling overlooked evidence from key witnesses such as the British consul to Ekaterinburg, Sir Thomas Preston, American and British travelers in Siberia, and the now-forgotten American journalist Herman Bernstein, Helen Rappaport gives a brilliant account of the political forces swirling through the remote Urals town. She conveys the tension of the watching world: the Kaiser of Germany and George V, King of England—both, like Alexandra, grandchildren of Queen Victoria—their nations locked in combat as the First World War drew to its bitter end. And she draws on recent releases from the Russian archives to challenge the view that the deaths were a unilateral act by a maverick group of the Ekaterinburg Bolsheviks, identifying a chain of command that stretches directly, she believes, to Moscow—and to Lenin himself.

Telling the story in a compellingly new and dramatic way, The Last Days of the Romanovs brings those final tragic days vividly alive against the backdrop of Russia in turmoil, on the brink of a devastating civil war.
About the Author
Helen Rappaport studied Russian at Leeds University and is a specialist in Russian and Victorian history. Her books include Caught in the Revolution: Petrograd, Russia, 1917 - A World on the Edge, A Magnificent Obsession: Victoria, Albert, and the Death That Changed the British Monarchy and The Last Days of the Romanovs. She lives in West Dorset.
Praise For The Last Days of the Romanovs: Tragedy at Ekaterinburg…
"The brutal 1918 massacre of the Romanov family may be familiar, but in Russian scholar Rappaport's hands, the tale becomes as shocking and immediate as a thriller. Drawing on new archives and forensics, she crafts a portrait of the final weeks of Russia's last imperial family, cramped in the House of Special Purpose in Ekaterinburg. Though Tsar Nicholas's rule was harsh, the love and religious devotion he and his family shared makes them sympathetic. The Romanovs are now saints in Russian Orthodoxy, symbols of faith and hope. This gripping read helps you understand why." —People magazine (3 ½ stars)

"Synthesizing a variety of sources, Rappaport details the Romanovs' last two weeks. . . . How the last czar and his family died was one of Russia's best-kept secrets for decades, and Rappaport spares none of the gory details of the panicked bloodbath . . . and botched burial of the corpses . . . this is an absorbing, lucid and authoritative work." —Publishers Weekly

"British historian Rappaport combines detailed scholarship with an engaging narrative style. . . . The book's most gripping sections describe the days and hours leading up to and including the family's execution. Rappaport spares few details . . . Solid political and social history, related with the vigor of a true-crime thriller." —Kirkus Reviews

"Rappaport fills out her story with vivid detail and superb characterization, building the tension and drama to its brutal climax, sparing no stomach-turning details. She draws us in so well, that we very nearly smell the dusty drapes and taste the sweat hanging thick in the air of that tragic Siberian summer. We can't stop reading, wondering what will happen next, even though we know full well what happens next. Meticulously researched and intimately drawn, this is a must read for anyone interested in the sad fate of the Romanovs, or for anyone interested in plumbing the depths of human depravity, witnessing the nobility of calm resignation, or reliving the tragedy that foretold the executions of hundreds of thousands of innocents in the decades to come." —Russian Life

"The Romanovs are to Russian history what the Civil War is to American history -- an inexhaustible source of interest. . . . Rappaport's impressive research . . . sheds new and sometimes controversial light on the Imperial victims and what transpired. But it is her finely honed literary skills . . . that make this book so compelling. . . . Dramatic, sorrowful and heart-poundingly intense, this excellent book is certain to win a new audience for the endlessly fascinating panorama of Russian history." —Star Tribune (Minneapolis)

"The Last Days of the Romanovs was, quite simply, stunning. It dealt with a subject that has long fascinated me, and I can say without reservation that it is the most detailed, authentic and gripping account of the bloody end of the Romanovs that I have ever read. I was staggered at how Helen Rappaport reconstructed and evoked such searingly vivid images; they are still with me now. Chilling and poignant, this is how history books should be written." —Alison Weir, author of Henry VIII: The King and His Court

"The Last Days of the Romanovs is perhaps the most accurate depiction of the demise of Nicholas and Alexandra that I've read. Beautifully researched and written, Helen Rappaport's newest book is notable not only for its balanced view of Russia's last imperial family, but its realistic portrayal of a close-knit family in distress." —Robert Alexander, bestselling author of The Romanov Bride

"That perfect but rare blend of history, sense of place, human tragedy, drama and atmosphere. . . . [The Last Days of the Romanovs] kept me up for 2 nights. . . . This book is going to be a bestseller . . . it will be the best read you will have had for ages." —Susan Hill, author of The Various Haunts of Men and The Pure in Heart

"A rare combination of talents is Helen Rappaport; as an historian she exhibits a deep and sensitive insight into the past; and as a writer of English, her style is one of clarity and freshness." —Colin Dexter, author of the Inspector Morse series

"Helen Rappaport has brought her subjects back to life with a sombre intensity. . . . The book is essentially a compassionate account of a close-knit, deeply devout and surprisingly ordinary family caught up in quite extraordinary circumstances. The atmosphere of dark menace that permeated the House of Special Purpose is very well captured as their Bolshevik captors gradually closed down their links with the outside world; sealing and whitewashing the windows and erecting a second perimeter fence. . . . I found this book a deeply touching anniversary tribute." —The Independent (UK)

"A highly accessible account . . . rather than romanticizing the family members, the author explores their numerous character defects. Set against the rich political backdrop of the bloody birth of the revolution, the result is extraordinary and powerful." —Oxford Times (UK)

"The Last Days of the Romanovs is well researched and has some excellent photographs . . . Rappaport successfully evokes the claustrophobic atmosphere within the house. . . . Nor does she spare the gruesome details of the massacre." —Daily Telegraph (UK)

"An unromanticised telling of the family's incarceration in the Ipatiev house and the circus that went on around them. [The Last Days of the Romanovs] brilliantly shows how history is never simple but always enthralling when written with this style." —Bookseller (UK)

"An effective and engaging synthesis . . . with skill and imagination [Rappaport] juxtaposes the escalating chaos outside with the day-to-day tedium of the prisoners. . . . The result is an intriguing personal angle on what had seemed an exhausted subject." —Sunday Times (UK)

"[Helen Rappaport] skilfully weaves together the grimly repetitive routine of the doomed family with the high drama engulfing the killers as they add the finishing touches to their terrible plan. Though some of the material is familiar, Rappaport's countdown format makes The Last Days of the Romanovs freshly compelling." —New Statesman (UK)

"Helen Rappaport meticulously reconstructs the final days of the Romanovs in the Ipatiev house in Ekaterinburg and the unfolding political situation that sealed their fate. . . . Rappoport writes with verve, imagination and great empathy for her characters." —The St. Petersburg Times